10 of the best camping and glamping pods in the UK
Waking up to fresh air and gorgeous views is a fabulous thing to experience – and arguably it's even better if you can combine that with a guarantee of being warm and comfortable during your outdoor stay. And that's where camping and glamping pods come in – stay in one of these wooden structures and you can be sure the British weather won't get in the way of a great time.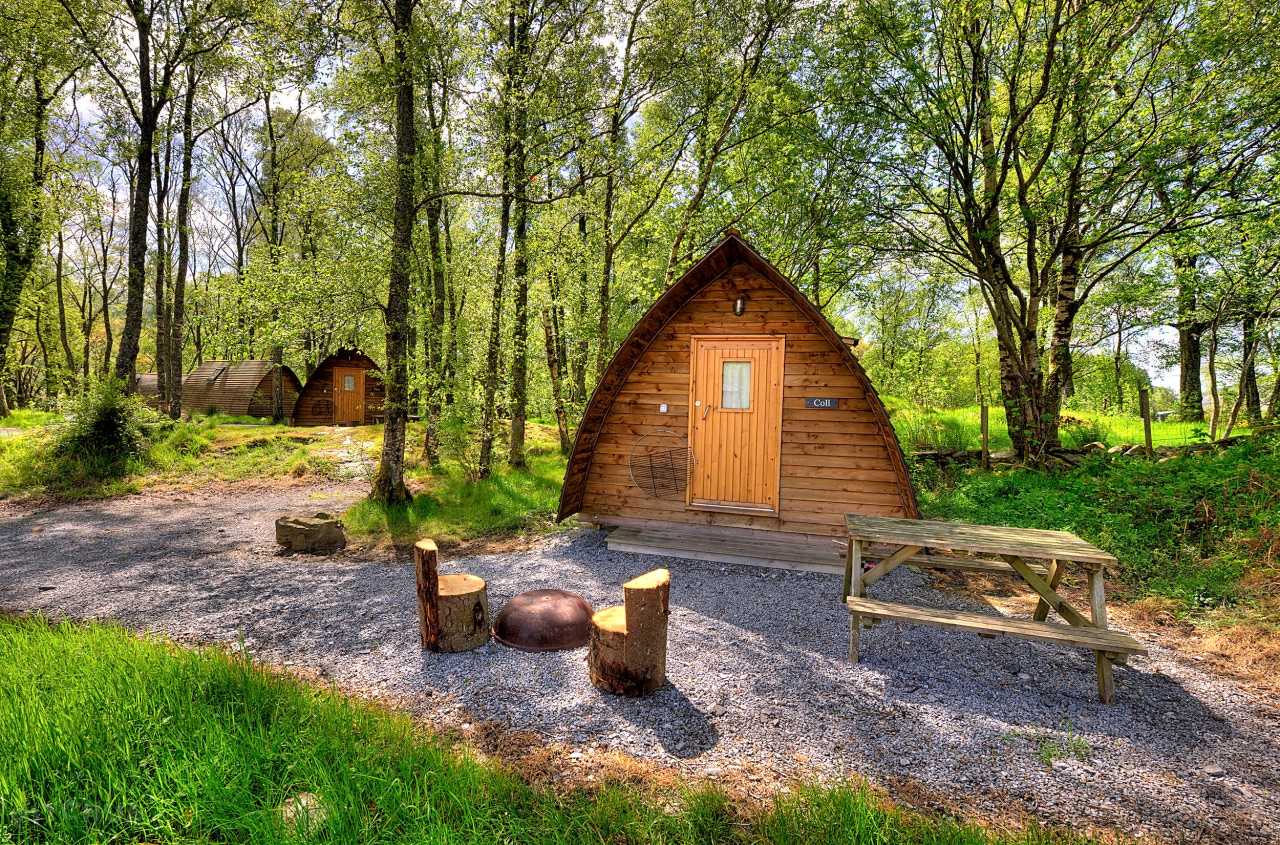 Jump to our list of 10 of the best UK camping/glamping pods
Why stay in a camping pod?
Weatherproof accommodation is one big plus point for camping and glamping pods, especially if you're travelling outside of the summer season, but it's far from the only reason to pick a pod for your next outdoor adventure. There's also the convenience of being able to move straight in without setting up a tent – particularly handy if you're travelling light, bringing a small child or just stopping over for a night or two. 
On top of this comes the sheer romance factor of swapping a hotel room for a break in the open air, creating memories by spending the evening by a crackling fire, watching the sun rise from your cosy bed or relaxing in a hot tub while soaking up the views. 
Who are camping pods suitable for?
Camping pods make great options for all sorts of travellers, including walkers, families and luxury-seeking couples. They're particularly suitable for those who'd like to stay outdoors but don't want to bring a lot of kit – perhaps if you're travelling by public transport or hiking/biking between locations. 
Family-sized pods are available at many of our sites, and they make super places for kids to stay – there's a real sense of adventure here that you don't get with a hotel stay, and generally there should be plenty of space for them to run around in the fresh air. It's even possible to find pods that welcome dogs: you just need to check on the site's details page to find out whether your chosen pod is suitable for four-legged friends.
What's the difference between a camping pod and a glamping pod?
Structurally, there's little difference between a camping pod and a glamping pod: both terms generally refer to a wooden building that looks a little like a more solid tent. The difference comes in what's provided – camping pods tend to require you to bring much of your own kit along (sleeping bags and cooking equipment, for example) while glamping pods will have more amenities provided (such as having beds made up) and extra facilities such as an ensuite bathroom.
Each of our sites is different, however, so you can find out exactly what is provided at each one by checking the list of features before you set off – that way, you'll make sure you've got everything you need for a fabulous break.
Where can I find camping and glamping pods?
Pitchup has a wide range of camping and glamping pods available to book across the UK and beyond. You can see all the options by using the tick boxes to search for 'camping pods' or bys simply clicking on the link below.
Search all camping pods on Pitchup
10 of the best UK camping and glamping pods
If you're a little overwhelmed by the choice when it comes to picking a camping or glamping pod, have a look through our list below for some inspiration. Here we've picked 10 of the UK's best sites for camping or glamping pods – all tried and tested and given great reviews by previous Pitchup customers.
St John Inn
St John, Torpoint
Cornwall PL11 3AW
Why here? Staying in the grounds of a pub is a fine idea – what better way to end your day out than with a couple of pints of local cider or ale and then a very short stroll to your bed? Skip

any discussions over whose turn it is to drive with a stay at St John Inn, where you'll spend the night just next to the beer garden at this rural Cornish pub. The pods here are simple in style, so you'll need to bring along all the kit, but that helps to keep the cost down for an affordable and convenient outdoor break in a lovely spot a mile from the beach on the Rame Peninsula.
Key facilities: Bar, entertainment, toilets, showers
One last thing: The friendly pub is open from Thursday to Sunday, with a good choice of drinks and a programme of fun events including quizzes, music and fish and chip nights.
The Croft Campsite
The Green, Ubbeston
Halesworth, Suffolk IP19 0HB
Why here? A lot of thought has gone into all the little extras at this Suffolk site, from the covered outdoor dining area just outside your pod to the free tea, coffee and squash ready to slake your

thirst when you arrive. This is a truly family-friendly place too: the pod sleeps up to five, and kids can be kept entertained at the outdoor play area or the games barn. The warm welcome stretches to dogs as well, as they have their own exercise area where they can have a proper run around.
Key facilities: Play area, games barn, launderette, toilets, showers, dogs allowed
One last thing: Mornings should get off to a good start at this site, as you can order croissants and pains au chocolat for delivery every morning, or indulge in a weekend treat with Sunday-morning bacon, sausage and egg rolls.
Hadley Park
Wrexham Road, Whitchurch
Shropshire SY13 3AB
Why here? It's all about peace and quiet at this site next to the Shropshire Union Canal near Whitchurch. Hadley Park is an adults-only spot that's centred around a pretty pond where guests

can fish for free or set up a spread on one of the outdoor tables for a relaxed lakeside picnic. Lots of handy bits are provided in the pods too, including a barbecue and fairy lights for an atmospheric alfresco evening… although there's also a fully licensed café on site if you'd rather someone else took care of the catering while you're on your break.
Key facilities: Fishing pond, licensed café, barbecue, launderette, toilets, showers
One last thing: If you're in need of a bit of pampering while on your holiday, it's worth noting you can book in to have your hair done in the on-site salon while you're here.
Runway's End Outdoor Centre
1 Forge Lane, Aldershot
Hampshire GU11 2RE
Why here? This Hampshire site makes an excellent choice for a fuss-free family holidays – everything at Runway's End Outdoor Centre has been set up to make stays safe, secure and

accessible to all. Safety measures include keeping the site car-free and behind secure fencing so the kids can have a bit of freedom to roam, and all facilities and pathways have been designed with disabled guests in mind. The location's a fine one for family days out too, with the likes of Marwell Zoo and Alpine Snowsports Aldershot close by and London only about an hour away.
Key facilities: Activities on site, showers, toilets, fully accessible facilities
One last thing: You don't even have to leave the site to get going on the activities, as you can book various sessions on site including archery and climbing or launch canoes and kayaks on the canal next door.
Book Runway's End Outdoor Centre
Gill Head Farm
Troutbeck, Penrith
Cumbria CA11 0ST
Why here? The Lake District is a fabulous place for outdoor activities, whether you're planning hikes, horse riding, watersports or wild swimming. And the heated pods at Gill Head Farm make a

fabulous base for downtime in between adventures, guaranteeing you a warm and cosy spot to spend the night in comfort. If you need to warm up a bit more, hire a firepit on site and buy a bag of wood and kindling to spend an evening tending the flames of a campfire as the sun sets over the northern fells.
Key facilities: Play area, kitchen area, firepit hire, launderette, toilets, showers
One last thing: The outlook here is decidedly rural, with views to Blencathra, but it's also easily accessed from the A66 less than a mile away, so you won't have to face long drives down winding country lanes.
Loch Tay Highland Lodges
Milton Morenish, Aberfeldy
Perthshire FK21 8TY
Why here? You can pick your own level of luxury at this scenic Perthshire glamping site – the pods at Loch Tay Highland Lodges range from a simple secluded pod with a sleeping platform up to

high-end options with proper beds inside and a hot tub outside. What they all have in common is a gorgeous location high up on a hill with views over Loch Tay and access to a whole lot of facilities including a kitchen, a play area and a lovely bistro restaurant for cosy dinners or drinks by the fire.
Key facilities: Restaurant, bar, play area, launderette, toilets, showers, dogs allowed (in some pods)
One last thing: This is a splendid spot for relaxing in, but there are also activities to book on site if you fancy something a bit more energetic: these include canoeing, archery and gorge walking.
Low Greenlands Holiday Park
Burton Road, Tewitfield
Lancashire LA6 1JQ
Why here? These are some seriously smart glamping pods, with lots of extras provided including bedding, a TV and a coffee maker – plus an ensuite bathroom and heating to keep you clean and

cosy throughout your stay. And Low Greenlands Holiday Park is in a seriously excellent location for outdoor adventures too: it's just in between the Yorkshire Dales and Lake District national parks and is about 20 minutes' drive from the coast, so you'll have plenty of choice for places to get out and about while you're here.
Key facilities: Kitchen facilities, heating, ensuite bathrooms, dogs allowed in some pods
One last thing: There's a farm shop about 100 yards down the road from Low Greenlands, so it's easy to pick up local produce and whip up a feast in your kitchen back at the pod.
Book Low Greenlands Holiday Park
Headswood On The Wall
Headswood Farm, Irthington
Carlisle, Cumbria CA6 4PE
Why here? When they put 'on the wall' in the name of this site, they weren't lying – Headswood On The Wall has direct access to the Hadrian's Wall Path, which follows the World Heritage Site
from coast to coast. There are lots of other paths and Roman relics to explore in the local area too, making it a great place to stay for hikers and historians alike (including those with dogs in tow). And when you're done for the day, it's back to a cosy and luxurious pod that's got everything you need for a comfortable night or two, including an ensuite bathroom, wifi and top-notch bedding and towels.
Key facilities: Hot tub, ensuite bathroom, kitchen facilities, dogs allowed
One last thing: Feeling a little achy after hiking your way around this lovely corner of Cumbria? Soak away any strains in the private hot tub just outside your pod.
Y Bwthyn
Pen yr Ardd, Llandissilio
Pembrokeshire SA66 7JJ
Why here? Pembrokeshire is a perennially popular area for an outdoor break, with heaps of beaches, castles and family attractions to visit, along with all sorts of activities including

coasteering, horse riding and surfing. Y Bwthyn's central location puts it in an excellent spot for getting out to experience it all, as there are plenty of places to visit within a drive of 20-30 minutes. The pods here are keenly priced but have lots of extras thrown in, including a barbecue, a kitchen corner and a TV to make your stay more comfortable and convenient. 
Key facilities: Kitchen facilities, barbecue, heating, showers, toilets
One last thing: You may feel like you're in a very remote spot when staying here, but in fact Y Bwthyn is very well connected: it's a mile and a half from the nearest train station and only a very short drive from the A478.
Glampio Coed Glamping
Coed y Llan, Rhoshirwaun
Pwllheli, Gwynedd LL53 8HL
Why here? The Llŷn Peninsula is a gorgeous part of Wales, and Glampio Coed Glamping is in a fabulous spot for exploring it, 10 minutes' drive from Aberdaron and Porthor beach (also known as

Whistling Sands). The cosy pods are spread out across a two-acre field, so there's lots of space around to relax and enjoy the views by day and the clear starry skies by night. Firepits and barbecues are provided for outdoor times, but cooler weather isn't a problem as you'll have a woodburning stove and Welsh wool blankets to keep you warm and cosy in your pod.
Key facilities: Shared kitchen, bar, pizza sales, launderette, toilets, showers, dogs allowed
One last thing: There's a well-equipped kitchen on site here, but for the ultimate easy evening you can pick up a wood-fired pizza along with a pint of local beer from the bar and settle down for a meal at your pod or out in the forest.
Keen to find out where else you could stay in a camping or glamping pod in the UK? Click on the links below to browse all the options.
See all camping pods in England
See all camping pods in Scotland