The ultimate NC500 itinerary
What is the NC500 route?
The NC500 – also known as the North Coast 500 – is a 516-mile journey around Scotland's north coast and one of the Pitchup team's favourite UK road trips. If you want to see the Highlands' best attractions, a glamping or camping trip along the NC500 is the way to do it. Plus, with pitch prices as low as £9 a night for two people, sticking to a budget is a breeze.
Where does the NC500 start?
The North Coast 500 begins and ends at Inverness Castle, passing through must-visit towns and villages like Ullapool, Durness and Dornoch.
What is there to do on the NC500?
The scenic North Coast 500 route runs via so many varied attractions. Expect lush lochs, lofty Highland peaks, traditional whisky distilleries, scenic waterfalls and atmospheric caves.
7-Day NC500 itinerary
Our NC500 route planner lasts seven days, but you can easily shorten or lengthen it to suit the time you have.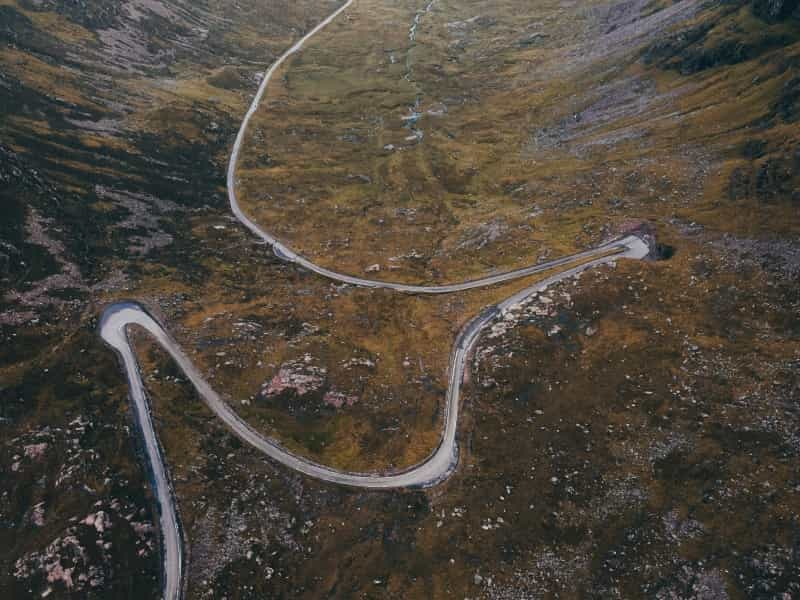 Day 1: Inverness to Applecross
Driving time: 2 hours
Miles: 82
To kick off your North Coast 500 itinerary, drive from Inverness Castle to the Applecross Peninsula. Along the way you'll traverse the epic Bealach na Bà, a navigable mountain pass with the biggest ascent of any in the UK. Tip: don't tackle it in a motorhome as it's too steep at 2,053 feet with hairpin bends. 
Stop off at Rogie Falls – best seen after a rainfall, although also impressive in August and September when wild salmon leap upstream – then admire the whitewashed village of Lochcarron before continuing on to your campsite. If it's not too late in the day, pick up some fish from the Applecross Smokehouse to cook on the campfire as the sun sets over the North Minch strait.
Search Campsites in Applecross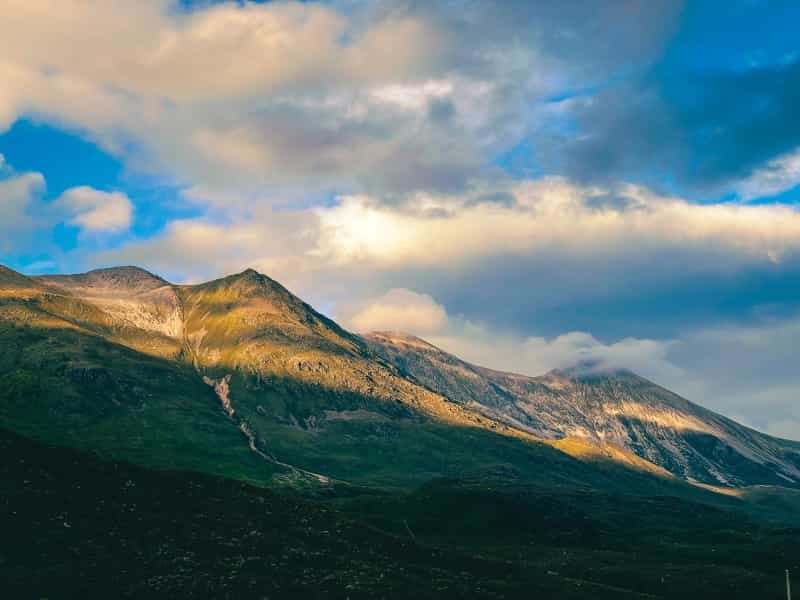 Day 2: Applecross to Gairloch
Driving time: two hours
Miles: 59
Make your way towards Torridon the next day, passing lush meadows filled with Highland cows and getting out at the Countryside Centre to wander among the red deer. Next, you'll drive through vast valleys with plenty of walking routes – hike one of the lower-level paths or attempt bagging a Munro. 
Finally, end your expedition at Gairloch harbour or on the pale yellow sands of one of the area's beaches, like Big Sand or Redpoint, before setting up at a lochside campsite with iconic views of the Isle of Skye and the gorgeous green Torridon Hills.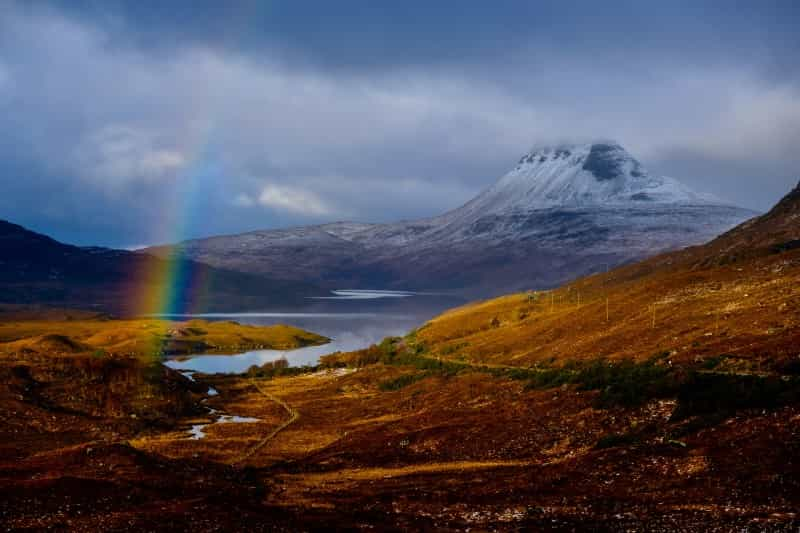 Day 3: Gairloch to Kylesku
Driving time: two hours and 10 minutes
Miles: 88
You'll skirt the edge of Loch Ewe, a deep-water sea lake, towards Gruinard Bay by car first thing today. Stop at the spectacular beach for a walk if the tide's out, then continue on towards Corrieshalloch Gorge National Nature Reserve for memorable views over a mile-long canyon from a Victorian-era suspension bridge. 
Pull up a pew at a pub in Ullapool next – preferably on the seafront so you can look over the water as you eat a locally sourced lunch. Then keep on going to Loch Assynt, a lake dramatically framed by the heights of Canisp, Quinag and Beinn Uidhe, to wander around the waterside remains of Ardvreck Castle. 
The cute fishing hamlet of Kylesku is your final destination for the day. Eat a seafood supper at the much-recommended Kylesku Hotel, then retreat to a campsite among rugged scenery to sip malt whisky next to a blazing campfire.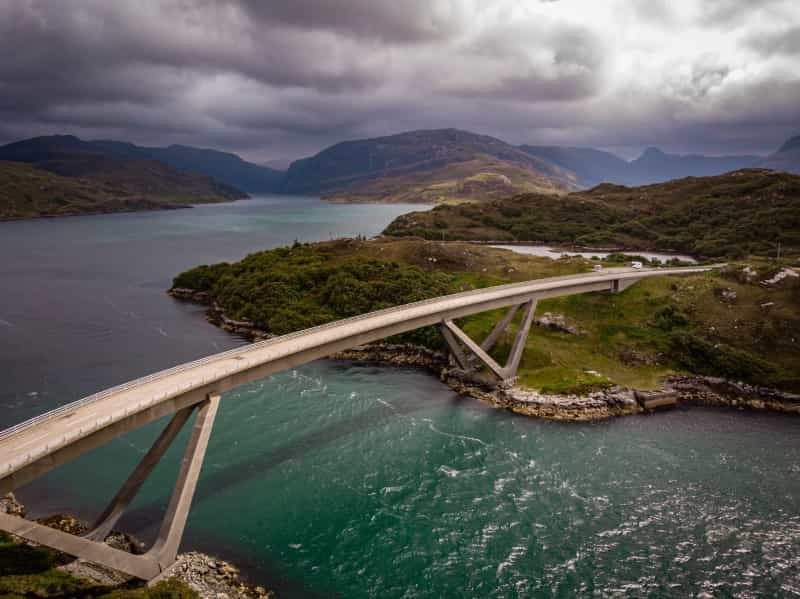 Day 4: Kylesku to Durness
Driving time: one hour and 10 minutes 
Miles: 39
To lengthen your trip by a day, you could detour to the spectacular beaches of Achmelvich and Clachtoll on the west coast. Just be aware that you'll need to take on some tricky roads to do this. 
From Kylesku, head over the famed bridge – getting out of your vehicle briefly to soak up the lush loch views – towards Scourie Bay and onwards for an hour to Durness. Veer off the route for 10 minutes to visit the white sands of Balnakeil Beach, or just take a moment to appreciate the North Sea's turquoise shores from the Sango Bay Viewpoint.
The enormous Smoo Cave, an NC500 must-see, is just outside this town. Check out this sea and freshwater cavern with a 50-foot entrance, then continue on to a campsite overlooking a local beach where you can take a dip in the aquamarine water after waking up the next morning.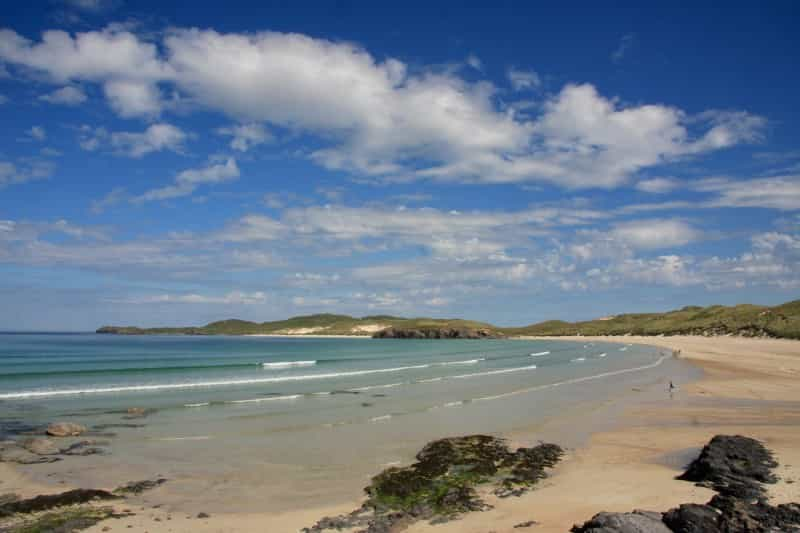 Day 5: Durness to John o' Groats
Driving time: two hours and 45 minutes
Miles: 90
After a swim, make Ceannabeinne Beach your first stop of the day, if only to zipline down to the sands from the clifftop carpark.
Then it's on to the Kyle of Tongue for a short stroll to the Castle Varrich ruins.  
Next, immerse yourself in history at Bettyhill's Strathnaver Museum to learn about the brutal Highland Clearances of the 18th and 19th centuries. Grab a takeaway lunch at the Store Cafe in the village for a picnic at Strathy Point, where you'll have views of the historical lighthouse. 
If you're feeling adventurous, hike down to Puffin Cove in the hopes of spotting these rare birds in the cliffs (mid-April to early August).
Drive to Thurso after this, stopping off to stock up on provisions at one of the supermarkets, then take in the dunes of Dunnet Bay before a jaunt to John o' Groats. Set up camp around here and you'll be able to claim you've slept at the most northerly point of the UK's mainland. 
If you'd prefer to steer away from the crowds at this popular location, book an inland campsite. This rural area has such dark skies, you might even be lucky enough to catch the luminous Northern Lights dancing above when the conditions are just right.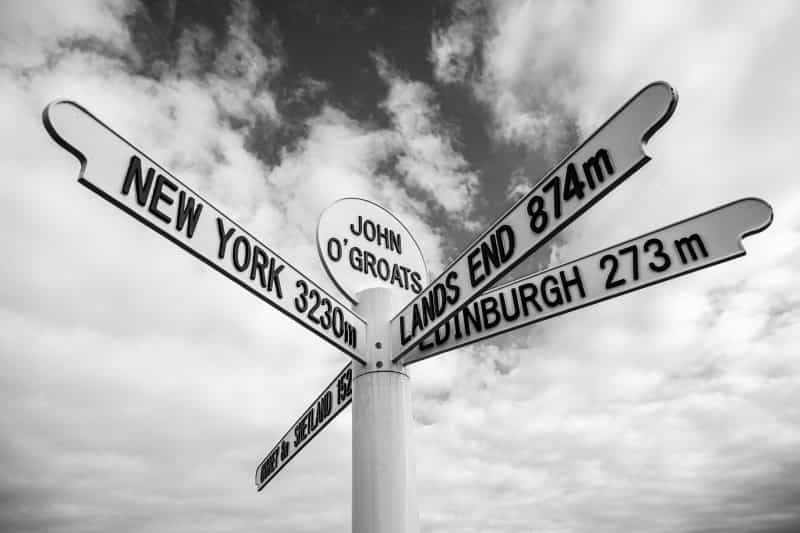 Day 6: John o' Groats to Dornoch
Driving time: one hour and 45 minutes
Miles: 76
After brewing up a strong pot of tea on the campfire, head to Duncansby Stacks to watch the birds swoop across the rocks. From there, it's another 40-minute drive to your second stop of the day: the Whaligoe Steps. This steep set of stairs was built so visitors can access a natural harbour formed between a couple of sheer cliff walls. Brave the entire 365 steps and you'll definitely deserve a treat in the café once you reach the top.
Fuelled up, drive on to Dunrobin Castle, a grand mansion that looks straight out of a fairytale, then go on to Golspie, the gateway to sea and loch angling expeditions, mountain biking trails and the Big Burn waterfall walk.
You'll camp near the postcard-perfect town of Dornoch for the night. Look out for a beachfront site where you can watch the North Sea waves crash onto the sand from your pitch.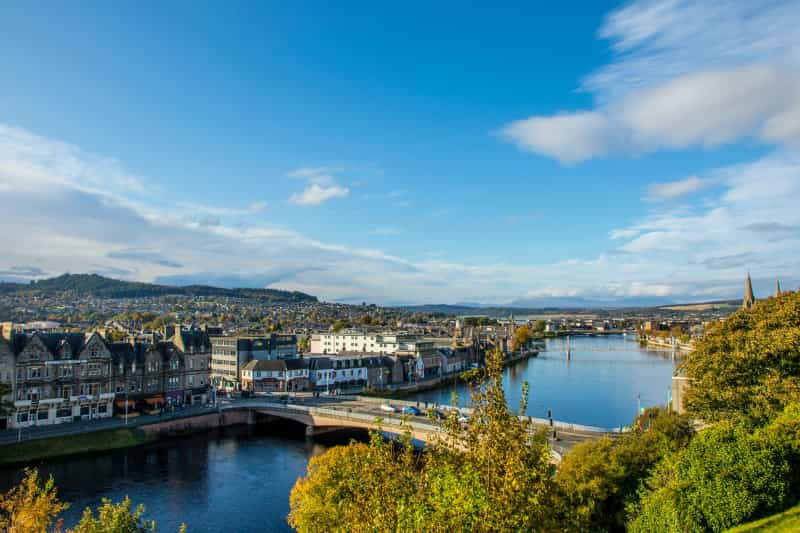 Day 7: Dornoch to Inverness
Driving time: one hour (without detours)
Miles: 44
It's a straight shot of an hour back down to Inverness from Dornoch, but there are potential detours along the way, including west (35 minutes' round trip) to the pretty Falls of Shin. You could also swing by Chanonry Point on the Black Isle, adding half an hour's driving time, to spot dolphins. There are plenty of distilleries to visit on this stretch too, for toasting to a successful trip with a tour and tasting. 
As it's your last night, consider wrapping up with a glamping stay at some form of luxury accommodation. How about a hand-crafted pod made from a whisky barrel?
NC500 travel tips
The North Coast 500 isn't a single coastal road, so don't rely on your GPS to get you to all the sights. It's best to follow an itinerary.

Try to avoid packing in too much in one day – the NC500's roads often take longer than you'd think to drive. 

Many of the roads are single track, so be prepared to wait for oncoming traffic at the passing places.

Bring insect repellent as the midges can be relentless in Scotland's north, especially in the summer months. 

The North Coast 500 gets very busy in the peak months, so it's best to plan your route and book campsites in advance when heading out on a summer road trip.

Find toilets enroute by using the

Highlands Public Conveniences

site.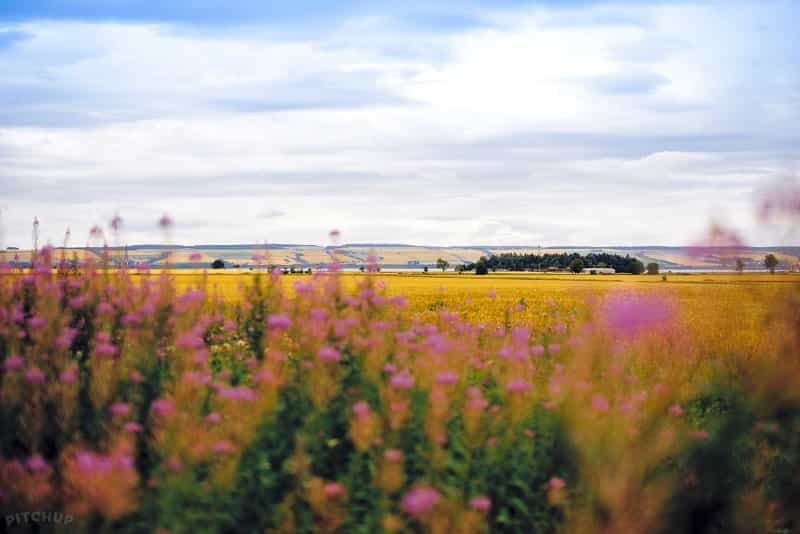 NC500 campsites
Camping is the best way to stay along the NC500 because it gives you so much flexibility, but we recommend booking campsites in advance on Pitchup rather than turning up at a park and hoping there's an available pitch. The route is especially busy in the peak summer season, so try to book a few months ahead if you can. In the quieter spring, autumn and winter months, you can occasionally get away with booking on the day of your stay, especially at the eastern coast where there are more campsites available. 
There's also the option to try wild camping. A mix of the two is perfect, allowing you to stop off at sites with showers and other essential amenities when available, then pitch up just about anywhere you like (within reason – see our wild camping guide for more info) the rest of the time. 
Areas with numerous glamping and camping sites on the North Coast 500 include Thurso, Dornoch and Inverness on the route's northeastern and eastern section. To browse all the top spots to stay along the NC500, take a look at the Highlands and Islands page on Pitchup. Or check out some of our favourites enroute:
Melvich – Kirkton Holidays
Park up on a touring pitch at this family-run site five minutes from Melvich beach. It's a wonderful place for finding out about farm life in rural Scotland. Take a buggy tour of the land and meet the resident Highland cows and pygmy goats. In season, you can buy home-bred beef or lamb to grill up on your barbecue for a sustainable meal.
Dornoch – Grannie's Heilan' Hame Holiday Park
If you're on an NC500 road trip with the children, sleep at this holiday park near the historic town of Dornoch. It sits by the powder-white sands of Embo beach and family-friendly facilities including kids' and teens' clubs, bowling and an adventure playground with a zipwire. There's also crazy golf and amusements to keep little ones entertained. Mum and dad might prefer the indoor pool, Jacuzzi and sauna, but everyone appreciates the views across the sparkling Dornoch Firth. From your tent, motorhome or campervan pitch, keep an eye out for bottlenose dolphins and seals skimming the surface of the water.
Inverness – Camping Pod Heaven
During the first or last night of your itinerary, pause at this glamping site in thick forest just above Loch Ness. Each insulated wooden pod has heating, making it an ideal choice for the cooler months. Whether it's cold out or not, it's worth stoking up the firepit for evenings relaxing next to the flames. 
Want more inspiration for your adventures in the Highlands and beyond? See our Scotland camping guide.
Camping on the NC500
Can you camp anywhere on the NC500?
The Land Reform Act 2003 – Scotland's access legislation – lets you wild camp on most open land in the country. Just make sure to respect the Scottish Outdoor Access Code by:
Staying away from enclosed fields full of crops or farm animals

Leaving no trace by taking all possessions and litter away with you

Being considerate by not pitching up near buildings and houses 
There are also plenty of official campsites on the NC500.
Can you do the NC500 and camp all year round?
Yes, the North Coast 500 is an all-season road trip. While there are more options available in high season, you can still find campsites open year-round on the NC500. Alternatively, glamping is a fantastic choice in the cooler seasons – stay cosy at insulated accommodation, from spacious bell tents to ensuite pods, featuring electric heating, extra blankets and/or wood-fired stoves.
NC500 FAQs
How long does the NC500 take?
You can do the North Coast 500 route in as little as five days, but if you have more time to spare we'd recommend taking it even more slowly. Seven to 10 days is ideal, but there's also plenty to see on the NC500 if you have a couple of weeks to spare. A longer holiday means you can tack on side trips to hotspots like Handa Island, a 10-minute ferry trip from Tarbet on the west coast.
Can you do the North Coast 500 by motorhome or campervan?
The NC500 route is suitable for campervans and motorhomes, but try to avoid the Bealach na Bà stretch – just north of Ardarroch to Applecross on the west coast – in a larger vehicle because of the sharp bends and steep gradients. It's best to travel on the A896 instead. The B869 from Lochinver to Kylesku is also less accessible for motorhomes, so follow the A837 back from Lochinver on the main road to Skiag Bridge instead.
Should I drive the NC500 clockwise or anti-clockwise?
Go west from Inverness towards Applecross if you want to hit the Highland scenery straight away. Alternatively, it's worth journeying east and north along the Black Isle first if you're a little nervous about driving in the UK. This way, the twistiest, trickiest roads will come at the end once you've gained more confidence.