Best Campsites in the Lake District
Getting away anywhere is lovely - but if you're into hiking over lush green hills, sailing across lakes or tracking down literary locations such as Beatrix Potter's Hill Top cottage, getting away to the Lake District National Park is particularly splendid. With a mix of rural landscapes, lakes and historical properties, it's no wonder that the Lake District is proving to be such a popular destination for camping, glamping, motorhome and caravanning holidays.
And why wouldn't it be, when many of the pitches have views of the hills themselves, plus easy access to the trails and lakes in the national park? View all sites in the Lake District to see where you can put your feet up after the day's hike and cradle your morning brew while gazing over distant fells… or keep scrolling to see our selection of the very best campsites across the Lake District.
Top 10 Campsites in the Lake District
Ings Kippers Campsite
Hill Top, Windermere
Cumbria, England
LA8 9PY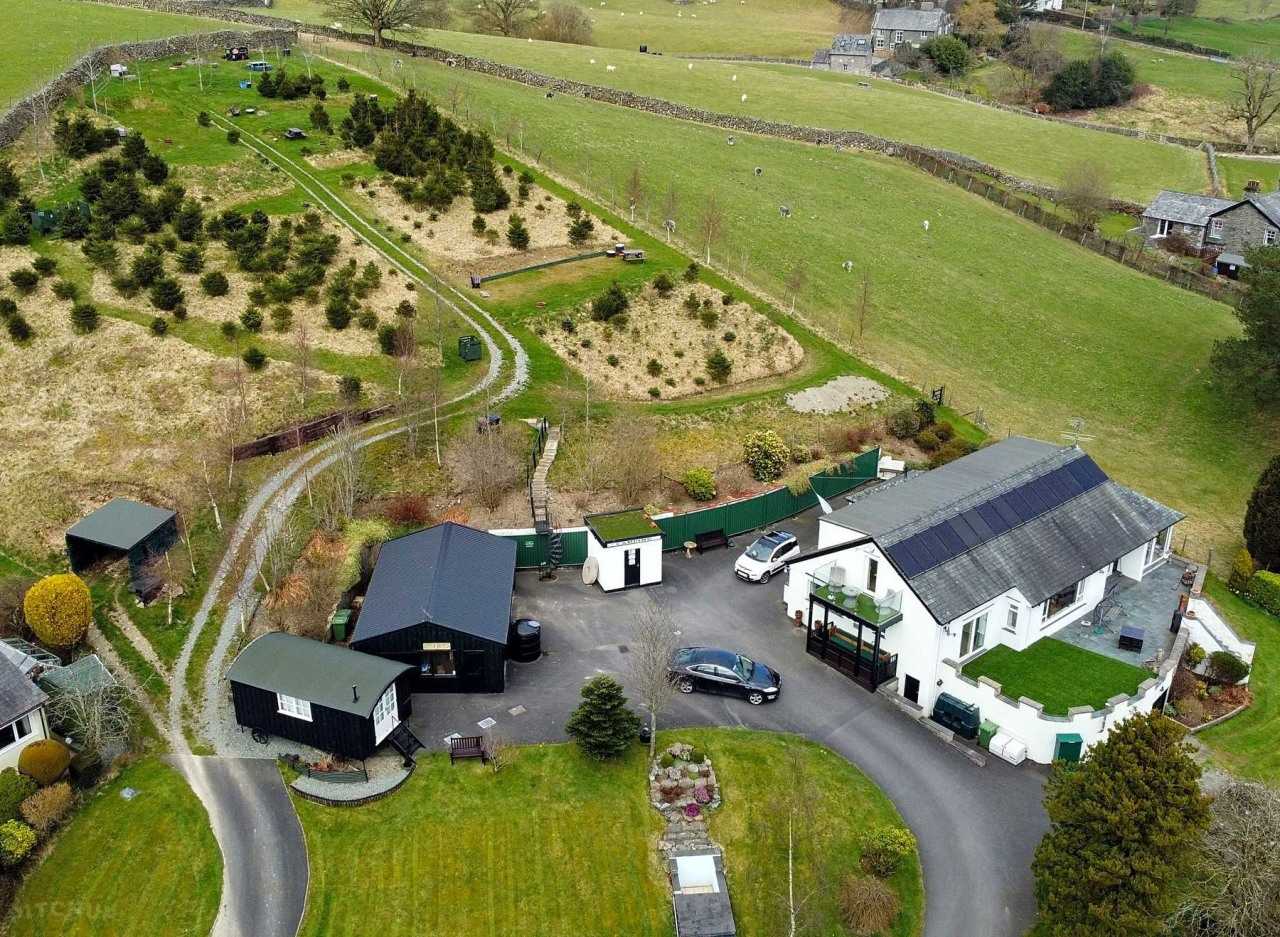 Why here? Ings Kippers Campsite is centred around peaceful adults-only breaks without any kids running around. Based within the grounds of a private house and surrounded by sloping green hills for those classic Lake District views, you're also very well-off location-wise. Windermere, the largest lake in England, is only two miles from these quiet pitches – that means that after a day of paddleboarding and wild swimming at Windermere or riding along the safe cycling paths in the local area, evenings can be spent watching sunsets from the firepit and chatting with other guests. Guests are asked to park their cars away from the pitches, in a designated area a short walk away; this adds to the peaceful and rural feel of the pitches.
Key facilities: Adults-only, hot showers, toilets, firepits provided, firewood available to buy
One last thing… When you fancy a brew, there's an award-winning pub and a microbrewery just five minutes' walk from the site. Plus, if you're looking to get around the Lake District without a car, there are public transport options nearby. 
Irton House Farm
Isel, Cockermouth
Cumbria, England
CA13 9ST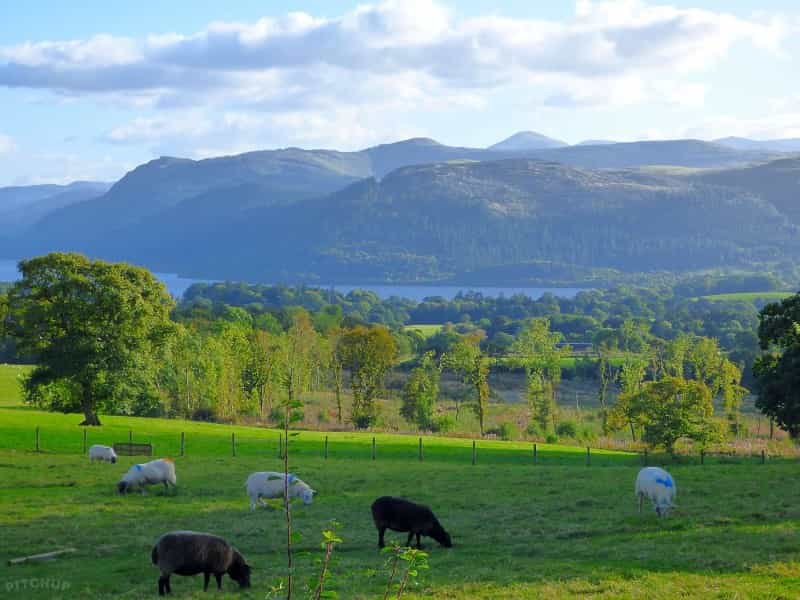 Why here? It's hard to argue against peaceful farm pitches that look out over the forested hillsides of Skiddaw and Bassenthwaite Lake. Being dog-friendly, Irton House Farm has many strings to its bow. There are plenty of green spaces for spreading out and relaxing too. When you do head out, you'll be happy to learn that there also are plenty of walks or bike riding routes on local paths. Further out, your adventures might take you to Buttermere, Derwentwater or Crummock Water – but of course, you'll want to make it back in time for a meal at the local pub five minutes' drive away, followed by sunsets over the lake.
Key facilities: Dog-friendly, games room with pool and table tennis, shower and toilet block, local produce available, barbecues permitted
One last thing… If you get muddier than expected on your hikes and bike rides, don't fret about trudging mud into your sleeping quarters. There's a free heated shower block on the site and you're also welcome to give your bike some TLC using the bike wash. 
Seatoller Farm
Seatoller, Borrowdale
Keswick, Cumbria
CA12 5XN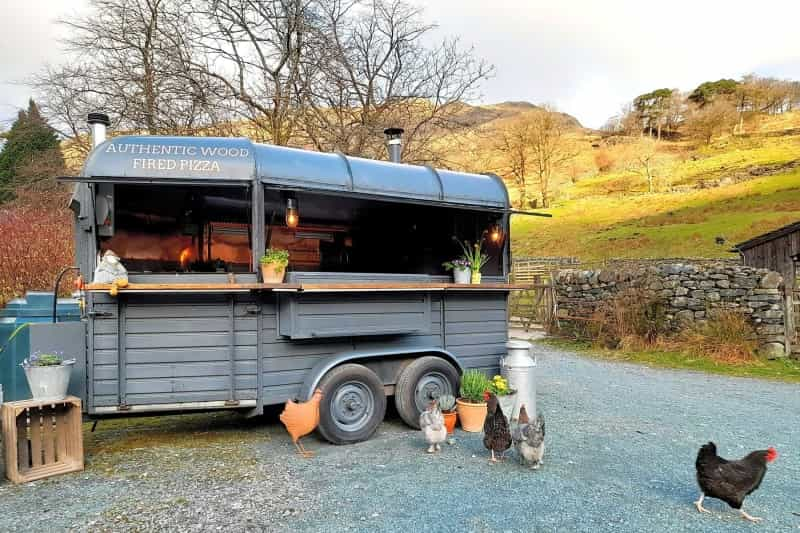 Why here? Pack your walking boots and cameras, because Seatoller Farm is a gorgeous base for hikes up Scafell and the Wainwright Fells. The whole family (dogs included) are welcome at this family-run farm site beside the river Derwent. Capturing new memories – in front of your firepit or barbecue, along the riverside or tucking into a woodfired pizza served on site – aren't the only reasons you'll need a camera, however. There are fells in the distance, and the woodlands alongside the farm are often frequented by buzzards, woodpeckers and owls. If you're lucky, they might fly over the site – if not, the site's chickens will surely be pottering around somewhere.
Key facilities: Takeaway facility, off-ground firepits and barbecues permitted, gents' and ladies' toilets, showers in the farm building, drinking water, washing-up point, dogs permitted
One last thing… In high season, the local bus service will drop you to various fine Lake District locations. If you want to raise a toast and chat about the day's activities a little later on, call into the pubs and bars that are a mile's stroll away.
Ullswater Holiday Park
Watermillock, Penrith,
Cumbria, England
CA11 0LR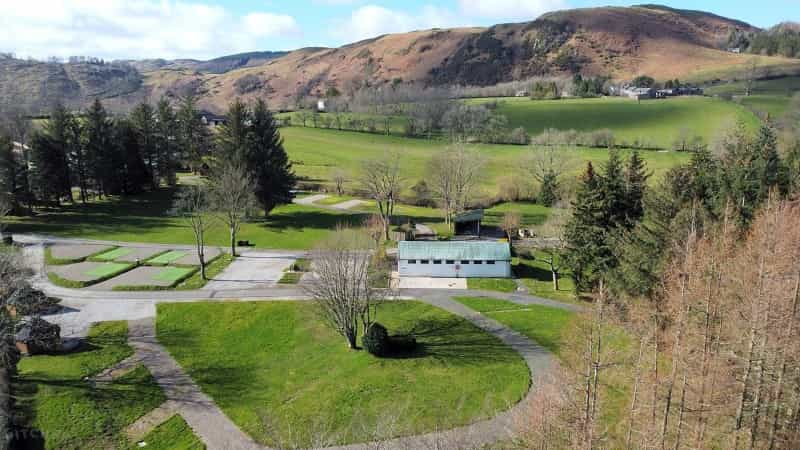 Why here? Who could say no to breakfast surrounded by fine fell views, followed by a half-hour stroll to Ullswater for canoeing or fishing on Ullswater? Ullswater Holiday Park is a fine location for it all, and it fits the bill if you've been looking for one or more of the following: a large playground, a licensed bar, and a café for your morning caffeine boost. There's wifi too, making it easy to plot out your route to Ullswater, where stops on the steamer include Aira Force waterfall and Pooley Bridge. First, though, you might want to acquaint yourself with the site's shop for any sunset barbecues you're planning… 
Key facilities: Bar, café, half-acre playground, barbecues permitted, dogs welcome
One last thing… The playground certainly isn't little – at half an acre in size, there's plenty of space for even the most energetic kids to play and unwind. 
The Old Post Office Campsite
Santon Bridge, Wasdale
Holmrook, Cumbria
CA19 1UY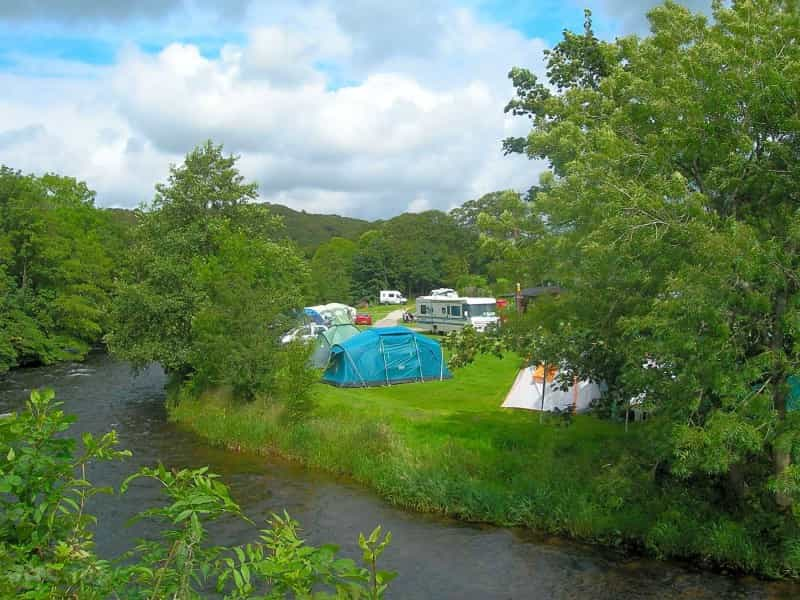 Why here? With a river for wild swimming or fishing for trout and salmon, The Old Post Office Campsite has had a splendid riverside location in the western Lake District since 1951. That doesn't mean that there is anything ancient about the site, though. The modern toilets and showers, coin-operated laundry room and dishwashing sinks are all there to make your stay as fuss-free as possible. One of the highlights here must be the picnic benches for tucking into your sandwiches with views of the mountains and river. Plus, your dogs can join you on your hikes up Scafell Pike, Great Gable and Red Pike.
Key facilities: Dog-friendly, showers, toilets, charging facilities, chemical disposal, wifi, launderette, on-site café, bar, fishing, river access
One last thing… Salmon, sea and brown trout are lurking in the river Irt, so ask the site to lend you a rod for the day or week and see what you can reel in. 
Book The Old Post Office Campsite
Gill Head Farm
Troutbeck, Penrith 
Cumbria, England
CA11 0ST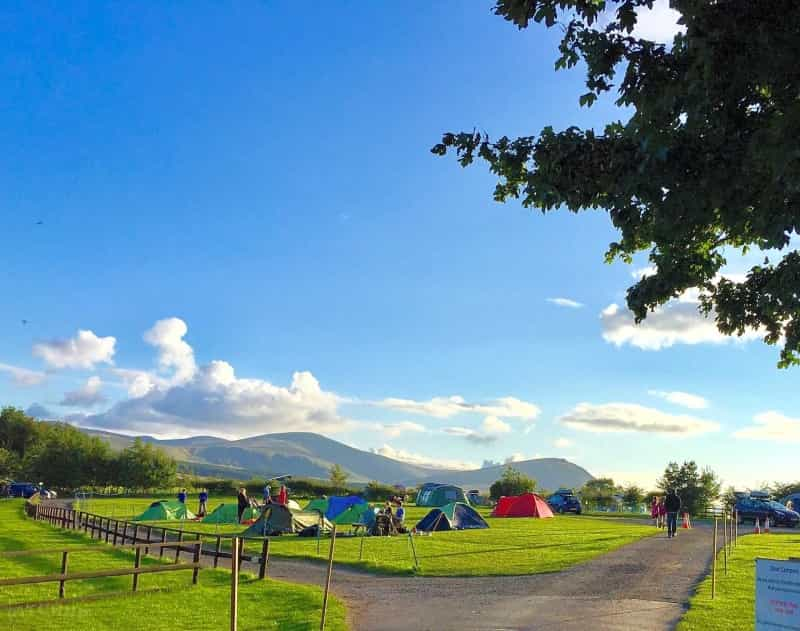 Why here? With Blencathra and the Northern Fells as your morning views and a beck for strolls after barbecued sausages and buns for breakfast, Gill Head Farm is looking like a very good option for outdoor breaks. It's thoroughly rural at this family-run farm location, except for the modern facilities, which include a laundry room and a modern shower and toilet block. Best of both worlds, some might say? That's especially true if you'd like to switch between cooking over the firepits that are for hire and using the site's communal dining and kitchen area, which is kitted out with microwaves, kettles, a fridge and freezer. Having easy access to these kitchen facilities is very handy, since you're likely to need the energy for hiking, wild swimming, climbing and watersports in the local area.
Key facilities: Shared communal area (with dining area, microwaves, kettles, fridge and freezer), firepits for hire, shower and toilet block, laundry room, barbecues permitted, dogs allowed
One last thing… The site sells wood and kindling for firepits, so you won't need to source your own. There's also a pub a 15-minute walk away for those times when you'd rather let someone else do the cooking or try a few ales.
Cumblands Farm Caravan Site
Carleton, Holmrook
Ravenglass, Cumbria
CA19 1YX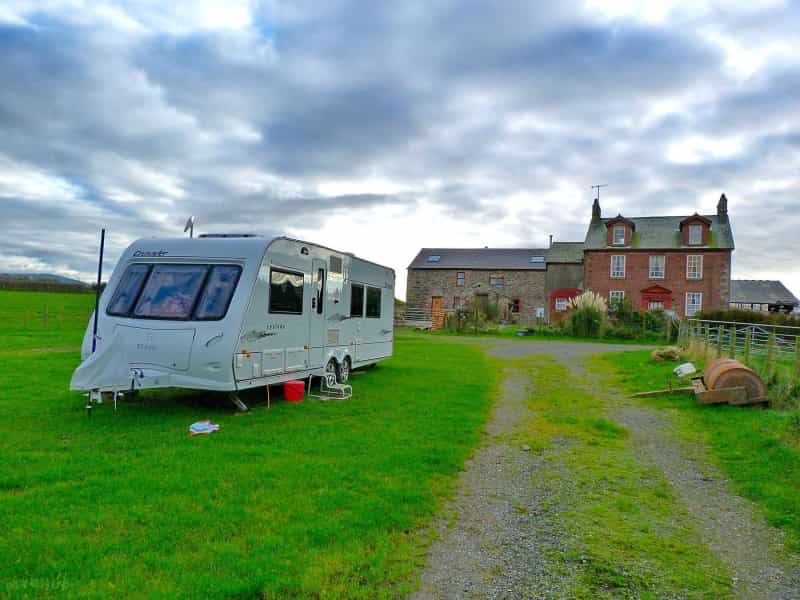 Why here? Staying at Cumblands Farm Caravan Site in the west of the Lake District National doesn't just put you in a great position for hiking mountains. The farm is also around a mile's stroll from the coast, where you might want to bring your binoculars for birdwatching. In the way of facilities, the farm has charging points to keep you connected and there's hot water in the shower block. Since this site is dog-friendly, you might also be happy to find that there are country walks all around. There are also a few friendly farm dogs that your canine companion can befriend. 
Key facilities: Dogs welcome, chemical disposal, shower and toilets with hot water, charging points, car parking by the pitch
One last thing… It's not just the coast where you'll catch some interesting feathered creatures – Cumblands Farm Caravan Site is just under an hour's walk from the Hawk & Owl Centre at Muncaster Castle, good news for any keen birdwatchers.
Book Cumblands Farm Caravan Site
Moss Howe Farm
Witherslack, Grange-over-Sands
Cumbria, England
LA11 6SA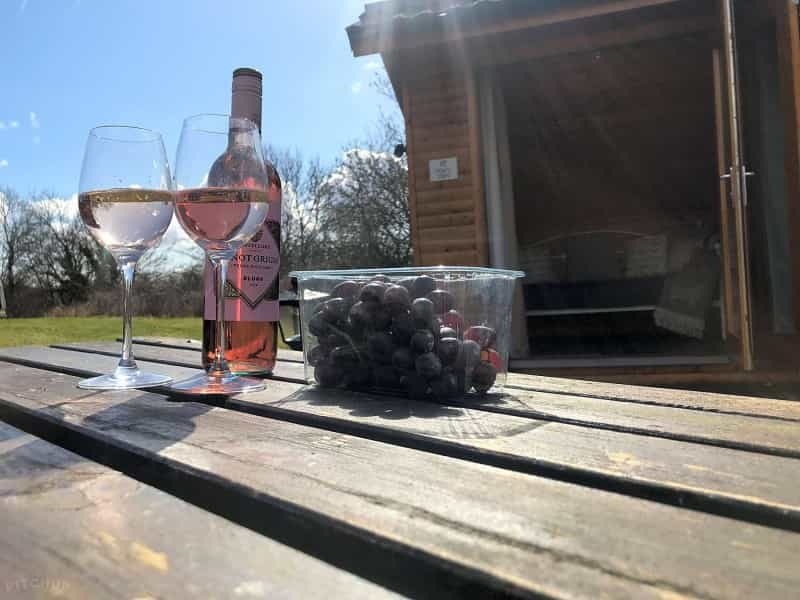 Why here? Why not here? With scope for peaceful barbecues in the Cumbrian hills and well-rounded facilities like a shower block and charging facilities (for a small fee), Moss Howe Farm is a fine spot for Lake District break. Lake Windermere, Kendal and Ambleside are all just a short drive away, making it easy to get out and about – in the hills or in the water, you choose. After your explorations, pick up supplies from the local shop in Witherslack or bring a bottle of red to sip on a picnic bench that's in the centre of all the lush greenery. As the evening comes to a close, you might want to end the day with a firepit or a barbecue and watch the sunset over the distant hills.
Key facilities: Dog-friendly, modern shower, washroom and toilet facilities, firepit hire, barbecues permitted, tumble dryer, washing-up sinks, wifi, charging facilities
One last thing… There's the option to request a firepit ready for when you arrive and wood available to buy on site. You're also welcome to cook over your own barbecue – it's easy to take care of your leftovers using the washing-up stations.
Waters Edge Caravan Park
Crooklands, Kendal
Cumbria, England
LA7 7NN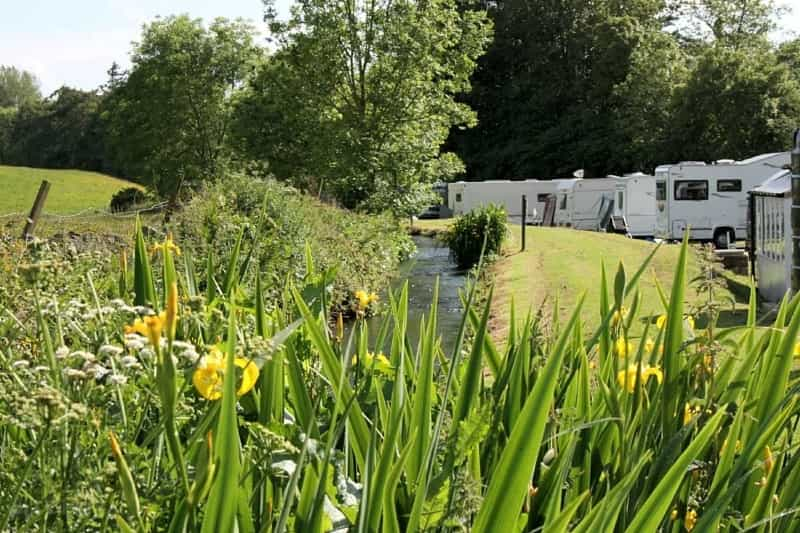 Why here? If it's a friendly place you're searching for, and one that will let your dogs get in on the action too, Waters Edge Caravan Park ticks all the boxes. This site is in the south of the Lake District National Park, making it very handy for getting to Windermere, Kendal and other spots high on natural beauty. It's also a great choice for guests who like their creature comforts, as the facilities include a clubhouse with a well-stocked bar, pool tables and a TV lounge. That doesn't mean that there isn't plenty of outside space though. As a matter of fact, there's a small river (hence the name Waters Edge Caravan Park) for scenery, plus some outdoor space put aside by the reception for you to rustle up a barbecue. 
Key facilities: Clubhouse and bar, laundry room, bathrooms with showers and individual washing cubicles, barbecue area, drinking water taps, dogs welcome
One last thing… For any guests who need the extra assistance, there are accessible toilets in the facilities block. 
Church Stile Farm Holiday Park
Nether Wasdale,
Cumbria, England
CA20 1ET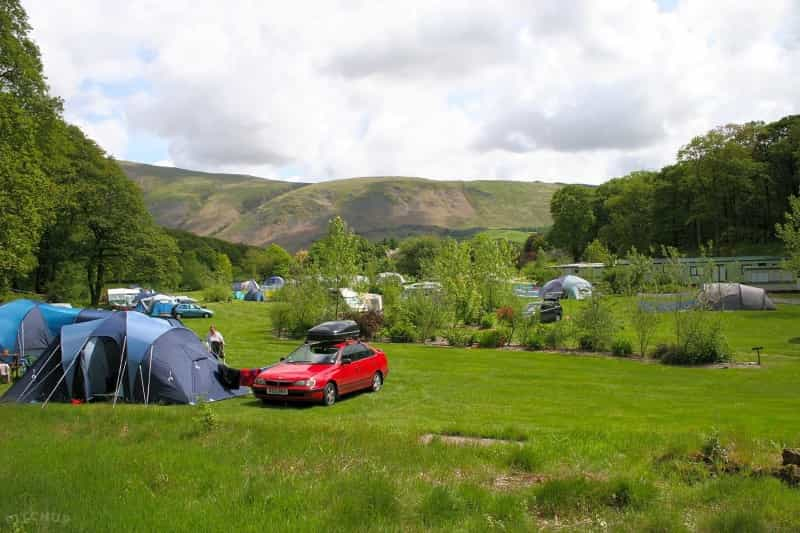 Why here? It's hard to pass up on a green setting with views of the slopes and picnic tables scattered around for your barbecue dinners. Church Stile Farm Holiday Park is a wildlife haven with seven acres of woodlands and the Screes mountain range in the background as a reminder of your Lake District setting. Scafell Pike and Wastwater are some of the closest spots for outdoor activities, which could include things like kayaking, climbing or sailing. If you're wondering where to grab something to eat before you head out, the site is within five minutes' walk of a pub, a riverside café and a farm shop selling tasty fresh produce.
Key facilities: Play area, picnic tables, free hot showers, free hairdryers, ladies' and gents' toilets, disabled and family room, baby changing unit, laundry room
One last thing…There's a play area with climbing frames and swings for children, as well as a woodland where they can set themselves various challenges like spotting bugs and other wildlife. 
Book Church Stile Farm Holiday Park
More campsites in The Lake District
Fond of the prospect of sailing across lakes and hiking up mountains? Handily, Pitchup has a huge range of campsites in the Lake District – just click on the link below to check out exactly where you could plant yourself down in the national park, whether you're after back to basics camping, luxury glamping sites or somewhere to park a caravan or motorhome.