Camping on the West Highland Way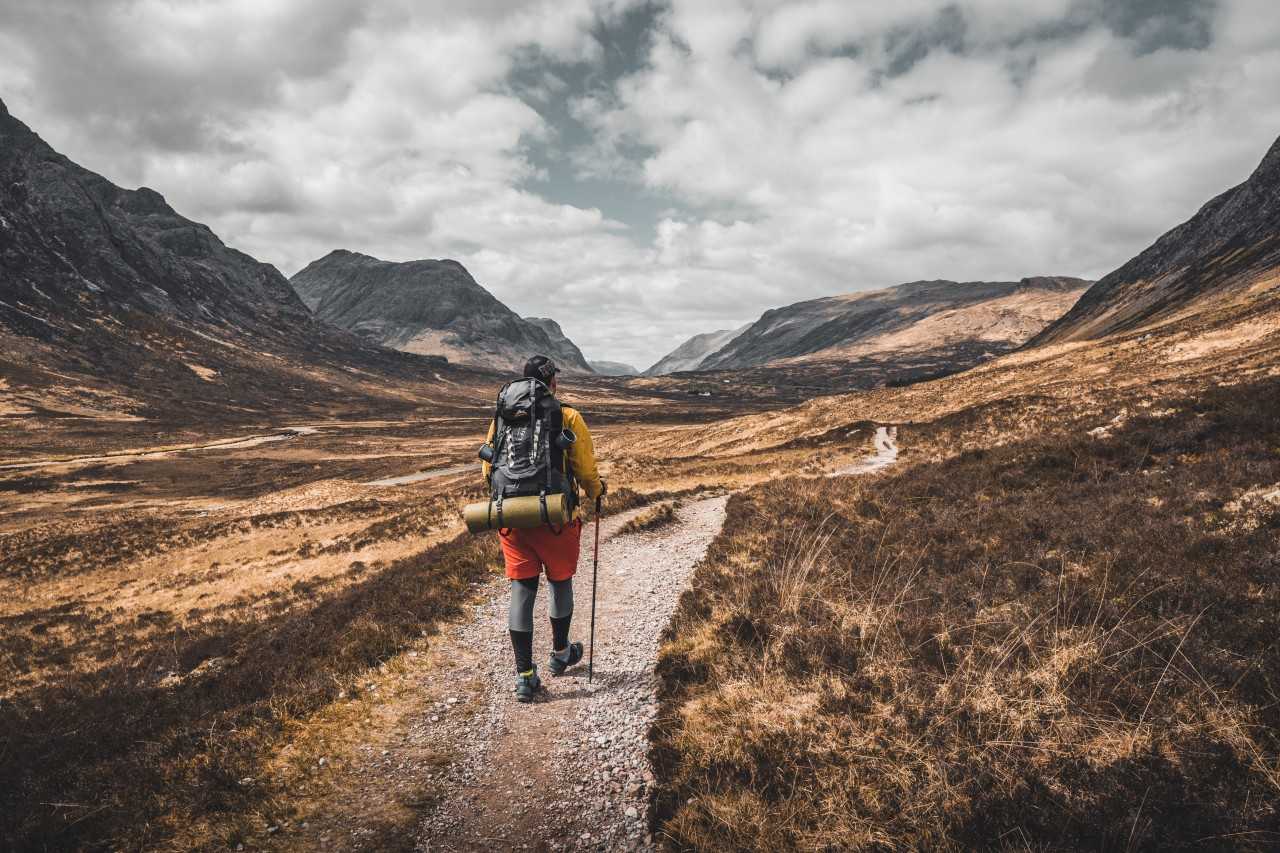 If you're looking to explore the scenery of the Scottish Highlands on foot, the West Highland Way makes an excellent choice for a long-distance walk. Since becoming Scotland's first designated long-distance trail in 1980, the West Highland Way has been taking hikers, cyclists and horse riders on a splendid route through the Highlands, including sections through a national park, up over a mountain ridge, and across farmlands and moors – all following a well-marked path.
The West Highland Way is one of the most popular long-distance trails in the UK, and in fact many people say that it's one of the best in Europe. That means there are many accommodation options along the route, but staying at campsites along the trail is one of the best ways to make the most of this glorious scenery. Camping increases your time spent in the open air and is also likely to make your trip more sociable, introducing you to fellow hikers who may be able to share tips and stories.
This guide gives you an overview of the route and what to expect from it, plus practical advice on organising a West Highland Way camping trip – including picking your campsite and packing your rucksack.
Camping on the West Highland Way
What to see along the West Highland Way
Suggested itinerary for West Highland Way camping
What to pack for camping on the West Highland Way
Can I go wild camping on the West Highland Way?
How long does it take to walk the West Highland Way?
How difficult is the West Highland Way? 
What is the West Highland Way?
The West Highland Way is a moderate 96-mile route in west Scotland that runs between the centre of Milngavie (a few miles north of central Glasgow) and the centre of Fort William on the shore of Loch Linnhe. You can walk it in either direction, but most people walk from south to north, easing themselves in with the gentler southern section before taking on the more challenging northern stretch.
There is spectacular scenery all along and around the West Highland Way, as the trail passes through the Loch Lomond & The Trossachs National Park, across Rannoch Moor and past Loch Leven and Glencoe. With a high point at the Devil's Staircase (550 metres) and a low point at sea level, the total elevation change along the route is more than 3000 metres. The whole thing usually takes around five to eight days to walk, depending on your speed and how many times you stop to take photos.
Although the West Highland Way is lovely at most times of the year, spring and autumn are especially good times to take in the scenery. May is the most popular month to take on this trail, so if you're looking to avoid the crowds, September and October are more peaceful times with generally good walking conditions. Between late June and August, it's also likely that there will be clear conditions for the trail. However, this is the height of midge season in the Scottish highlands, so you'll need to bring proper protection.
We'd recommend avoiding walking the West Highland Way between November and March due to poor weather conditions and reduced amenities along the route.
Camping on the West Highland Way
There are many accommodation options along the West Highland Way, from wild camping spots to smart hotels for those who'd like to treat themselves to some real comfort at the end of each day's walk.
Choosing to stay in campsites on the West Highland Way is a popular way to do the trail. Spending the night in the open air gives your trip a true sense of adventure and allows you the chance to soak up more of the gorgeous scenery, take in the sunset and spend the evening gazing up into the starry skies. 
While wild camping might seem like a tempting option, particularly if you're trying to keep costs down, most people choose to stay at campsites for the access to amenities and the reassurance of having a guaranteed place to stay each night. With camping pitches around here starting from as little as £20 per night you can easily stick to a low budget while still having access to facilities like toilets and showers each night. 
The West Highland Way route
Planning your West Highland Way campsite stays starts with deciding how long you're going to take to walk the 96-mile route. Most people choose to start in Milngavie and walk north towards Fort William, splitting the trail into between five and eight sections.
On the whole, the West Highland Way is well signposted and waymarked. However, poor weather conditions may make it difficult to see the signs, so it's a good idea to download a GPS tracker to your mobile phone, and/or pack a map and mark out the route before you leave to avoid any wrong turns. 
The West Highland Way does pass through sections of farmland, so you'll need to keep any dogs under control, walk on the marked paths through crop fields and pick up waste.
What to see along the West Highland Way
There's so much spectacular scenery along the West Highland Way you may well find yourself overusing the word 'wow' and whipping your camera out at almost every turn. The views over Loch Lomond from Conic Hill and the sight of Buachaille Etive Mòr rising out of the moorland are likely to linger long in the memory, as is the section that takes you through Glen Nevis.
In among the mountain, moor and loch views are even more highlights not to be missed – we've listed five of our favourites here.
Five unmissable highlights on the West Highland Way
1. Glengoyne Distillery
Fortifying yourself for the trail ahead, or perhaps hoping to stash a bottle in your bag for evenings by the campfire? This Scottish whisky distillery runs tours and tastings just seven miles from Milngavie (demanding a short detour from the trail itself).
2. The Devil's Staircase
This is the highest point on the trail at 550 metres – and climbing the winding path up the 10-kilometre-long ridge called the Devil's Staircase rewards you with spectacular views over Glencoe and the Blackwater Reservoir.
3. Loch Lomond
The West Highland Way takes you along the eastern shore of the gorgeous Loch Lomond, the UK's largest freshwater lake, so there are lots of fabulous views to be had here. If you're not on a tight schedule, you may want to linger here for a cruise or water activities such as paddleboarding, swimming, canoeing or kayaking.
4. Falls of Falloch
A short walk from the West Highland Way between Inverarnan and Tyndrum, the Falls of Falloch is a gorgeous spot for a picnic. The pool at the bottom is great for a wild swim (or a dive, if you're feeling brave). Otherwise, simply rest your feet and take in the 30-foot falls.
5. Ballachulish Slate Quarry
Since its heyday in the 18th century, the Ballachulish Slate Quarry has become a favourite for history fans. There's a short walk that goes around the quarry with facts about the past and great views over the quarry lochans, which are a bright blue colour.
Suggested itinerary for West Highland Way camping 
There are many ways to break up the 96 miles of the West Highland Way, so you'll want to plan your own schedule according to how fast you want to walk and the kinds of places you'd like to stay. Pitchup's camping options range from simple grass pitches to rental tents and glamping sites, so you may like to browse the full range to find the perfect place for you.
Browse all Pitchup Highlands campsites
To give you some inspiration, we've put together a seven-day itinerary, with suggestions for campsites along the route. Seven days is perhaps the most popular timeframe for walking the West Highland Way, giving you plenty of time to rest and admire the scenery without pushing the pace too much.
Day 1: Milngavie to Drymen
12 miles
Milngavie is where your journey onto the West Highland Way begins – and it has a few attractions of its own, including Milngavie Reservoir and Tannoch Loch. The official start of the West Highland Way is on Douglas Street, just behind the town centre. This first stretch is the easiest of all seven stages, so it's a nice gentle start to the walk. 
The route will take you through farmland and past Carbeth Loch, with some lovely views of the Campsie Fells as you go. Continue on to the village of Drymen and a stay at Drymen Camping, a simple site close to the village's pub and shops.
Day 2: Drymen to Rowardennan
14 miles
Heading north from Drymen you'll pass through the Garadhba Forest before climbing up Conic Hill, where you'll have spectacular views over Loch Lomond. Head down into the village of Balmaha for lunch, then continue along the lake shore as the path weaves in and out of woodland. There are some lovely spots along here for a dip if you're into wild swimming. Continue on to the lakeside village of Rowardennan for the night.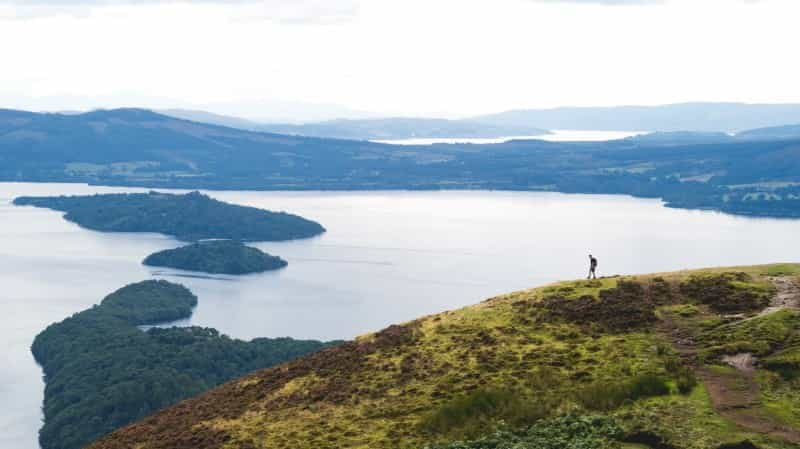 Day 3: Rowardennan to Inverarnan
13 miles
This stretch takes you right along the lake shore, with lovely watery views pretty much all the way. Look out for the waterfall at Inversnaid and Rob Roy's Cave a little way off the trail, and keep eyes peeled for wildlife like red deer and mountain goats. Towards the northern end of the loch the path gets quite rocky and passes close to the water so you'll need to watch your footing (there is an alternative path if you're not feeling up to it, but it's not as scenic).
As the path leaves Loch Lomond behind it climbs to the village of Inverarnan, where Beinglas Farm Campsite is a handy stopover point with its own bar and restaurant.
Day 4: Inverarnan to Tyndrum 
12 miles
You'll notice the scenery change today, as you move away from the loch and head into more mountainous territory. You'll walk through Glen Falloch, stopping to see the Falls of Falloch (and maybe have a dip if you like) before passing between Ben More and Ben Lui mountains. Crinalarich is a handy place to stop for lunch before finishing the day with a pleasant section of path going in and out of woodland and with various historic sights along the way (including the spot where Robert the Bruce was defeated in 1306).
Finish up in the village of Tyndrum, where you can stay at the peaceful Tyndrum Holiday Park and shop for local souvenirs and various bits of kit (including blister plasters…) at the famous Green Welly Stop.
Day 5: Tyndrum to Kingshouse
18 miles
This is the longest stretch to be covered in one day, but it's also a particularly scenic part of the trail, starting out by passing through a valley with views up to Beinn Dorain as you head towards the pretty village of Bridge of Orchy. The trail then heads past Loch Tulla, Lochnan na h-Achlaise and Loch Ba for some lovely watery views, through the gorgeous Rannoch Moor, a Site of Special Scientific Interest, and past the famous resort of Glencoe. Spend the night in Kingshouse, which has public toilets and showers that may be very welcome after a long day.
Day 6: Kingshouse to Kinlochleven
9 miles 
After your efforts yesterday, you'll get to take it slightly easy today – at least in distance terms. That said, you will be trading mileage for elevation gain, as this day takes you up to the highest point of the trail, on top of the ridge known as the Devil's Staircase. Don't be put off by the name – it's actually a perfectly manageable climb up to 550 metres, with some splendid views to reward yourself with at the top. From the peak it's a gentle descent into Kinlochleven and a night spent at Blackwater Hostel and Campsite.
Day 7: Kinlochleven to Fort William
16 miles
The final stretch starts with a steep climb taking you up the Lairigmor Pass for some stunning views over Loch Leven, before the trail descends into the Nevis Forest where you'll start to catch glimpses of Ben Nevis in the distance. Eventually you'll make your way into Fort William and the end of your epic walk. To complete the trail you'll need to pass the old finishing point (on the way into town) and carry on to the statue of a hiker in Gordon Square. A selfie here is pretty much obligatory, as is a celebratory drink…
Fort William's train station has services to London, Glasgow and various other Scottish destinations for those who need to make a quick getaway – if you'd like to stick around to soak up a bit more scenery, bag a pitch at Linnhe Lochside Holidays, a little way out of town. Here you can settle down for fishing and lake views or keep the active spirit going with a ride on the site's zipwire.   
What to pack for camping the West Highland Way
Packing for any camping trip requires a bit of forethought to make sure you've got all the right kit for a comfortable stay – Pitchup's handy camping checklist gives you a detailed list of essential camping equipment, and ticking off items one by one is a good way to prepare for any camping trip. If you're relatively new to camping, take a look at the various guides to buying and looking after your kit in the camping guide.
Even if you're an experienced camper, packing for a long-distance walk has its own set of requirements – you want to make sure you've got all the things you'll need, but you also need to be mindful of the amount of weight you'll have to carry on a daily basis. For most people, a maximum weight of 12-13 kilograms should allow for a fairly comfortable walk, not forgetting that this also needs to include some food and water. A couple of practice walks with your chosen backpack and target luggage weight should tell you whether you've got the setup right or need to make some changes.
To help you pack for your trip, we've pulled together a packing list for camping on the West Highland Way, covering all the essentials you should need for walking and camping.
Backpack – Around 65 litres is ideal for most walkers, and make sure you buy one with a rain cover for the inevitable Scottish showers

Tent – Ideally a lightweight tent, with the addition of a specialist midge net if possible (the holes on a standard insect being too big to protect you from tiny midges)

Sleeping bag – A three-season sleeping bag (suitable for temperatures down to 0ºC) should keep you warm enough as long as you're not walking the trail in winter

Sleeping mat/pillow – An inflatable sleeping mat packs down small and will give you comfort and warmth to help you get a good night's rest between walks. Add a lightweight inflatable pillow too if you like.

Cooking kit – What you'll need to pack will depend on the kitchen facilities available at your campsites, but multipurpose items are key here, such as a cooking pot that you can eat from, and a spork that can function as either spoon or fork.

Water bottle and filter – You'll need to consume a fair amount of water to stay healthy on the hike, so a good-sized lightweight water bottle or water bladder is an essential. If you're planning to fill up from mountain streams, a filter system such as a Steripen or Life Straw is a good addition to your pack.

Snacks – Buying food as you go along is preferable to carrying all the extra weight, but some well-chosen high-energy snacks (such as nuts or flapjacks) can be useful for the times in between shops.

Walking boots or shoes – Boots are preferable as they give added ankle support, but as this isn't a particularly technical trail it's also possible to walk it in trail shoes. Whatever you go for, make sure they are waterproof and well broken in (aim to complete at least 30 miles in them before setting off) but not so well-used they're in danger of falling apart during the walk. 

Casual shoes or flip flops – When you get to the campsite your feet will be pleased with the chance to ditch the boots and walk about in something different for the evening.

Gaiters – These may not be fully essential but they can be very handy if you encounter boggy terrain, and as they pack down small it's worth packing them if you can.

Socks – Your walking socks are just as important as your shoes or boots. Merino socks, thermal or anti-blister socks are popular choices, as are walking sock liners. Try different options on your practice walks to find what works best for you.

Layers of clothing – Packing lightweight layers is the best way to deal with changing weather along the trail. For your top half, a wicking base layer and a warmer mid layer gives you the best versatility, with walking trousers or shorts on the bottom. Lightweight, quick-drying materials are key here, so steer clear of heavy jeans or cotton trousers.

Waterproofs – The weather can change very quickly in Scotland, so waterproof clothing is a must – you should have both a jacket and trousers easily accessible in your pack to cope with sudden downpours.

Sun protection – The sun can be surprisingly strong on clear days, especially if you're out walking for hours, so pack suncream, sunglasses and a sunhat or baffle to help here.

Warm hat and gloves – On the other hand, it can also get chilly from time to time, so you may well be grateful for a woolly hat and some warm rainproof gloves at times.

Midge protection – Many a walker's day has been ruined by midges on the West Highland Way, and you'll be very lucky to avoid them entirely. A netted midge hat can offer some protection, as can a targeted insect repellent such as Smidge.

First aid kit – Your standard camping first aid kit should be boosted with extra blister plasters for a long-distance walk.

Walking poles – Even if you don't usually use poles for your hikes, you may well be grateful for the extra support they provide on steep and muddy sections, especially as you'll be carrying a fair amount of weight in your pack.

Torch – A small torch or head torch is a must for a campsite, and may also be a lifesaver if for some reason you're still out on the trail after dark. Don't forget to bring a few extra batteries.

Gadget charger – Whether you're using a GPS for navigation or your phone to snap photos, you don't want to run out of power, so make sure you pack a charger. If possible, packing an additional battery pack or solar charger gives you added peace of mind.

Basic toiletries – Keep your toiletries bag light and leave things like hair products or makeup at home. A toothbrush, toothpaste, mini deodorant, hand sanitiser and some multipurpose shower gel/shampoo may be all that you need.

Rubbish bag and toilet bag

– 'Leave no trace' is the mantra of all long-distance walkers, so you need a way to deal with the rubbish you create while walking. This includes having a plan for the inevitable toilet stops along the route (any used toilet roll can then be carried to the nearest loo; never leave it behind or burn it).
Can I go wild camping on the West Highland Way?
The Scottish Access Code means that wild camping is legal in most of Scotland, so it is possible to wild camp along much of the route of the West Highland Way (with the exception of the stretch along the banks of Loch Lomond, which has bylaws banning wild camping from March to September).
One of the attractions of wild camping is that it's free – but it's worth remembering that you'll need to carry pretty much everything you need for several nights, and amenities will be few and far between. So, unless you're an experienced hiker and wild camper, it's probably a good idea to book at least a couple of campsites along the West Highland Way to give you a chance to do things like have a shower and charge your phone, and perhaps stock up on food or other supplies.
If you're keen to maintain the adventurous outdoor vibe when booking campsites, have a look at Pitchup's nearly-wild campsites in Scotland, which usually have just simple facilities.
How long does it take to walk the West Highland Way?
Walking the full 96-mile length of the West Highland Way usually takes between five and eight days, depending on your fitness and your approach to walking. Aiming to complete the trail in five days means you'll have to average almost 20 miles a day, which might be challenging if you're not used to swift-paced multi-day walks. 
A more popular option is to plan for the walk to take seven days – even when adding on a day of travel at either end, this itinerary fits nicely into a week's holiday from work. The slower pace of this option (or the eight-day version) means that you'll have more time to soak up some of the scenery, take photos and make detours to nearby places of interest.
How difficult is the West Highland Way?
The West Highland Way has relatively low elevations and no major climbs so it's usually classed as a moderate trail rather than a particularly difficult one. The path is well marked and requires little in the way of technical skill or specialist equipment, so it's accessible to all walkers with a good level of fitness.
Walking a long-distance trail is always more enjoyable if you're feeling fit and strong, particularly as you'll be carrying a fair amount of kit for camping. There's no specific training required for this trail, but you'll probably get more out of it if you've built up your fitness in the weeks or months before departure – including some practice of doing long walks with your backpack full of kit.
Start your West Highland Way camping trip
With stunning scenery, moderate length and accessible terrain it's no surprise to hear that the West Highland Way is often ranked as one of the UK's favourite long-distance walks. If you're a keen hiker it's certainly something you should experience once in your lifetime. 
If you're ready to get started with planning your West Highland Way camping trip – or indeed any walking and camping holiday in Scotland – Pitchup's list of campsites in Scotland is a good place to begin. Here you'll find all the options to book campsites on the West Highland Way, along with lots of other scenic Scotland locations to choose from.
See all Pitchup campsites in Scotland
West Highland Way FAQs
How long is the West Highland Way?
The West Highland Way is 96 miles long, running from Milngavie all the way up to Fort William and taking in a lot of beautiful Scottish scenery including loch and mountain views.

How long does it take to walk the West Highland Way?
Most people will need five to eight days to walk the West Highland Way, so completing the route should fit nicely into a week's holiday.
Can you cycle the West Highland Way?
It is possible to cycle the West Highland Way, but the route is primarily designed for walkers so there are sections where you will need to dismount, such as narrow trails and low-headroom tunnels.

Can you drive the West Highland Way?
The West Highland Way is a walking trail that is not suitable for motor vehicles. However, the A82 runs along a roughly similar route for much for the trail and offers a scenic alternative for those who would like to drive.  
<