How to pitch a tent
If you follow these instructions, pitching a tent can be easy – even for a first-time camper.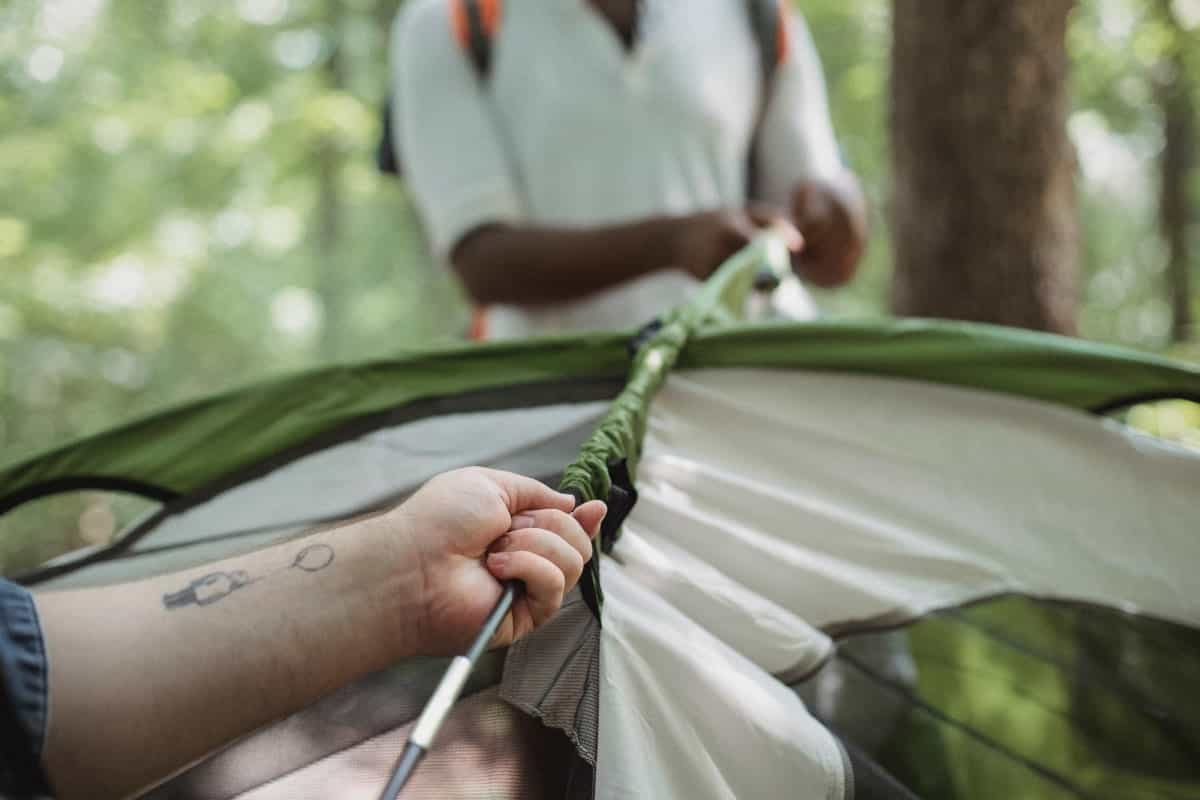 Some key points to remember: 
If you have an air or pop-up tent, many of the rules for setting up your camp will differ. This guide is for traditional pole tents. 

After checking our step-by-step instructions below, it's still worth reading your tent's user manual as not all follow the same pitching rules.

Take a photo of the key details in the manual in case you lose it or forget to bring it.

Do a practice pitch in your garden before your holiday. As well as helping you learn how to put up a tent, this also helps troubleshoot any problems and check for missing equipment. 

Try to arrive at your campsite before dark so you can pitch in the daylight. 

Follow our camping checklist to confirm you have all the right equipment before you set off. 

Ask for help – it's much quicker and easier to put up a tent between two or three people, rather than just one. 

Pack extra pegs in case yours get bent during the set-up process.
Where to pitch your tent
Pitching a tent is as much about where to do it as how to do it. 
When choosing the perfect place to put up your tent, look for flat, sheltered ground free from tree trunks and roots.

If a hilly pitch is your only option, make sure your head is at the top of the slope and feet at the bottom when lying down. This will help stop you from rolling out of bed at night. 

If it's raining, scout out a spot where the ground isn't waterlogged. Avoid ditches and other concave patches of land, as these collect puddles. Try to pitch on higher ground as it tends to be drier. 

While camping next to a lake with gorgeous views sounds dreamy, be aware that insects tend to gather next to water. 

It can seem smart to camp under trees for shade and shelter, but there's also a risk of sap, bird droppings and debris falling on your tent. Block out wind by pitching next to a bush or your car instead. 

Think about where you're putting your tent's entrance. You might like to have it facing outwards towards a view and/or away from the eyes of other campers. 

If you have an electric pitch, make sure your tent is close enough to the plug socket to access the hookup from inside.

Try to leave enough outdoor space for alfresco cooking and relaxing while also allowing other campers ample room. At least five metres is a good rule of thumb. 

Decide whether you want to be near the bathroom and other campsite amenities. This can be convenient at night but tends to mean you'll be in a busier part of the park with more foot traffic. 

Check the weather forecast and wind direction. It's useful to know the angle for pitching your tent ahead of time.

What you'll need to pitch a tent
A groundsheet

A footprint or piece of tarp*

A tent

Tent poles

Pegs or stakes

A rain fly

A mallet or rock*
*Optional
8 steps to pitching your tent perfectly
1. Pick a place to pitch
Using the guidance above, choose the ideal place for your tent. You'll want plenty of room for your guy lines, so make sure there's at least three metres between your site and any obstacles. Place the side of the tent with the strongest pole structure facing any wind. 
When camping in hot weather, angling the door towards the breeze helps to cool down your tent's interior.
2. Clear space for your groundsheet
Brush twigs, stones or anything else that may tear your tent away from the pitching area, then put your groundsheet down in your chosen position. If you have a tent footprint, or an extra section of protective tarp, lay this down first. 
Put your tent on top of the groundsheet, facing upwards. Plug pegs loosely into all four corners of the tent to ensure everything stays secure for the moment.
3. Check if it's a flysheet-first tent 
Take a look at the manual and see if it says to get the flysheet or inner up first, then tackle this part of the job. Some tents have attached inner and outer layers, which speeds up the task at hand. 
If it's a flysheet-second option, place the tent's interior on top of the footprint, matching both sections of material corner to corner. Make sure your doorway is facing exactly where you want. 
4. Connect your poles
Now it's time to start tackling your tent's poles. Fix them together first, inserting each adjacent pole with care. Don't just let them spring into place, as this can cause damage.
5. Attach the poles to the frame
There are typically two ways in which your tent's internal body will attach to the poles: with sleeves or clips. Either thread the poles through the sleeves or clip the material to the frame, beginning in one corner before moving on to the opposite corner. 
Don't pull the poles through the sleeves – if they're joined up by elastic or bungee cords, yanking will force them to separate and you'll have to start all over again. It's best to push the poles instead. 
6. Set up the tent
Next, attach the poles to the pin and grommet (or ring and pin) you'll find at each of the four corners of your tent's inner body. This can require a little force as the whole structure needs a certain level of tension to stand upright. 
To avoid breakages, bend the frame carefully instead of putting pressure on individual poles. Then add the flysheet – your waterproof cover – if this is separate from the tent body, making sure to match the inner doorway up with the flysheet's entrance. 
Some tents use velcro to affix the rain fly to the poles. Others include bungee cords that stretch the cover overhead and then connect underneath the poles. Have a look at the instructions to be 100% certain which applies to your tent.
7. Peg the tent in properly
One of your final tasks when pitching a tent is to stake everything down securely. Push your pegs into the ground at a 45-degree angle – with the hook pointing away from the tent – then hammer them in with a mallet or rock if the ground is hard. Avoid stamping on the stakes with your foot as this risks breakages.
Here's our guide to all the different tent pegs available.
8. Finish up 
Once your tent is erect, pull the poles as far apart as possible to make sure the material is nice and rigid. This gives you maximum room overhead and also means that rain will stream down the flysheet and away from the roof. Tying your guy lines properly also helps prevent water from pooling above you. To check the tension of the tent, make sure that the seams on the fly align with the seams of the tent body and its poles.
Top tips for pitching a tent on your own
The more hands the better when putting up a tent, but you can certainly pitch one alone. Follow the above steps, but keep these tips in mind too: 
Consider buying a pop-up tent if you do a lot of solo camping, as these are much easier to set up alone.

Place something heavy – perhaps a stone – on each corner of the tent after you lay it out on the ground to stop it from flying away in gusts of wind. 

For extra ease, leave just enough of the peg exposed to let you slip a guyline over it easily.

Even if the weather seems fine, it's worth using all the guy ropes and peg points – rainstorms and high winds could appear in no time, and it'll be trickier to fix this quickly when alone.
How to pitch a tent in bad weather
We've created specific guides to camping in rain, high winds and storms, but here are some quick tips for putting up your tent when conditions are far from ideal. 
Pitch up while using the side of your car for shelter. It makes a great wind breaker. 

Bring waterproofs to wear while putting up the tent, then pop them in a plastic bag as soon as you're indoors and dry.

Put the flysheet up first if you can, instead of the inner body, so you have a certain level of protection while pitching.

Don't skip the pegs and guy ropes. While it's tempting to get inside as soon as possible, it's essential that your tent is fully stable when camping in bad weather.

Place your tent at an angle

so the windflow spreads more evenly across it.