Camping in the rain
Whether you are camping, caravanning or touring, the weather doesn't have to make or break your trip. On the contrary, a holiday in the rain can still be great if you take specific steps to make your holiday in the rain one to remember – and not for the wrong reasons. 
All it takes is getting the right gear in order, thinking cleverly about where you pitch and being ready to warm yourself up quickly in the event that you do get wet.
If you're staying in a tent, this guide will clue you up on how to prepare ahead of your trip and teach you the best way to set up your tent so that you and your belongings stay dry. We've also covered how to keep your caravan or motorhome a dry zone and how to prepare for wet roads or soggy pitches.
Whether you're yet to depart or already away, the first thing you should do is check the weather forecast to avoid any severe weather warnings, make a few final modifications to your equipment checklist and pick up any extra supplies.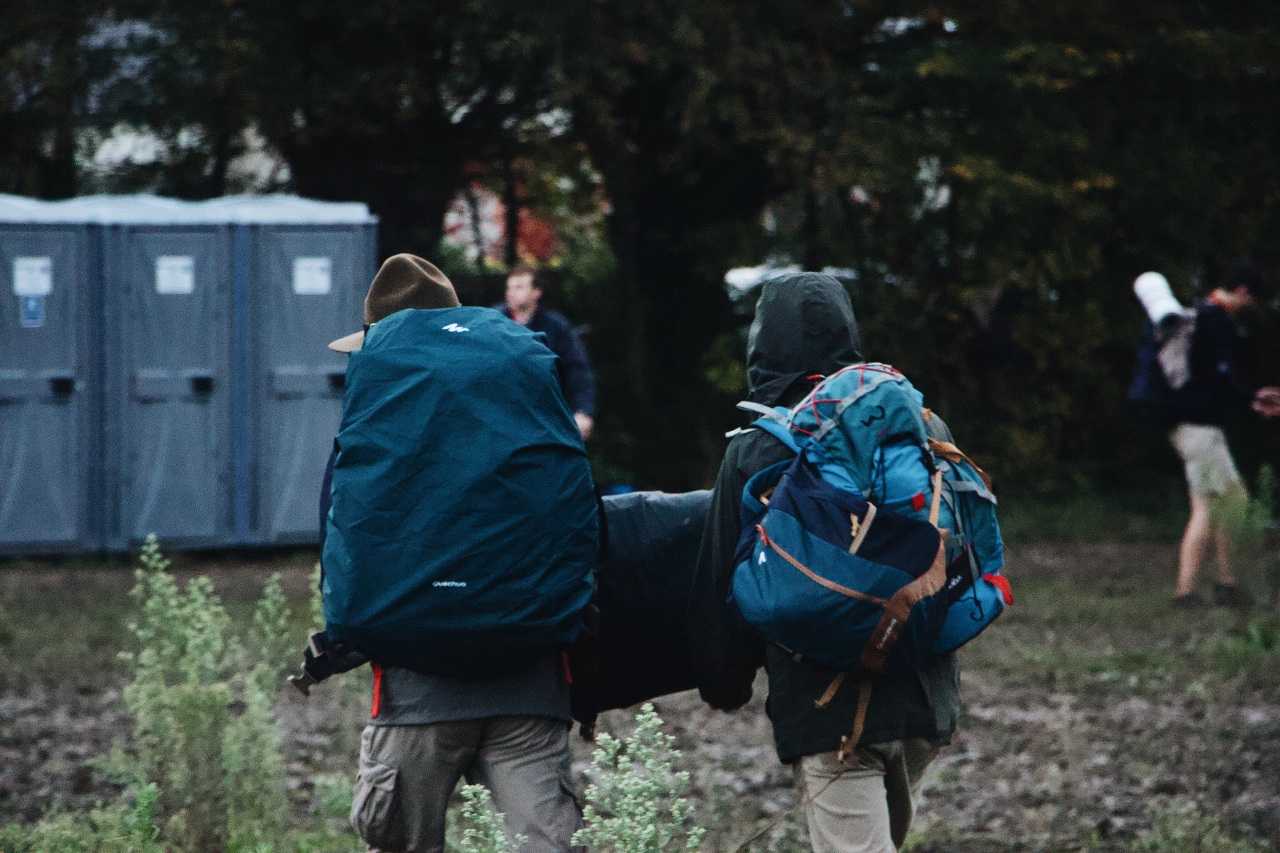 Checklist of what to pack when camping in the rain
1. Plastic bags or dry bags
Whether it's dry bags, carrier bags or bin bags, you'll need somewhere dry to store your clothes and camping gear. Dry bags, sold by outdoor gear brands and major retailers, are specifically designed to keep out water, but cheaper options like bin bags or carrier bags can be just as effective options. The plastic will repel any moisture, keeping everything dry and in top working order.
2. A waterproof jacket
A waterproof jacket is a staple for any camping trip in the rain. Without it, you'll quickly wind up with a bunch of wet layers. Not every jacket is made equal though, so look for those with a breathable waterproof membrane made from nylon or polyester or a laminate covering containing polyurethane or Teflon, which can effectively deflect water away from your body. 
A waterproof rating of over 5000 will be very watertight, but 1,500 is the bare minimum you'll need for light or moderate rain. Features such as adjustable hoods are also handy at keeping rain away from your face and head.
3. Waterproof trousers
It's not just your upper body that needs protecting; your lower body also needs looking out for. So, pack a well-fitting pair of waterproof trousers made from the same materials as above, and again, with a high waterproof rating.
4. Waterproof boots or wellies
While wellies might be helpful for navigating your site, longer hikes and outdoor activities will require a solid pair of waterproof boots. They are often made of rubber or synthetic materials such as neoprene and polyurethane.
5. Quick-dry T-shirts
Swap your cotton clothes for quick-drying T-shirts made from 100% polyester or nylon. Sold by sports and outdoor brands, these are far more effective at repelling rain and mopping up sweat. They also dry quicker, saving you time wringing out clothes or hanging around for them to dry.
6. Quick-dry towels
It's likely you'll need to wipe clothes, boots and yourself dry when you're camping in the rain, so pack a couple of quick-dry towels made from microfibre. They're often sold by sports or outdoor clothing brands and major retailers.
7. Spare socks
Your feet don't get much protection from the elements, especially when you're hiking or trying to skirt around puddles, so be sure to pack plenty of spare socks.
8. A spare poncho
When you're on site, you may not want to shrug on your waterproof jacket for every little trip. So, pack a spare, lightweight poncho that will be easy to slip into for a quick trip to the toilets or wherever else you need to go.
8. Entertainment
You may be spending more time under shelter than usual, so pack plenty of entertainment such as books and board games so that your group can create their own entertainment.
How to stay warm when you get wet
1. Change into dry clothes.
In the unfortunate event that you do get soaked, dry yourself off and put on a dry change of clothes. Wet layers of clothes will only keep you cold and shivery, as they take a long time to dry.
2. Layer up.
Layers of clothing trap heat, so put on as many layers as possible to build up a nice warm bubble around your body.
3. Get into your sleeping bag or bed.
The warmest place in your tent, caravan, motorhome or other holiday home is your sleeping bag or bed. Once you're dry, climb inside to your sleeping bag to conserve heat and form a toasty cocoon.
4. Utilise hand warmers and hot water bottles.
If you do have access to hot water or a firepit, a hot water bottle can help to replace any heat you've lost. Otherwise, hand warmers will help to keep your extremities warm.
5. Consider using a heater.
An electric heater can provide a quick burst of heat. However, if you're camping in a tent, heaters and water don't mix, so make sure that your tent is completely dry and leak-proof before using this option. You'll need an electric pitch and sufficient knowledge on how to heat your tent safely.
Camping in a tent in the rain
Whether you're yet to embark on your trip or you've just touched down and the rain clouds are rolling over, it's best to start your preparations as soon as possible. This could include steps like waterproofing your tent in advance, packing sensible kit and pitching your tent in the right spot.
What tent to buy for camping in the rain
1. Buy a tent with a high Hydrostatic Rating.
One of the key things to look out for when you're buying your tent is that its waterproof rating is up to scratch. The easiest way to tell is by checking your tent's specification and finding the Hydrostatic Rating.
This number is a measure of how waterproof your tent is. Any fabric with a rating of over 1000mm can handle light showers but for any heavier rain or prolonged rainfall, you'll need a tent with a rating of at least 2000mm.
2. Consider buying a tent with a sewn-in groundsheet.
The last thing you want when you're setting up your tent in wet weather is rain getting on top of your flysheet, so selecting a tent with a sewn-in groundsheet is a great solution.
The two sheets, the flysheet and groundsheet, are combined in one, which will keep them drier during the set up. That way you'll have a dry interior to start with, and an effective waterproof layer between your tent and the ground.
How to prepare for a rainy camping trip
1. Waterproof your tent if it has been used several times.
Tents that are a couple of years old and have been used a handful of times may need waterproofing. This is probably the case if the tent fabric appears flaky, you've been struggling with leaks on previous camping trips or any water on the outside of your tent doesn't form droplets. It's easy enough to waterproof your tent at home using a reproofing product.
2. Repair any holes, tears or split seams. 
Examine the tent fabric and seams for holes, splits and tears. When you're camping in the rain, you want to avoid any openings that will let rainwater soak into what should be a warm, dry interior.
Simple tent repairs can fix these common ailments, and they're far easier to do from home with the right tools or a tent repair kit. Don't forget to check the seams (looking for flaking material and small tears), because these are what makes the bottom of your tent waterproof.
3. Pack synthetic sleeping bags.
When you're camping in a tent, a synthetic sleeping bag is a wiser choice than a down sleeping bag because they dry more quickly and fight off moisture caused by high humidity levels.
4. Pack a tent repair kit.
You never know when you'll need to perform a tent repair – and it's essential to do so, because holes, tears or split seams can let water into your tent.
5. Pack food that doesn't require heating.
It may be tricky to rustle up anything on the campfire or camping stove when it's pouring with rain outside, so pack meals and snacks that won't require heating through. Good options include tuna cans, bread, nuts, granola bars and hard-boiled eggs.
Where to pitch your tent if you're expecting rain
1. Pitch on high land.
Water runs downhill, so the top of a slope is less prone to forming puddles and getting soggy. We'd also recommend avoiding the bottom of a valley or campsites at the foot of mountains or hills.
2. Avoid flat pitches or very steep slopes.
A gently sloping pitch is the ideal place to pitch up, as water will continue to flow past your pitch. Flat pitches, even on high ground, could still gather puddles, whereas steep slopes are uncomfortable to sleep on and at risk of fast-flowing water.
3. Pitch close to the campsite's toilets and facilities.
You won't want a long walk in the rain to get to the campsite's toilets or other facilities, so consider pitching your tent close to any places you'll need to frequent.
4. Underneath trees.
As long as it's not windy, pitching underneath trees in wet weather can offer some shelter from the rain. Avoid woodland pitches when you're camping in high winds due to the danger of falling limbs or debris.
How to pitch your tent in the rain
Pitching a tent is fiddly as it is, without slippery surfaces and rain in your eyes. Take care to learn how to pitch a tent down to the fine details so that the set-up is as quick as possible.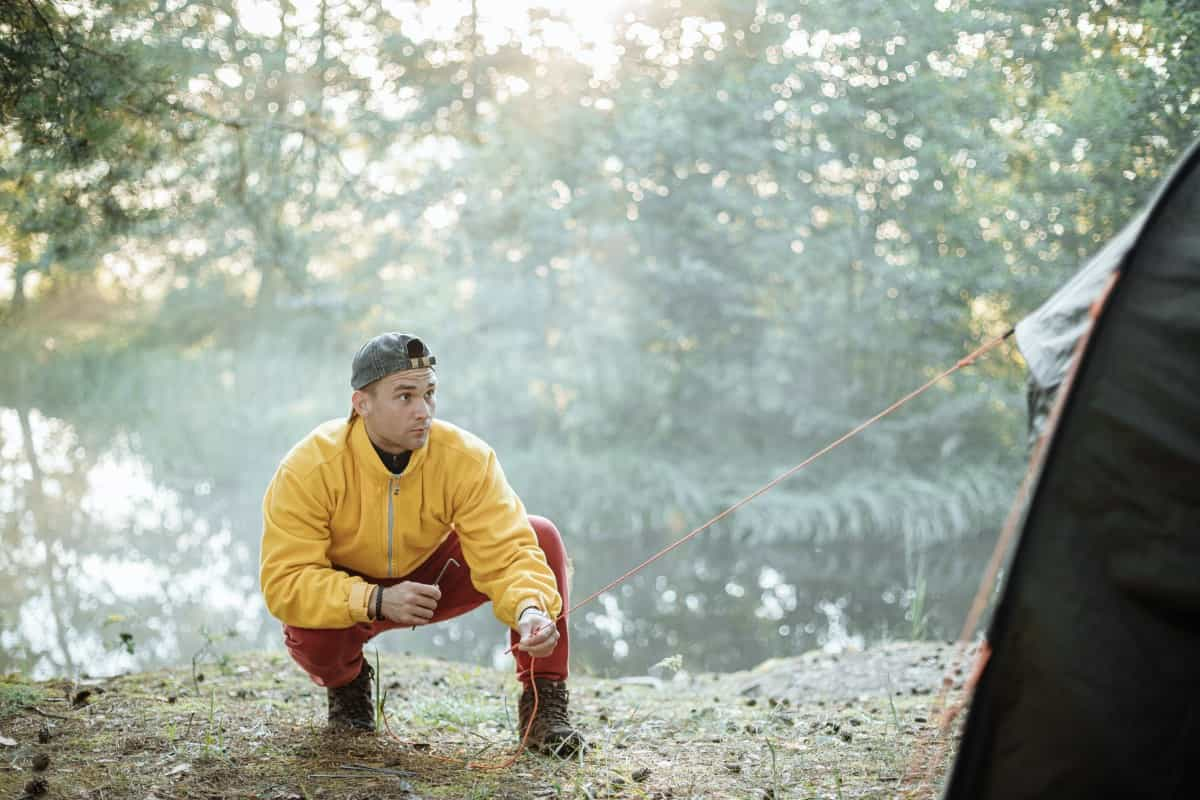 The process will be pretty much the same, although your main goal should be to keep the inside of your tent dry and move through the steps as quickly as possible. You'll also want to consider the following:
1. Store your tent pack somewhere dry.
Keep your tent pack dry by keeping it in a sealed plastic bag, car boot or other dry structure while you set up your tent.
2. Lay down an extra groundsheet or tarp.
Your tent will already have a flysheet and groundsheet (or a sewn-in groundsheet that includes both in one place). However, adding tarp or an extra groundsheet beforehand will doubly protect the inside of your tent from water on the ground.
3. Position the doors away from the wind.
Rain and wind often come as a pair, so position your tent facing away from the wind to direct the breeze away from your tent door. Otherwise, rain will easily flow into your tent whenever the flap is open.
4. Consider buying a footprint.
A groundsheet that is larger than the size of your tent can often create a funnel-like effect and channel rain into your tent. So, fold the edges of your groundsheet into the tent floor to tuck them out of the way of rain.
5. Don't let your flysheet or groundsheet get wet.
Prepare for the next steps so that the flysheet and groundsheet don't get wet from rainfall before you move on. A wet flysheet or groundsheet will mean that your tent floor is damp to start with - not a good recipe for a dry camping trip.
6. Don't forget the rainfly.
Don't miss out setting up your tent's final layer. The rainfly's job, as the name suggests, is to shield your tent from the rain. Make sure that it's several inches above the wall of your tent so that it works effectively; if the two layers are touching, water could soak through the tent fabric due to capillary action.
7. Consider draping a layer of tarp over your pitch.
If you want even more protection, you could drape a layer of tarp above your tent like an umbrella (perhaps between two stakes or a couple of trees).
How to keep your camping equipment dry in a tent
1. Store your equipment inside your tent.
Don't keep any equipment or belongings outside of your tent, even if it seems to be dry outside. Downpours can set in at any time and soak your belongings.
2. Dispose of and dry wet belongings in porch or hallway areas.
Your tent should be a wet-gear-free zone. Porches, which can come as a built-in compartment or bought as an extension, are a handy place to dispose of wet kit, while other communal hallways are also useful for additional storage and drying wet clothes away from the bedroom areas.
3. Store your equipment inside plastic bags and seal with a knot.
Plastic will deflect moisture and water, so protect your equipment by placing it inside a sealed or tied-up plastic carrier bag or bin bag.
4. Don't let any equipment touch your tent walls.
When your equipment touches the inside of your tent walls, it creates a tunnel for water to soak through the fabric, known as capillary action. It's an easy mistake to make and it will end in damaged equipment for many campers, so keep everything well away from the tent walls, even when your kit is in plastic bags.
Advice for staying in a caravan or motorhome in the rain
1. Consider selecting a hardstanding pitch.
When it's very wet outside, a hardstanding pitch will be firmer than a grassy pitch and help to prevent your vehicle from getting stuck.
2. Set up an awning around your holiday home for shelter.
To get a breath of fresh air without too much rain, an awning can form a sheltered area around your caravan or motorhome, making it easier to open windows and doors without letting in water. If it's not too windy or cold, you could even use the covered space to outside.
3. Bring along ropes, wooden blocks and track mats.
Soggy ground can result in a stuck caravan or motorhome. Ropes, wooden blocks and track mats will help to save the day, as the blocks under the caravan can prevent it sinking and a rope and track mats are useful if towing is required.
4. Drive slowly and avoid deep water.
Wait out any serious storms before you move your caravan or motorhome. When you do, it's safest to drive slowly, especially around steep corners, and avoid stretches of road with deep water.
For more tips on camping in bad weather, check out our guides to camping in a storm or camping in high winds.