Jerusalem, 1066 and all that: our top ten places to visit in England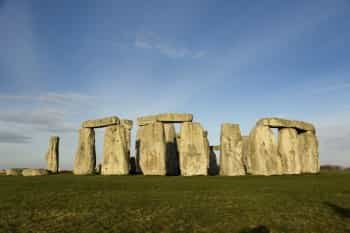 Blimey. This has been a belter of a blog to narrow down and no mistake.
Our top ten places to visit in England? That's like asking for our favourite ten books, or top ten 3am air guitar anthems, or even our top fights in the Albert Square Queen Vic (we have many favourites).
'Lazing by the Thames looking fondly at the daffs of the new spring' is a current fave, but, in homage to English Tourism Week from 14 – 22 March (hurrah and pip pip!), we're looking at touristy spots beloved by all. And we are saying nothing about the Cricket World Cup. Ahem.
Natch, as with our Top ten places in Wales and our Top ten beaches blogs, we're expecting some indignant contention about what we haven't included, so feel free to add your own favourite English places and have a bit of a scrap in the comments. Onwards – pip pip!
Stonehenge and Avebury
Well, of course. 'Stonehenge, Avebury and Associated Sites' are among 21 UNESCO World Heritage Sites in England and see well over a million visitors each year, particularly for the summer and winter solstices.
Boffins have happily and geekily discussed the purpose of Stonehenge for centuries and still can't decide if the structure was an ancient healing centre, a calendar, a temple or even an art gallery (art gallery is the official Pitchup.com favourite).
The site is managed by English Heritage, which opened a new visitor centre in 2014 including exhibition space for over 300 artefacts unearthed around the stones. If you can't wait until the summer or winter solstices to go a-dancing, the Stonehenge spring equinox event starts from 5.45am on 21 March.
Campsites in south-west England
Campsites within 18 miles of Stonehenge
The Lizard Peninsula

Quite frankly we could jab a pin into a map of Cornwall and probably find a beach, cove, old fishing village or other suitably spectacularly scenic spot to include here, but we've added the Lizard as it:
a) juts out on the most southerly point of the British mainland and means we can slither around it looking out to sea pretending we're ancient adventurers;
b) has nature reserves galore and three Sites of Special Scientific Interest; and
c) is jest downright lovely.
And d) it has Kynance Cove two miles away from Lizard Point village; e) almost all of it is an Area of Outstanding Natural Beauty; and f) it's jest downright lovely. Hither to slither.
Family-friendly campsites near Helston
Campsites in Cornwall in a wildlife haven
Campsites in Cornwall in an area of spectacular scenery
Lake District
We're nothing if not fickle. For, having just decided while typing the above that we're going to run away and live on the Lizard immediately, we're now looking north and pondering a move to the lovely Lakes.

The Lake District National Park is the biggest national park in England and Wales and the most visited in the country with almost 16 million visitors a year.
England's biggest natural lake (and rumoured lake monster Bownessie) is here in Windermere, and Wordsworth, Coleridge, Shelley, Scott, Keats, Tennyson and many more literary sorts have tramped the Lake District's fells (as we were all made to know at school). We're in love. 
Our Lake District guide lists lots of things to see and do all around the region, from kicking around market towns like Keswick and Ambleside to speeding around Derwentwater or puffing up Scafell Pike, England's highest peak. Campsites included too, for long long stays.
Hadrian's Wall
We've dun a whole blog on the colossal sites of Roman Britain, where Hadrian's Wall came out at a regal No I. It's another UNESCO World Heritage Site and the most visited place in the north of England, a fact that makes us cheer like a conquering Caesar.

Roman forts and settlements are all along Hadrian's Wall's 73-mile run from Bowness-on-Solway to Wallsend across the North Pennines and Northumberland National Park: go forth and conquer at the Roman Army Museum at Greenhead, Chesters Roman Fort at Chollerford, the reconstructed buildings of Arbeia Roman Fort and Museum at South Shields and Britain's most complete Roman fort at Housesteads, Haydon Bridge.
Sore feets? Hop on the AD122 Hadrian's Wall Country Bus from April to September.
Campsites in north-west England
Campsites in north-east England
The Tower of London
We have valiantly resisted adding the Globe, British Museum, Natural History Museum and the lifetime's worth of other paid and free attractions in London. But, the Tower.
Built by William the Conqueror in 1078, it has variously been a zoo, site of the Royal Mint, holding place of the Crown Jewels and, most famously for anyone watching Wolf Hall (shudder) a prison and place of execution (RIP Anne B). Take a guided Tower tour or slope around by your solitary self: there's enough to do here to keep anyone out of mischief for a full day.

For stays outside the Tower, we haven't yet been given permission to take over part of a London park to set up a central London campsite (hopefully when Boris goes), but it's easily poss to book a campsite on the city's outskirts or within an hour or so's train ride.
And then you get to go back to peaceful countryside instead of having to navigate the Tube among drunk people at midnight. Win.
Campsites in south-east England
The Yorkshire coast

It took two coffees' worth of dithering between the Yorkshire coast and the Yorkshire Moors National Park for this entry, but coast just pipped moors because beaches.
And fish and chips. And because the 45-mile run of East and North Yorkshire's coastline backs onto the North York Moors National Park anyway, so a seaside Yorkshire holiday can take in both. *happy dance* (While you're at it, have a day trip to York to goggle at York Minster. You're welcome.)
The run of coast from Redcar in the northern corner of Yorkshire to Withernsea in the East Riding passes seaside towns like Scarborough and gothic Whitby, Blue Flag beaches, the sheltered scenic bays of Robin Hood's and Runswick, fish and chips at Filey, the seaside pier of Saltburn and the couple of hundred thousand seabirds at Bridlington's Bempton Cliffs… again, a happy dance.
The Jurassic Coast
Another place that features in our 3am 'let's run away and live there forever' gibberings.
The 95 miles of the Jurassic Coast were England's first designated World Heritage Site, covering 200 million years' worth of history in the Triassic, Jurassic and Cretaceous landscapes of Dorset and east Devon. 
This is England's most prolific area for fossil finds (the Yorkshire coast is second), with Lyme Regis, Charmouth and Lulworth Cove the most popular spots; guided fossil tours are available to help beginners see what's what.

Away from the fossils, have at it on the bike trails of the National Cycle Network Route 2 (365 miles if you fancy it), shorter routes from Lyme Regis to Dawlish, sailing from Weymouth and boat trips from all over, and the clifftop scrambles of the Jurassic Coast section of the South West Coast Path.
Also in Devon, Dartmoor and Exmoor national parks are handy for a rattle around too.
Campsites in Devon near beaches
Campsites in Dorset near beaches
Cheddar Gorge
We could gorge out on these views for weeks. And we've always thought a British take on Thelma and Louise ending up at Cheddar Gorge would be a hoot. But moving on… 
About half a million people a year visit Cheddar Gorge in the Mendip Hills, the biggest gorge in England and an Area of Outstanding Natural Beauty with high cliffs and caverns crammed with stalactites and stalagmites to scale/descend.
The gorge's two main caves, Gough's Cave and Cox's Cave, were probably where clever prehistoric cave dwellers processed milk into cheese. In-cheese-ious.

If you want to milk Cheddar Gorge for all it's worth, about 350 rock climbing routes are around its 27 cliffs. But if your tastes tend towards the more sedate, buy a day pass for the gorge and caves which takes in Gough's Cave, the Cheddar Man Museum of Prehistory, Cox's Cave and the Crystal Quest, the Lookout Tower, a clifftop gorge walk and an open-top bus tour.
The Broads
It may be apparent from some of these listings that we like water. And boats. (And beaches, which is our way of sneaking in the splendid North Norfolk Coast Area of Outstanding Natural Beauty here too.)
The Broads of Norfolk and Suffolk are among the most watery places in England on which to take a boat out and are Britain's biggest protected wetland with gaggles of geese, coots and grebes to be seen among its birdlife. (They're also the setting for the Peep Show stag party episode, which still makes us chuckle heartily.)

Boats – rowing boats, motor launches, narrowboats, canoes, sailboats or boats where someone else does all the navigating work – can be borrowed all over the Broads; about 186 miles of walkways are on its land, and there's a fair bit of coarse fishing going on from bank and on water too. Wizard.
Norfolk Broads river boating map
The White Cliffs of Dover
The Cotswolds and the Peak District were also-rans for our final spot, but after wrestling/dithering with indecision during another coffee, we plumped for the heartwarming spectacle of Dover's white limestone cliffs.
Heartwarming in their own right, mais oui, but also because they're a bit sniffly to see from a ferry while sailing to France on holiday (excited) and while coming back to Blighty (nostalgic, and geeky in imagining all who in history would have seen them approacheth. Sniff.) And they have a song.
Scramble along the cliffs from the National Trust visitor centre towards South Foreland Lighthouse for the best views of the English Channel, the cliffs and the wildlife around them – and remember there is a song.

And there you have it – let the discussion begin. Until then, some lovely links:
Sites by accommodation type
Motorhome and campervan campsites in England
Caravan for hire campsites in England
Lodge, pod, cabin or hut campsites in England
Tipi, yurt, wigwam, bell tent or dome 'rent a tent' campsites in England
Sites by things to do
Campsites in England near a national park
Campsites in England near a World Heritage Site
Campsites in England within 15 miles of a beach
Sites by rules and regs
Family-friendly campsites in England
Adults-only campsites in England
Campsites in England with campfires allowed