Christmas caravan parks: the best UK Christmas markets
by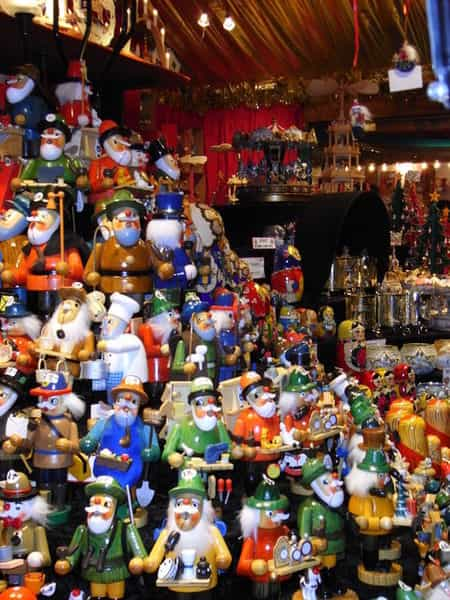 John Lewis Christmas ad? Exiled man on the moon? Pffffft.
What really gets one into the spirit of Chrimbo is a frosty, wrapped-up wander around a Christmas market. And some Christmas spirit is always welcome too: we'll have a (large) Baileys.
Someday we'll make a team-building/party weekend of it and travel to the celebrated Christmas markets of Brussels and Bruges, but good old Blighty has plenty of celebrated festive markets too.
Here's the Pitchup.com festive pick of the best of the UK's Christmas markets, with details of campsites and holiday parks to make a weekend/week of it nearby.
German markets are oh so on our list also, but in the meantime we rather fancy a look at Christkindelmarket, the trad German Christmas market in Leeds that draws in hundreds of thousands of visitors every year. 
Go here for over 40 wooden chalet stalls selling the wares of German traders such as the usual cards, toys and decorations as well as heaps of specialty food and tasty German delicacies like soups, schnitzels, stollen, gingerbread and bratwurst. 
There's also a Christmas carousel ride: immense fun after immense amounts of beery refreshments at the highly popular Frank-furter Scheune, Kuh Stall and Alp Chalet Bavarian eatery and drinkery.
Where
Millennium Square, Leeds. Nearest station: Leeds City, ten minutes' walk away.
When
Daily from now until 20 December: Mon-Sat 10.30am-6.30pm; Sun 9.30am-6.30pm.
Stay
Over 20 campsites are available now within 40 miles of Leeds: have a general browse like you would around a Christmas market, or click 'Edit search' on the top left of the above link to filter by accommodation. 
A toasty option for two is the shepherd's hut with stove at the Wuthering Heights Inn in Keighley 18 miles away, from £50 a night, or roll your tourer onto the grass parkland pitches at family Rudding Holiday Park near Harrogate, from £12 a night. 
Cardiff is fab at any time of year, but at Christmas? It's just a bit more special. The Cardiff Christmas Market is right in the city centre's pedestrian area and has over 190 exhibitors selling arts and crafts Christmas fare. Hot Welsh cakes and a glass of mulled wine? We're in.
Where
Cardiff city centre: St John Street, Working Street, The Hayes, Hills Street, Trinity Street. Nearest station: Cardiff Central.
When
Daily from now until 23 December: Mon-Sat 10am-5.30pm; Sun 10am-5pm; 10am-7pm every Thursday in December; 10am-4pm 23 December.
Stay
Spend the day in the city then retreat for a quiet stay at a Cardiff campsite: over 30 are available within 40 miles of the city and over the border in Somerset. Wall Eden Holidays with sea views of Burnham is 21 miles away and has ensuite camping pods with kitchens available during market season from £55 a night for two people and £60 for four. 
Outdoing Leeds just a tad with over 170 wooden sales chalets (still, Leeds has a German beer hall), the festive market at Bath has carols, Santa's grotto and an ice rink, and sells goods from local craftspeople including cheese, candles, toys, jewellery and glass. We must point out too tat there are also gingerbread houses. 
Where
The streets around the Roman Baths and Bath Abbey. Nearest station: Bath Spa. The city centre has several multi-storey car parks or there are park and ride services for festive fans coming from the north, south and west.
When
Daily from now until 13 December: Mon-Wed 10am-7pm; Thu-Sat 10am-8.30pm; Sun 10am-6pm.
Stay
Lots of lovely places are available to stay within 40 miles of the Bath market: bed down with your many bags in the luxury ensuite pod at Widget Farm Glamping less than ten miles away from £65 a night, or take the kids/your mates/yet more bags to the shepherd's hut at Cheddar Petruth Paddocks, sleeping four from £60 a night. 
This Scottish market will get you into the holiday mood or we'll eat our (Santa) hats. Based at St Enoch Square, the market mixes continental and Scottish producd and gifts on over 50 stalls. We rather fancy sampling Glühwein, festively aka known as 'the hug in a mug'. 
Where
St Enoch Square. Nearest station: Buchanan bus station, ten minutes' walk away. The St Enoch shopping centre has 900 car parking spaces with easy access to the market. 
When
Daily from now until 20 December: Mon-Wed 10am-8pm; Thu-Sat 10am-9pm; Sun 10am-6pm.
Stay
Pitch up among hills and woodland on the southern edge of Loch Lomond and the Trossachs 16 miles from the city at Lomond Woods Holiday Park, which has fully-serviced touring pitches available throughout the market from £23 a night and weekend camping pods from £90 for two nights, arriving on a Friday.

The organisers here claim the Christmas market in Birmingham to be the biggest outdoor one in the country, with over 180 stalls to pick up pressies, pretzels, Knoblauchbrot, mulled cider, weissbeer and more Glühwein. A further excellent addition for our geeky little hearts? They've arranged a German market phrase guide too [pdf].
Where
Victoria Square. Nearest station: Snow Hill, within ten minutes' walk. Nearby car parks are at Town Hall, Paradise Circus, Snow Hill, Markets and Dudley Street.
When
Daily from now until 22 December, 10am-9pm.
Stay
25 sites are available within 40 miles of Birmingham: travel light and stay in the luxury heated camping pods at Wooton Park 15 miles away and five from Stratford-upon-Avon from £72 a night, or in a heated pod at Irongorge Camping near Telford, from £35 for two people and £50 for four. 
Pressies, mulled wine and hugs in mugs: sorted. If you fancy another Christmas market (after visiting these five, natch), put its postcode into the search box on the Pitchup.com home page to find cosy berths nearby and ho ho ho all around the winter land. 
First published December 2010; updated December 2015.