Wandering wildlife - the Pitchup.com pick of the UK's best wildlife walks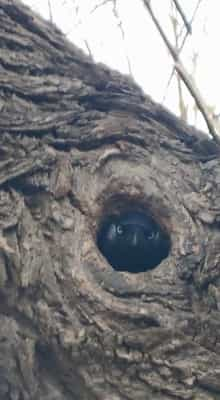 Spring, glorious spring… daffs, bluebells and dol—phins…
The appearance of One Sun this week has had us stirring off winter sluggishness and finally considering some form of activity apart from manipulating the computer mouse and remote control.
We've even been birdwatching a bit — the pic on the left is the result of us (gently) stalking a pair of nesting jackdaws on a London bridge...
Spring, glorious spring means animals and birds and bees and butterflies out and about and awake for the year, and wildlife walks and nature walks, and birdwatching and seal spotting and camping…
Lace up your boots, take up your camera and binoculars, and join us on our pick of best wildlife walks in the UK! (My, we're chirpy when the sun's out.)
Dart around The Lizard, Cornwall
Craggedy Cornwall has some of the most diverse wildlife in the country, and while you should see species anywhere in the county you choose to walk, we as wildlife watchers very much like the Lizard.
It has three nature reserves, three Sites of Special Scientific Interest, the Cornish Seal Sanctuary at Gweek, and one of Britain's rarest breeding birds, the chough, reintroduced to the area in 2002 by DEFRA and the RSPB.
Botany buffs and geology nuts can be found scurrying around the peninsula too: the serpentine rocks of the Lizard are the biggest outcrop in Britain (and the only in England); and a combination of this, the mild climate and fertile soils mean that plant life in the Lizard has bloomed – nearly a quarter of all UK plant species can be found here, including many rare breeds.
Hike the couple of miles from Lizard village to Kynance Cove and its rare rock lichen, green-winged orchids and delightfully named hairy greenweed, then trek a few miles further to Mullion Cove, looking out/up for feathered Lizard dwellers like marsh harriers, kittiwakes, cormorants and guillemots.
Also in Cornwall
Take the North Cliffs walk around Tehidy Country Park to see bats, roe deer, woodpeckers and Eurasian jays
Roam on Bodmin Moor among birds, bees and rare butterflies including the marsh fritillary
Eye up the peregrine falcons on top of Truro Cathedral (but don't get so distracted that a gull nicks your pasty)
Really wild links
Plants of the Lizard Peninsula
Campsites in Cornwall in a wildlife haven
Canter among deer rutting in North Yorkshire

Much like the behaviour of some people after pub kicking-out time, the mating rituals of the red and roe deer provide much interest and mirth to those spectating.
Deer rutting refers to the annual mating season around October and November, where deer overloaded with hormones and machismo take on each other in scraps to see who gets the lady; while the does, if they've any sense, have cantered on home ages ago with BFF and kebab. 
Just as fun and — providing you don't get too close — less dodgy to be near than the behaviour of some people after pub kicking-out time.
The National Trust runs deer walks through its grounds at Fountains Abbey and Studley Royal in Ripon, starting from the visitor car park and walking three miles through the parkland to see some of the 500 park deer. See also the forest parks of Perthshire for walks around red and roe deer rutting, as well as Exmoor, the New Forest and the Arne RSPB reserve in Dorset.
Also in Yorkshire
See 200,000 noisy seabirds at the RSPB Reserve at Bempton Cliffs
Spy pearl-bordered fritillaries and dingy skippers among the rare butterflies of the North York Moors National Park's limestone grasslands
Hike to see roe deer, dormice and red squirrels at the nature reserve of Aysgarth Falls and Freeholders' Wood in the Yorkshire Dales National Park
Really wild links
Where to see deer rutting in Britain
Stroll among seals at the Farne Islands, Northumberland

And at the Orkney Islands in Scotland. The Farnes have the biggest seal colony in England but Scotland has 90% of the UK seal's population, so any seal spotter worth their salt should make a trip to both. 
At the Farnes, take a trip in autumn to see the 1400 or so Atlantic Grey seal pups born on the islands each October, and go at any time of the year to chatter with the 23 species of seabirds including 37,000 pairs of breeding puffins. 
Boat trips to the Farnes normally run from March until November; once there, take the easy half-mile wildlife walk around Inner Farne starting from the island jetty to see terns, oystercatchers, plovers and said seals. 
The Orkneys have around 25,000 grey seals and 7000 common seals lurking in the surrounding waters, so we feel safe in laying a bet that seal spotters will come away honking with happiness.
Other seal spying locations in the UK include the Donna Nook Reserve in Lincolnshire, Moray Firth in the Scottish Highlands, Blakeney Point in Norfolk, Skomer Island in Pembrokeshire (which also has the world's biggest population of Manx Shearwaters) and Godrevy Point in Cornwall where the seals normally hang out in Mutton Cove.
If you'd like to sea more marine mammals including whales, porpoises and Jaws, we've schooled it all together in our coastal critters  blog.
Also in Northumberland
Trek England's biggest population of red squirrels and look for ospreys, adders, slow worms, tawny owls and kestrels at Kielder Forest
Roam through Chillingham Park near Alnwick to find Chillingham wild cattle

—

 said to be rarer than the giant panda (they're white, so should stand out a bit)
Flock around the ravens, red grouse, wheatears and curlews of the Cheviot Hills
Really wild links
Nature reserves in Northumberland
Slide round the Reptile Trail in the New Forest

One doesn't need to be cold-blooded to appreciate the wildlife watching of the New Forest, the only place in the country where you'll find all British species of amphibians and reptiles including adders, elusive sand lizards, natterjack toads and slow worms.
Have a look at them in the reptile pens of the free New Forest Reptile Centre, then natter along the mile and a half Reptile Trail through the woodland to see if you can survey any in the wild.
Also in the New Forest
Walk around the New Forest Wildlife Park and its wolves, wallabies, otters, lynx and badgers
Drift around

Hatchet Pond near Beaulieu to see 

New Forest ponies, herons and egrets
Have a walk along the Superworm Trail at Bolderwood and weave around the waymarked trails of Bolderwood Deer Sanctuary
Really wild links
Pitchup.com guide to the New Forest, including New Forest campsites
Hampshire and Isle of Wight Wildlife Trust
Nature reserves in Hampshire and the Isle of Wight
Soar around the Galloway Red Kite Trail, Dumfries and Galloway

As the Reptile Trail is a measly mile and a half, we're finishing up with a proper trek – and in the wildlife haven of Dumfries and Galloway where wildlife hunters can also see chattering Natterjack toads.
The Galloway Red Kite Trail came about in 2003 after it looked like attempts to reintroduce the birds into the region had been successful — it now has a 24-mile trek around Loch Ken, a visitor centre, shorter walks, hides, feeding station and information shelters at New Galloway, Castle Douglas, Parton and Crossmichael.
Look out on the loch in winter for geese, goldeneye ducks, wigeons and whooper swans, and all year round for mallards and teals. In the woodland, sharp-eyed sorts might see great-spotted woodpeckers, flycatchers and wood warblers — do feel free to sing quietly along.
Also in Dumfries and Galloway:
Peer at meerkets, Scottish wildcats and more at Galloway Wildlife Conservation Park near Kirkcudbright
Tramp through Galloway Forest Park for a look at red deer, red squirrels, pine martens and wild goats
Take the kids for an ice cream and nature trail at Cream o' Galloway, Rainton
Really wild links
Galloway Red Kite Trail and trail map
Scottish Wildlife Trust Galloway
Nature reserves Dumfries and Galloway
Wildlife and landscapes of Dumfries and Galloway
Wildlife walks in Dumfries and Galloway
Campsites in Dumfries and Galloway
Other wildlife wanders
Become a squirrel detective around 30 feeding stations and a willow hide.
Pitchup.com guide to the Lake District, including Lake District campsites
Four-mile wildlife trail starting just off Cheddar High Street.
Look out for golden eagls on a walk around the Scottish Wildlife Trust's biggest nature reserve.
Campsites in Highlands and Islands
Brownsea Island walk, Dorset

Red squirrels, water voles, sika deer, kingfishers and five hides.
Brownsea Island Nature Reserve
Yarner Wood and Trendlebere Down walk, Dartmoor
Butterflies, birds and dormice among woodland and valley at a Dartmoor SSSI.
East Dartmoor Woods and Heaths National Nature Reserve
St Davids Head and Ramsey Island wildlife wander 
A five-mile walk from the headland to Whitesands with views of Ramsey Island: look out for seals, choughs, peregrine falcons and porpoises.
And while you're in Wales, take a trip to Ceredigion's Cardigan Bay Special Area of Conservation too, one of the best places in the country to see marine mammals including porpoises, dolphins and minke whales.
Wildlife Trust of South and West Wales
Nature reserves in Pembrokeshire
More really wild links
Info on wildlife organisations and nature reserves 
All Wildlife Trust nature reserves in the UK
Wildlife camping and glamping
Campsites with David Bellamy Conservation Awards: Gold, Silver and Bronze
Campsites in a walkers' paradise
And a few we prepared earlier... 
Seeing red? Where to find red squirrels in Britain
Bird's eye view - the Pitchup.com big guide to UK birdwatching
How to get children connected with nature
The big cats are out there - a guide to British beasts (there be dragons)