And now for something completely different: unusual glamping stays
Intrepid types constantly on the lookout for new experiences and unusual places to go – you've come to the right place. Away from the world of tent pitches, motorhomes and yurts is a place where owners have got all creative and come up with some properly memorable places to stay (and frankly, these unique glamping options will look fab on your Insta feed too…)
Ready to try something new? Step this way for a rundown of some of our more offbeat places to stay…
Treehouses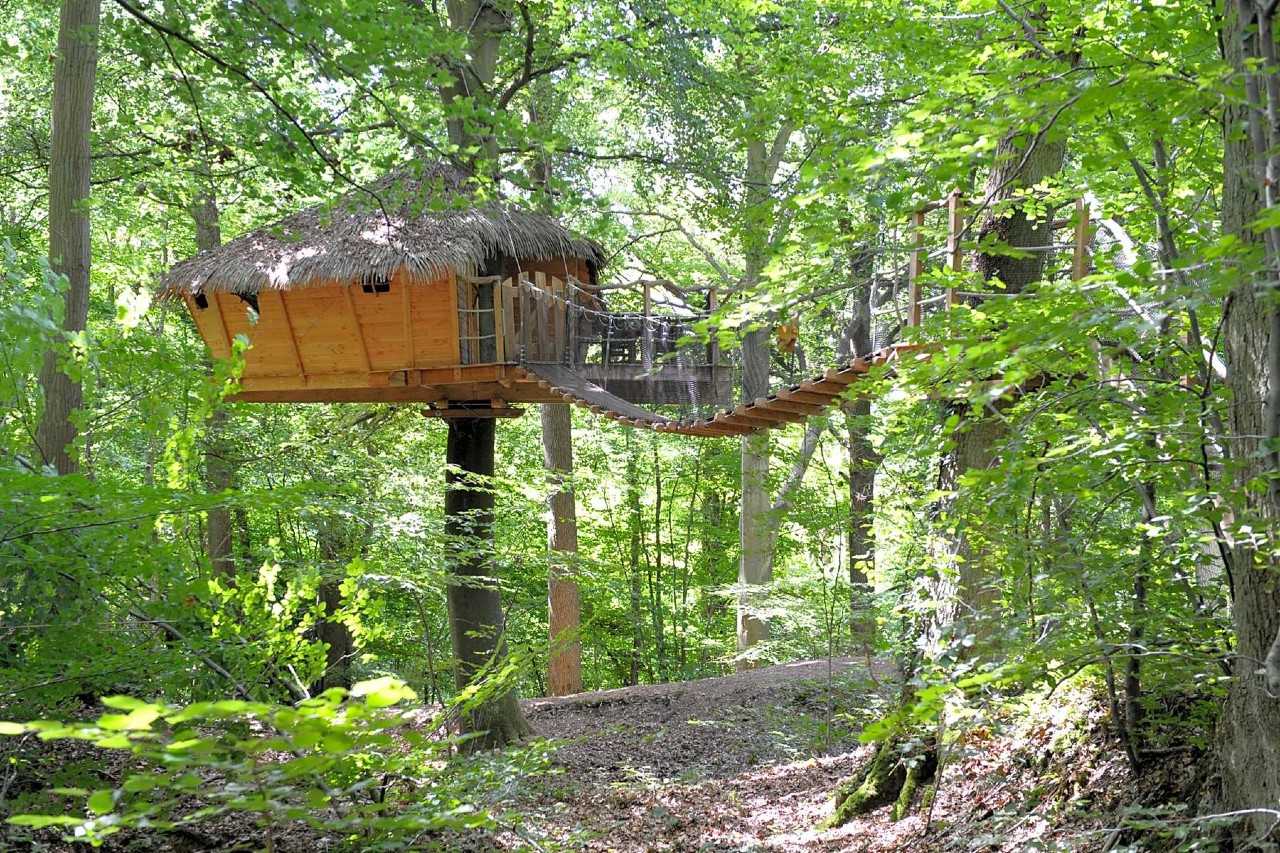 This is where the stuff of your childhood dreams meets the comforts demanded by your grownup self, as you clamber up into the canopy to perch in a smart furnished treehouse. You'll have to have a bit of a head for heights if you're going to stay in a treehouse – you'll be some way above the forest floor, with a fab bird's-eye view of what's going on both up in the branches and down below.
There's no need to worry about being up in the trees, of course – these are properly sturdy structures, and often mighty comfy too (most have proper beds, sofas and the like – and some will up the ante even further by giving you a private hot tub to wallow in). Top spot for most treehouse holidays is out on the deck or terrace (ideally with snacks and drink in hand), simply sitting and watching the world go by in peace.
Yes please to the trees? Have a look through all the places where you can stay in a treehouse.
Shepherd's huts

Back down on firm ground are the cute little cabins known as shepherd's huts. Now, if this is what shepherding life is really like, we're off to acquire some sheep – because these dinky little wooden constructions on wheels are generally cute, cosy, comfy and parked in peaceful places where you can soak up rural views of some variety. (Originally, of course, some hard work would be involved – these mobile homes were moved about so a shepherd could be on hand 24/7 in lambing season.)
Shepherds tend to roam on their own rather than in big gaggles, so accordingly their huts are more suited to couples than families (although you'll sometimes have space for something like a cot). It's also worth bearing in mind that facilities tend towards the compact: you'll be cuddling up in a small double bed rather than a kingsize, and it may not be as long as we're used to by current standards – so they're possibly not the ideal place for very tall folk.
What's in a shepherd's hut apart from the bed? Usually you'll get a mini kitchen and plenty of cosy furnishings to keep you toasty; some will also treat you to a woodburning stove, a firepit and access to a hot tub. Some shepherd's huts manage to get an ensuite bathroom on board, while in other places you'll need to take a short stroll to get to the bathroom.
Settled on a shepherd's hut holiday? Browse our full range of shepherd's hut glamping options.
Gypsy caravans

What's the difference between a shepherd's hut and a gypsy caravan? Well, not all that much in terms of practicalities – your gypsy wagon also has wheels (allowing it to be moved to the most suitable place for the season/weather/facilities/views) and you'll get a similar cosy vibe inside, with most of the kit you need provided.
The main difference is that the barrel-shaped gypsy caravans tend to offer a little bit more space – their original purpose would have seen them lived in for lengthier periods, instead of just being used as a lambing-season pied-a-terre. 
They're all very much individual constructions though, so before you roll off to experience nomadic life on a gypsy caravan holiday, check out all the details of your chosen spot to make sure you know what's included and what's not.
Ready to get on the wagon? Have a look at all our gypsy caravan stays.
Geodesic domes

Eh? What's a geodesic dome when it's at home? The name may not be familiar, but the look may well be – the fancy answer is that a geodesic dome (or geo dome) is a hemispherical structure that gets its round shape from lots of little triangles. Put more simply, you get to stay in a bubble.
Yep, that's right – some portion of the dome is usually given over to transparent material, so you'll be able to gaze out at your surroundings or up at the sky (for these reasons, geodesic dome stays tend to be in places like forests, and in areas of low light pollution so you'll have something to look at by day and by night).
Concerned you don't have the exhibitionist streak required to live your life in full view? Don't panic. Firstly, these glamping bubbles tend to be in very secluded locations so you won't have other folk wandering past your window all the time. And although you might sleep under the see-through plastic part, there's always some part of the structure that's not transparent so you can retreat to a more 'normal' corner (and yes, that means you can't see into the bathroom – no one needs to see that.) If you're still concerned about the light keeping you awake, make sure to stash an eye mask in your bag when heading off here (they're handy for cheeky afternoon naps too…)
Getting all that sleeping/eating/facilities space into one dome is a bit of an ask so in fact you'll often find that the bubble itself is just one part of a larger structure that might include a kitchen area, an outdoor table, a separate bathroom, a hot tub… As you can probably imagine, the folk that run these unique glamping places are the type to let their imaginations run riot so each one will be slightly different (but our pics and info will tell you all you need to know on each individual site).
Reckon a bubble sounds brilliant? Take a look at all the places where you can stay in a geodesic dome.
Intrigued by all the options? Take inspiration by browsing all our glamping holidays – then get set to fill your diary with all the best glamping options for you.