Passport crisis provides boost for staycation tourism
Jun 24 2014 Posted by Samantha Marsh
 Foreign holidays down 17% in five years
Pitchup.com says 2014 could be landmark year for UK industry
Holidaymakers hedging bets and booking unique holiday insurance
The passport crisis is providing an unexpected boost to the domestic tourism industry as more people are looking at staycation style alternatives, according to outdoor accommodation specialist Pitchup.com.
Founder Dan Yates says the 5,000 UK outdoor sites listed on Pitchup.com have seen a surge in demand as families look to stay closer to home rather than risk cancellation and disappointment. This is in the wake of stats produced by the Office of National Statistics, in its International Passenger Survey, concluding that foreign holiday trips in 2013 were down 17% from their 2008 peak*. Holiday trips abroad are down a further 3% this year, compared to 2013.**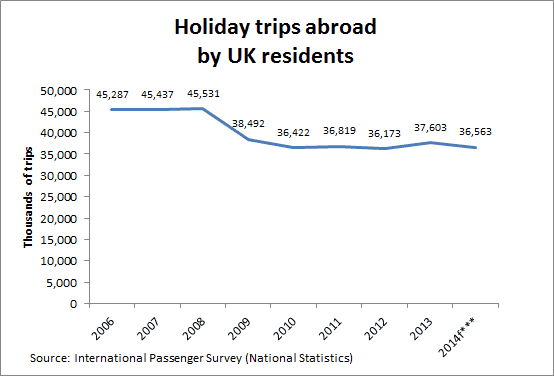 "There is already such a huge backlog of passport applications that many realising their holiday overseas might be at risk are looking at the UK – which is great news for the economy and rural businesses," says Yates.
"There is so much going on this summer – from family festivals to great sporting events like the Commonwealth Games and Tour de France. People are looking to explore the UK and enjoy all it has to offer."
Yates also said campsites on Pitchup.com that offer free cancellation are seeing a boost in bookings, suggesting some holidaymakers might be hedging their bets and taking out their own form of holiday insurance should the passports fail to arrive in time.
"Many of our accommodation providers don't charge cancellation fees and this is great news for the consumer," said Yates.
"The accommodation available around the UK is a world away from the sites I visited as a kid, with amazing facilities and great glamping getaways.
"I think 2014 could be a landmark year for the industry as more people rediscover the pleasures of the Great British countryside."
5 Reason To Stay In The UK In 2014
Great Events – From Glastonbury to Glasgow, this summer the UK will be home to world-class music, sporting and cultural events.

No Passport Required – Forget cancelled holidays and crying kids, just Pitchup at any of 5,000 fabulous UK campsites, glampsites and holiday parks.

The Weather – 2014 looks like being another great year for getting outdoors.

Take The Pets – More than 65% of the sites listed on Pitchup.com allow dogs, so you save on expensive kennel costs and take the whole family along.

No Limits – Want to take the kitchen sink? No problem. You won't pay extra for your baggage or only have room for the basics when touring around Britain.
For more information visit www.pitchup.com.
- ends -
* Figure 15: UK residents' visits abroad by purpose. Source: National Statistics (http://www.ons.gov.uk/ons/rel/ott/travel-trends/2013/rpt-travel-trends--2013.html#tab-Commentary--UK-residents--visits-abroad)
** Table 4: UK residents' visits abroad by purpose. Source: National Statistics (http://www.ons.gov.uk/ons/rel/ott/overseas-travel-and-tourism---monthly-release/april-2014/rft--april-2014.xls)
*** Forecast 2014 holiday trips assume that 2013 trips grow at 2014 year-to-date rate (-2.8%)
For media information:
Cass Helstrip, Samantha Marsh or Rob Bates at White Tiger PR
Cass.helstrip@whitetigerpr.com 07968 255464
Samantha.marsh@whitetigerpr.com 07711 265666
Rob.bates@whitetigerpr.com 07957 316491
About Pitchup.com
Founded in 2009 by former lastminute.com man, Dan Yates, multi-award winning Pitchup.com is a free guide to all types of outdoor accommodation in the UK, Ireland, France, Spain, Italy, Portugal, Croatia, Luxembourg, Austria, Poland and Switzerland.  Pitchup.com, which currently lists over 5,800 sites, provides users with a simple platform in which they can search and book an outdoor holiday with total ease: the customer experience from landing on the homepage through to booking a holiday can be
completed in as little as four pages.  The site also goes beyond traditional searches by allowing users to search for accommodation based on more than 80 criteria, such as adults only and campfires allowed, and view nearby events, Good Pub Guide pubs and VisitBritain attractions.  It's also possible to check out water bathing water quality in the surrounding area with data provided by the European Environment Agency.  Users can also search on the offers page to find the best deals available.
In 2013 Pitchup.com became the first business of its type to launch a bookable mobile app and site, making the site easily accessible to users of iPhones and other mobile and tablet devices.  The mobile site, m.pitchup.com, now accounts for 15% of bookings.
Pitchup.com enables users to search for all types of parks and sites from the major brands right through to one-off campsites and unique outdoor accommodation options, which may not have previously had a web presence.
Awards include Best UK Travel Website of the Year at the British Travel Press Awards 2011, and most recently best Travel / Leisure / Sports / Mobile Strategy / Campaign at the Marketing on Mobile Awards 2014.