Camping pods - luxury cabins without the luxury price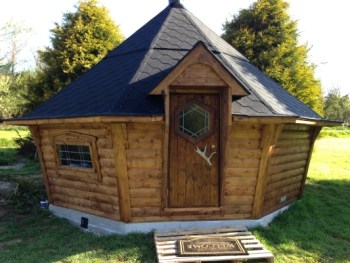 A pod, you say? Don't mind if we do. Not only do camping pods sound fantastically sci-fi, but they're waterproof, cosy, can sleep up to five and are available all around the country and beyond, with more pod parks sprouting up all the time. 
You'll never get board with the choice of wooden walls at Pitchup.com; here are five of our most popular - with our guide to camping pods below:
It's Newquay, but not as you know it... Although Coastal Valley Camping and Crafts is only a mile from busy Newquay, it's set in a secluded valley with nary a street or house in sight, in a wildlife haven blazing with colour. Crafty little touches include weaving and painting classes, Saturday feast nights, a nature trail, a well-equipped kitchen for pitch and pod guests, and plenty of picnic benches so you can eat alfresco by the sound of the stream. The pod sleeps four and comes with gas bottles, fairy lights, blankets, free bag of coal and central fire; an ensuite section has hot water, sink and flushing loo. The site is open from mid-May to mid-November.
A hot tub, private trout fishing lake on site and camping pods so classy they have their own heated towel rails... all on a four-star farm five miles from the dolphin and seal spotting of gorgeous Cardigan Bay. The heated pods at Cwmcoedog Farm all have electric hook-up and access to a smart bathroom pod, laundry room and games room. Campfires are allowed. The site is open from February to December inclusive.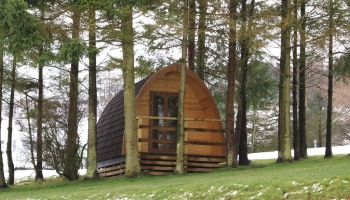 Five-star site and David Bellamy Gold Conservation Award winner, ideally positioned for the North and South Lakes and with views of Lake Ullswater. The pub on site is in a seventeenth century barn and has a games room, TV room and an upstairs playhouse and soft play centre 'for the kids' (cough). Heated pods sleep two adults and two children and The Quiet Site is open all year. 
Everything from bedding to bathrobes is supplied in these pods, which come with double beds and memory mattresses, hairdryers and tea/coffee-making facilities. Breakfast bacon baps are included in the price and available in the site's 500 year old farmhouse. Open all year.
Small Essex farm, mega glamping pod. The mega pod at Lee Wick comes with a kitchen area, its own shower and an iPod/iPhone Dock with DAB radio, on a site with a fishing reservoir and free passes to the Essex Wildlife Trust Colne Point Nature Reserve: the road beyond the farm leads directly to the reserve. The pod sleeps up to four and dogs are welcome too. Lee Wick Farm is open all year. 
The camping pod lowdown
For those scratching their head about what exactly a camping pod is, scratch no more. A step up from the traditional bothy, a camping pod is one of the more affordable glamping experiences and can oftentimes be had all year round. A pod is probably best described as a wooden tent, simple enough in structure but able to be made into anything you want, whether you fancy transforming it into a luxury boudoir for the weekend or keeping it austere for a 'get away from it all' break.
Whatever the time of year, your camping pod will be properly toasty and cosy against the outside weather, normally with double glazing for the windows and sheep's wool insulation for the walls.
It'll depend on the individual campsite owner what's available in your pod and what you need to bring – some will have beds or mattresses and for others you'll have to bring your own bed roll. Electricity is also dependent on the different sites – if you have a hook-up you'll probably find a heater and a coolbox already inside the pod, but check with the owners exactly what's there and what you need to bring.
If you're driving, you can assemble a pod kit and travel around the country checking camping pod sites for rent nationwide - with the added attraction that no-one will be able to find you if you're smart enough not to leave a trail on Facebook. 
Camping pods have been becoming more and more popular in the past couple of years, with pods available in all parts of the country and on all different types of campsites and parks, from family-friendly to pod sites where campfires are allowed.
To find your ideal camping pod park, use the filters to the left of the search page to find a park according to rules, theme, leisure on site or nearby, price, availability and more. And when you've had your pod hol, don't forget to leave a review to be in with the chance of winning a £250 Amazon voucher. Happy podding!