A handle on Hendl - the Pitchup guide to German food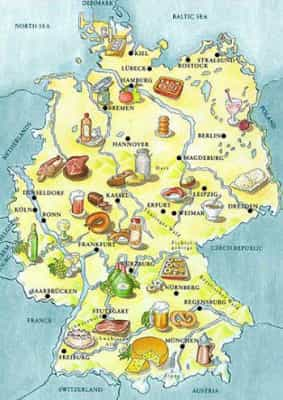 Frühstück, Abendessen and Mittengessen… they sound much more fun than boring old breakfast, lunch and dinner, do they not? (Or brekker, lunch and tiffin as we say in Pitchup.com parts.)
Ja, we're continuing our belly-busting run through the tasty tasty cuisine of Europe this month after our previous looks at Italy and Spain. As you may have already cunningly deduced, this time it's a look at the food and foodie regions of beauteous Bavaria, Spargel-stuffed Saxony and the other areas of splendidly exzellent Germany – bitte schön.
(Also, a German joke, and winner of best gag at 2015's Edinburgh Festival: 'I removed all the German contacts from my phone. It's Hans-free.' Arf.)
Eine kleine introduction
There's as much variation in German food as there are tipsy types at a German beer festival, but a goodly part of the land's gastronomy involves beer, beef and bread, coincidentally enough all favourite tipples/vittles of much of the Pitchup.com team. (And cheese. And wine.)
Root veg – cabbage, parsnips, carrots and especially spuds – also make much of an appearance in German food – and you could do wurst than try German sausages... Mustard is a bit of a must; smoked and pickled foods are all over; and while researching this blog we've decided to track down all German cheeses (a third of Europe's production) as a matter of high priority.
Fussy foodies have viele flavours to pick from too: Germany is second only to foodtastic France in its number of Michelin-starred restaurants.
Fahrting around Germany's food regions
(We'd like to point out before we begin that 'fahrt' means 'journey'.)
Bavaria

We reckon this lovely lovely region is where we'd start when tracking down the varied cuisine of Germany, partly because it's Germany's biggest state and partly because it contains Munich and therefore Ockoberfest.
Bavarian cuisine has three main strands – Bavarian, Franconian and Swabian – and is generally hearty, rustic, simple, filling and all the other words we like to use in connection with our food (don't utter 'fusion' or 'concept' in our hearing please).
Wurst (sausages), Knödel (dumplings), all sorts of bread, the famous Bavarian pretzels and pasta aplenty will all be seen on your Bavarian fahrt, so eat up and consider bringing jeans in a larger size.
Another dish Bavaria is famed for is the Weisswurst, a white sausage made of veal or pork and for which there are Rules to Obey. Weisswursts should never be eaten with a knife and fork; they should only be eaten with pretzels or rolls (and mustard); and they should never be eaten after noon.
(We wondered if this last rule was something to do with weisswurt transforming, Gremlin-like, into another creature under certain circs, but we are informed it's because at the time weisswurt were invented, fridges weren't. So the 'no eating after noon' rule was actually a sensible suggestion after weisswurt were delivered of a morning to ensure that no-one went down with food poisoning of an evening. Clever.)

Also look out for these in Bavaria:
Sauerkraut: fermented cabbage and as ubiquitous as wurst
Dampfnudeln: not running around in the rain with nothing on, but a form of bread made by steaming dough
Bierwurst: spicy dark Brühwurst sausage 
Apfelstrudel: apple pastry; serve with Bavarian cream
... and roast pork, suckling pig, bacon Knödel soup, bread soup, cabbage rolls, black pudding and more dumplings – do pack that bigger pair of trews.
Campsites in Bavaria
Guide to Bavarian food
Bavarian recipes
London Ocktoberfest
Baden-Württemberg
The nosh of Baden is a tasty treat to the educated palate, as the region has the most highly starred restaurants in all of Germany and a rich foodie tradition based in its lush location in the upper Rhine Valley.
(Those with less educated palates might also like to know that Baden is the location of the Black Forest, for which we word-associate 'gateau'.)

Baden cuisine has a French influence and is generally lighter than food in the rest of Germany, especially in its cakes and pastries for kaffee und kuchen (coffee and cakes in the afternoon, like British afternoon tea). Book a Baden campsite, prepare for culinary overload and look out for these faves in the region:
Sauerkraut: again (like wurst, try this all over Germany to suss out regional variations)
Rehrücken Baden-Baden or roe deer roast
Schäufele: pork shoulder simmered in broth; traditionally served on Christmas Eve night
...and asparagus, chestnuts, fresh fruit, game, herbs and tiptop Baden wine.
Campsites in Baden-Württemberg
Food of Baden-Württemberg
Lower Saxony
We hope you like your Spargel... asparagus is one of the main foodie specialties of Lower Saxony, grown around the towns and cities and on the Lüneburg Heath.
Nein to Spargel or to the other green regional specialty, Grünkohl (kale)? Try these other Lower Saxony dishes to tickle your tastebuds:
Herring, mackerel and other fish dishes around the coast and river estuaries like the Elbe
Eels from the Steinhuder Meer, Germany's biggest inland lake: once a staple dish for impoverished Lower Saxons
Kochwurst: precooked sausage including Bregenwurst, Kohlwurst and Pinkelwurst
Hochzeitssuppe: meat broth
...and thick stews, arrowgrass, boiled potatoes and Fischbrötchen (fish sandwiches).
Sehen auch:
Rhineland-Palatinate
Spicier food than the rest of Germany and often heavier/more filling. Saumagen (a stuffed casing of pork, sausage meat, potatoes, onions and herbs) is Palatinate's best-known dish.
Campsites in Rhineland-Palatinate
Brandenburg
A rivery region where the cuisine is dominated by fish and seafood – look for crayfish, pike, lamprey and carp – and is simple in origin: potatoes, beans and beets turn up in many Brandenburg dishes.
Schleswig-Holstein
Germany's most northern region. Known for its cheese, milk, marzipan, Saure Rolle (sour sausage), Gestovtes Gemüse (milk and flour-based sauce) and Birnen, Bohnen und Speck, a stew dish of pears, beans and bacon.
Campsites in Schleswig-Holstein