Kelham Hall & Country Park named top-selling site in central England by Pitchup.com
Dec 3 2015 Posted by Jardine Howlett
Kelham Hall & Country Park in Newark, Nottinghamshire, has been named by Pitchup.com as its top-selling site for central England for 2015.
The figures, compiled from Pitchup.com's bookings for 1,605 camping and caravan sites throughout Europe, show Kelham Hall led the way for visitors to central England in 2015, bringing an impressive 1,512 bookings to the region, 225% more than last year and 154% ahead of its nearest regional competitor.
Early bookings for the new year suggest Kelham Hall & Country Park is set to maintain its momentum in 2016.
Dan Yates, founder of outdoor accommodation specialist Pitchup.com, commented: "Central England attracted 3.2 million searches in 2015 and is a very strong destination for our client base of outdoor enthusiasts. Most of our visitors are drawn to the region because of the dramatic countryside, which lends itself to a range of outdoor pursuits. However, there's no denying that the rich cultural and historical links to the area are a strong pull for many visitors, and Kelham Hall & Country Park certainly lends itself to this, given the campsite's desirable location within the grounds of this Victorian stately home.'
The secluded woodland campsite at Kelham Hall & Country Park is located directly opposite Kelham Hall stately home, within a 44 acre country estate. Campsite guests benefit from free access to Kelham Hall, which has its own restaurant and bar, to catch a glimpse of how the other half lived. There's so much to see and do within the country park, that guests have no real reason to leave. There are woodland walks and pretty paths along the River Trent, sports such as tennis and fishing and a range of activities for children including nature trails and a playground. The site offers good sized pitches with optional electric hook up, suitable for tents, tourers and motorhomes; with communal facilities including a newly refurbished shower block, loos and a campsite office with vending machines.
Commenting on their success, Christopher Mason of Kelham Hall & Country Park, said: "It's great news to hear that we have experienced a threefold rise in bookings over the last year, positioning us as the best-selling site for central England in 2015. Pitchup.com's profile and vast number of clients looking for a unique camping experience, enables us to promote our site to a much wider receptive audience. They have been a pleasure to work with and we hope this accolade will help drive even more bookings to our site from those who've not been before, selecting us on the back of our popularity."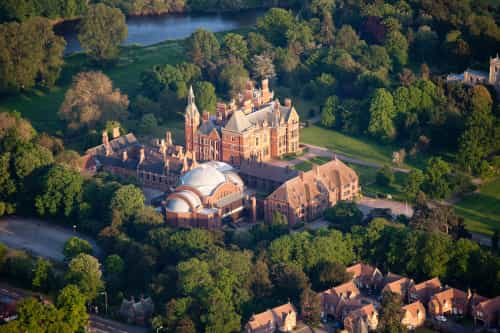 Notes to editors:
Caravanning and camping is the most popular type of accommodation for domestic holidays
In 2014, there were 13.3m domestic camping and caravan holiday trips in Britain, more than the number of UK residents who holidayed in Spain, Portugal and Turkey combined
Brits spent 13% more nights on domestic camping and caravan holidays than staying at hotels or motels, and 5x more than at guest houses or B&Bs
Strong growth as 'staycation' persists
Between January and August 2015, domestic camping and caravan trips had increased by 7% compared to the same period in 2014, with nights up 8% and spend 2%
58% of British residents' holiday trips took place domestically in 2014, compared to 53% in 2008. The number of foreign holidays taken by UK residents was 15% lower in 2014 than in 2008
Britain third largest camping and caravanning nation in Europe, after France and Germany
Source: National Statistics, Visit England, Eurostat
- ends -
For media information:
Contact Cass Helstrip or Jardine Howlett at White Tiger PR
jardine.howlett@whitetigerpr.com 07866 508737
cass.helstrip@whitetigerpr.com 07968 255464
About Pitchup.com
Founded in 2009 by former lastminute.com man, Dan Yates, multi-award winning Pitchup.com lists over 1,500 outdoor accommodation locations in 18 countries, providing users with a simple platform where they can search for and book a holiday with ease.
In 2013 Pitchup.com became the first business of its type to launch a bookable mobile app and site, making the site easily accessible to users of mobile and tablet devices. The mobile site, m.pitchup.com, now accounts for 25% of bookings.
Pitchup.com enables users to search for all types of parks and sites from more than 60 chains right through to one-off campsites and unique outdoor accommodation options, which may have previously lacked a web presence.
Awards include Best UK Travel Website of the Year at the British Travel Press Awards 2011, Best Travel / Leisure / Sports / Mobile Strategy / Campaign at the Marketing on Mobile Awards 2014, and most recently 'Best Place to Stay – Budget' at The Independent Travel Awards 2015 ("a website that's doing wonders connecting us with the countryside in Britain and beyond").