Winter caravan storage: if you're not gonna TOUR it....STORE it!
If you're not planning on using your touring caravan to visit a winter caravan site this season, it's a good idea to prep it for the elements before storing it for the season. Looking for a site to store your touring caravan? Over 400 of our listed campsites offer touring caravan storage.
Here's our guide to winter caravan storage: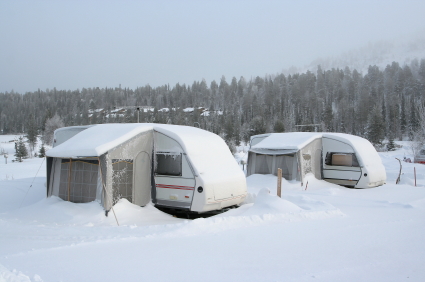 Pre-Spring Clean! Make sure your caravan is emptied of ALL food items, thus avoiding infestations, unpleasant odours and unidentifiable 'growths' over time.
Isolate all gas and electrical systems. Remove the 12v battery, clean and if required refill it with electrolyte.
Toilet should be emptied (it has to be said) and sterilized…adding antifreeze to the toilet bowl stops both freezing and cracking.
Cold weather causes the expansion of frozen water in pipes. Be sure to turn off the water system and drain down by opening all the taps.
Home items like bedding, curtains, towels, and any electrical items that could gather a price should be cleared out to avoid damage and theft.
Ummm…give the exterior a good wash down to remove any mud and salt that could cause corrosion (if you've got kids…this is a job for them!).
Park it! Some folks choose to keep their touring caravan on their drive…just be mindful that you need to make sure that it is actually permitted. If you're going with a caravan storage site, check that it is covered by your insurance. Make sure your caravan is locked and that it's a secure site. Definitely go with a hitch lock and wheel clamp for added security.
That's our soup-to-nuts guide to winterise and store your caravan. For those of you taking to the road to go winter camping, let Pitchup.com be your guide and search for sites that are open all year, allow campfires, or are near winter festivals.