Have you considered winter camping?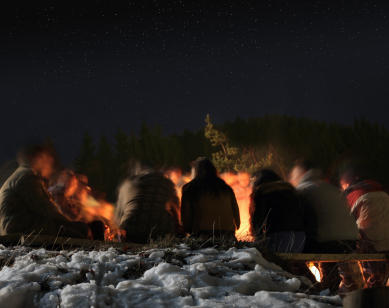 When we realize that our morning commute is blanketed in the same indigo darkness as our evening one, and that the countdown to Christmas (which began a whisper in August) is becoming louder by the day, one thing is for certain: winter is fast approaching. For those of us taking to our tents and touring caravans, winter is a season to delight in warm interiors and the crisp, frigid night air that reminds us we are, indeed, alive…and, if you're on a campsite that doesn't allow campfires, FREEZING!
Pitchup.com is the perfect resource for winter camping. Do a search for campsites open all year round and have a look through those that allow campfires. Campfires are a winter delight that and can provide more than warmth. From the discipline of maintaining a campfire, to creating an aromatic sauna (Check out Guy Grieve's tips for winter camping…the sauna idea is in there…please comment if you've done it successfully!).
For a little campside fun with the kids, we've borrowed a cheap eats recipe from our American friends. Grab some digestives, large marshmallows, and some quality chocolate bars (12 of the aforementioned campsites have food shops onsite!)...
1. Find long, clean sticks or bring skewers with you.
2. Stab a few marshmallows on the end and let the kids hold them several inches over the hot embers of the fire.
3. Rotate the skewer as the marshmallow cooks, allowing it to become lightly browned all over. Opinions vary on whether you should let it catch fire and blow it out.
4. Take two digestives, stick a square of chocolate on one digestive, and carefully sandwich the hot marshmallow between the two biscuits.
5. While firmly holding the two digestives together, pull the sandwich out from the skewer.
6. Wait about 30 seconds for the warm marshmallow to melt the chocolate making a sweet, gooey pudding-sandwich-thing — also known as a "S'more". Give it a try and let us know how you go!
Winter's upon us…time to get crackling!
Check out our tips for winter caravan storage.