Haunted holiday parks at Halloween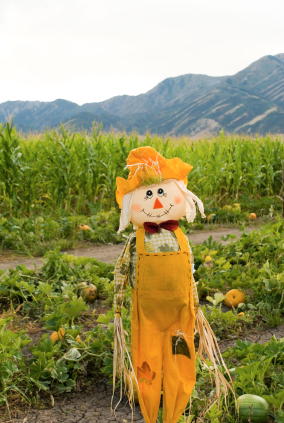 Halloween was always an exercise in creativity and resourcefulness. Shop-bought costumes were a no-no in my family, and so costume planning began pretty much immediately after going back to school after the summer.
This particular Halloween my mother outdid herself in both simplicity and ingenuity. With some old sackcloth, a bit of dye, and a rubbish bag full of leaves that had fallen off of nearby trees, she successfully made me (wait for it…) a giant teabag!
It was the perfect costume, as it was warm, comfortable, and provided ample additional storage space for the booty we collected throughout the evening. And what a night! Not quite cold enough for a coat, just wet enough to fragrance the night air with a mingling of crunched leaves and tree bark and candy for days.
I suppose Halloween marks the triumphant crescendo of the harvest…and for those of you who aren't so keen on trick-or-treating, Pitchup.com's got a host of family friendly way to celebrate the season.
A number of campsites feature spooky theme-based nights: Callow Top Holiday Park in Derbyshire and South Cliff Caravan Park in East Yorkshire are hosting fancy-dress parties with prizes for the best costumes. A scary woodland walk is on offer at Fron Farm Caravan and Camping Park in Flintshire.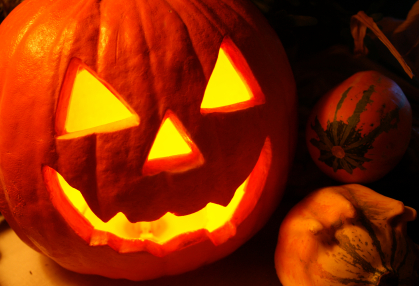 At Park Cliffe Caravan and Camping Estate in Cumbria, there are competitions for the scariest decorations of static caravan and tourers, with pumpkin and fancy dress contests and discos. Deepdale Camping in Norfolk is building its very own Frankenstein using recycled items from around the site.
Whether you're waddling along as a giant tea bag, or plucking your pick of the harvest, enjoy the change in seasons by incorporating it into your autumn/winter camping or caravan holiday.
There aren't many seasons that allow nature to show off all its charms…so make sure you get out there — using Pitchup.com as your guide — and take advantage of some of autumn's finest gems!