International Caravan and Motorhome Show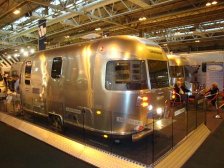 The International Caravan and Motorhome Show can be best described as a 'beast of a niche'. Over 80,000 caravan and motorhome owners flood the NEC in Birmingham (on opening day they camped out from 8.30am to secure a spot at the front of the queue!) to check out the latest offerings in caravans, motorhomes, and every accessory you can imagine.
We at Pitchup.com decided to take our show on the road and introduce ourselves to the public. We loaded our car with deck furniture, a tent, snacks and crockery provided by Dorset Cereals, and a plush carpet of Easigrass - London's finest faux grass provider - and pitched up for the week.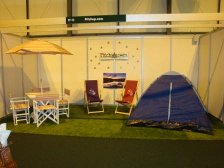 The great thing about an exhibition like the International Caravan and Motorhome Show is the vast number of people we were able to reach who all had vested interest in caravanning. We saw kids, adults, young families, and retirees and were able to chat about Pitchup.com face to face. The response we got was phenomenal...not only in terms of getting our name out there, but also in regards to finding out what people want most from our site directly from the source.
Availability was a big issue...owners are in desperate need of a site that describes the sites' availability on a given week and what type of accommodation is available on a last-minute basis. We were happy to inform them that Pitchup.com has a late availability listing in the works, and will soon be able to meet their needs. Proximity searches were also a hot topic and we were able to let visitors know about our postcode search and TomTom affiliation.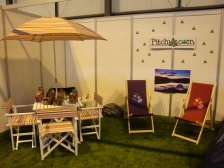 But nothing could replace the fortunate chance meetings we made throughout the week. One older couple was booked to stay on-site at the NEC but needed to book a campsite for the weekend. We gave them a live demo and did a search for campsites in the area and they were able to get in contact with a nearby site. Another gentleman was organizing an acoustic festival and was interested in finding nearby campsites for festival goers. We let him know that if he listed his festival on Pitchup.com, campers in the area would automatically be notified of his festival, and how far it is from their campsite. Our favourite visitors were actually the ones who didn't need the "Hi we're Pitchup.com" schpeal because they'd already used the site...one guy even booked his campsite for the show through us!
In the span of one afternoon I was able to poke around the interiors of a bunch of different tourers, feast on juicy fresh-off-the-grill sausages, admire a £250,000 American RV (I say admire because the queue to see the inside was so long!). At the moment I'm sitting in lawn furniture at our stand composing this blog. Now everybody knows that we at Pitchup.com aim to challenge all the negative stereotypes associated with the industry. But I have to attest to one stereotype that stands to truth. The visitors we spoke with throughout the week were friendly, warm, open and keen to learn more about what Pitchup.com has to offer them. While this could have had something to do with the fact that we weren't trying to sell them anything (lol) I for one was encouraged by the warm reception that we received considering the fact, in the caravan and motorhome world, we're like a scrappy kid taking our place amongst seasoned boxers. To come face to face with the people who will, hopefully, benefit from the behind-the-scenes work we've done with Pitchup.com to make it the main resource for the camping and caravanning community was fulfilling in a way I could never have anticipated. Suddenly, rather than dealing with numbers and emails, I was looking into the eyes and faces of our consumers. The International Caravan and Motorhome Show will forever represent, to me, the moment Pitchup.com came to life.
It was lovely to meet so many new friends at the exhibition - please leave a comment and say hi if you're reading!