The staycation summer - reality or a load of old Horlicks?
The "staycation summer" has been a hot topic in the media this year, with the idea derided as complete nonsense by one CEO of a leading tour operator and a story put about by British holiday companies by another. Even the managing director of Butlins has dismissed the concept after his company's bookings grew by just 2% this year.
By contrast, many British holiday companies have reported strong growth - the Camping and Caravanning Club, for example, had its best trading year ever and enjoyed a 24% increase in recruitment levels. Hoseasons, the self-catering specialist, received 31% more bookings than in 2008, and caravan-park group Park Holidays announced autumn bookings up 45%.
So was 2009 really the year of the staycation, or was the idea dreamt up over a mug of Horlicks by some enterprising British holiday bosses?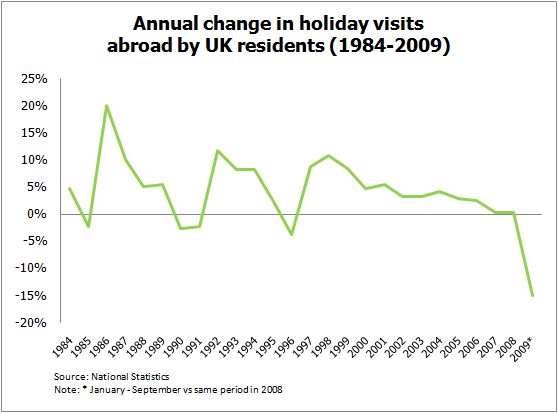 Well, according to official data from National Statistics, it's true that millions stayed at home. UK residents made 15% fewer holiday visits abroad between January and September than during the same period in 2008. We haven't seen a percentage reduction of that magnitude on an annual basis for over 25 years, and it's the biggest decline of any European market.
So although the big low-cost carriers managed to increase passenger numbers - Ryanair by 13% and easyJet by 3% in the year to November - the overseas travel sector is on course for its worst annual decline in trips for decades. Figures from the Civil Aviation Authority support this picture, showing a decline in terminal passengers of 8% in the year to September 2009, including business and incoming travellers.
A look at tour operators' own results perhaps explains the stinging response to the staycation. Thomas Cook said last week that its UK winter bookings were down 10% and reported a 9% fall in UK passengers in its mass-market business for the year to September. TUI, Europe's biggest travel company, reported 19% fewer UK and Ireland customers over the same period, with 16% fewer bookings for winter and a 3% reduction in bookings for summer 2010. Although capacity reductions have allowed companies to put up prices, bosses are clearly concerned at double-digit reductions in trip volume, especially given the long-term decline in traditional packages.
But is domestic tourism benefiting from the downturn in overseas trips? The answer appears to be: yes. The 15% reduction in holiday visits overseas equates to about 6m fewer visits so far this year. Between January and August this year, domestic "pure holiday" trips increased by 6.6m, or 17% according to VisitEngland's UK Tourism Survey (UKTS), a number which neatly ties in to the reduction in overseas trips. The increase is consistent with recent results announcements by domestic travel firms, particularly in the self-catering sector.
Unsurprisingly, UK self-catering benefited most from the swing, growing by 23% (including 19% growth in camping and caravanning). Hotel trips declined by by 5%, reflecting both a shift towards budget accommodation and hotels' greater exposure to business travel, which fell by 8%. Similar factors led to trips to seaside locations growing by 21%, and trips to large cities/towns by 3%.
So, in 2009 at least, the staycation wasn't Horlicks. What's in store for 2010? The decline in foreign travel eased in September, and with the recovery in confidence we're unlikely to see another swing on the same scale. But as a new generation of holidaymakers rediscover the UK, with persistent exchange rate weakness, and 2010 bookings from Park Holidays up 66% and Hoseasons up 61%, who's to say the staycation isn't here to stay?