Welsh hospitality proves to be a winning formula, says Pitchup.com
Feb 17 2015 Posted by Samantha Marsh
Four out of five of the company's top rated counties are in Wales
Pitchup.com questions why the rest of the UK fails to reach same standards
Poor rural broadband dragging down ratings across the board
England is lagging behind when it comes to customer satisfaction, says outdoor accommodation specialist Pitchup.com.  Recent analysis of its customer ratings shows that Wales had four of the top five top-rated counties and of the top 10, Wales took an impressive five spots, leaving England lagging behind with three and Scotland with two.
The ratings, made by real visitors who have booked via Pitchup.com*, show sites in Wales scored an average of 8.7/10 customer satisfaction overall, outshining the competition on a variety of factors including location, customer service, facilities, cleanliness and value for money.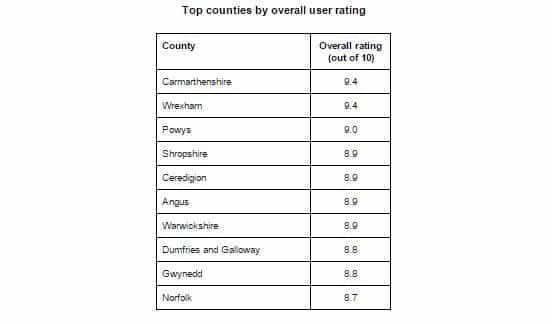 Commenting on the results, Dan Yates founder of Pitchup.com, said: "The Welsh really seem to take pride in what they do and it's really paying off.  The level of customer service in the country is outstanding and with many sites offering little extras such as complimentary breakfasts, quirky accommodation or activities for children, it all adds up to an overall greater customer satisfaction.  This is a real wake up call for the competition: sites in other countries must up their game if they are to achieve the same levels."
Welsh Government Deputy Minister for Culture, Sport and Tourism, Ken Skates, said: "This survey speaks volumes about the kind of quality visitors can expect in Wales and the excellent experience on offer across the whole spectrum of holiday accommodation here.  These results show that our warm Welsh welcome and service that goes the extra mile has made a big difference for holidaymakers in Wales."
Interestingly it's not even one particular region of Wales that has proved to be popular.  The highest-rated counties - Carmarthenshire (1st), Wrexham (2nd), Powys (3rd), Ceredigion (5th) and Gwynedd (9th) - were spread throughout the country.
Wales features the second largest quantity of sites on Pitchup.com, accounting for 865 of the website's 6,071 listings.  England has the most, with 3,887 sites listed, followed by Scotland with 528 and France with 395.
England and Scotland overall achieved 8.4/10 and 8.3/10 respectively. In Scotland, Angus and Dumfries and Galloway made the top 10, taking 6th and 8th place respectively. However just three counties across the whole of England made the list, with Shropshire (4th) the first English entry followed by Warwickshire (7th)  and Norfolk (10th).
Surprisingly Cornwall and Devon did not make the top 10, coming in at 18th and 32nd.  The south west accounts for the largest number of sites across the UK with a total of 1,114, of which Cornwall has 383 and Devon 317.  The region receives the most visitors each year, but customer views about the quality of accommodation slightly depressed scores.
Across all destinations, of the categories rated by customers, location (8.7/10), customer service (8.6/10), value for money (8.5/10) and cleanliness (8.6/10) were most praised.  Not surprisingly for the style of accommodation and locations of many of the sites, wifi scored lowest at an average of just 5.7 out of 10.
Rural broadband is a topic Yates is particularly vocal about: "We're delighted with the satisfaction ratings of our clients but it's disappointing that through no fault of their own destinations are being let down by poor wifi ratings. Successive governments have failed rural areas with their woeful response to demands for better broadband, and the gap between urban and rural broadband speeds has more than doubled in the last three years**. The camping and caravan sector is the biggest accommodation sector for domestic holidays*** with the highest proportion of accommodation in rural areas.  Without broadband and decent wifi, business owners are losing out, not only on online bookings but also on the growing number of customers for whom internet access on holiday is a must."
- ends -
*Based on 29,383 reviews, 19% of which were not associated with a booking on Pitchup.com. All Pitchup.com customers are invited to review their holiday after their stay. Counties with fewer than 50 reviews were omitted from county-level analysis.
**Average 5.7/10 wifi rating derived from 6,609 Pitchup.com reviews over the last 12 months containing a score for wifi. The gap between average UK fixed urban and rural broadband speeds increased from 9.4Mbps to 20.1Mbps between May 2011 and May 2014 (source: Ofcom).
***Domestic camping and caravan holidays accounted for 61.9m bednights in Britain 2013, more than any other accommodation sector including hotels/motels (49.3m) (source: GBTS/VisitEngland).
Top and bottom counties and country by user rating type

For media information:
samantha.marsh@whitetigerpr.com 07711 265666
fran.stephan@whitetigerpr.com 07901 338854
About Pitchup.com
Founded in 2009 by former lastminute.com man, Dan Yates, multi-award winning Pitchup.com is a free guide to all types of outdoor accommodation in the UK, Ireland, France, Spain, Italy, Germany, Portugal, Croatia, Luxembourg, Austria, Poland and Switzerland.  Pitchup.com, which currently lists over 5,800 sites, provides users with a simple platform in which they can search and book an outdoor holiday with total ease: the customer journey from landing on the homepage through to booking a holiday can be completed in as little as four pages.  The site also goes beyond traditional searches by allowing users to search for accommodation based on more than 80 criteria, such as adults only and campfires allowed, and view nearby events, Good Pub Guide pubs and VisitBritain attractions.  It's also possible to check out water bathing water quality in the surrounding area with data provided by the European Environment Agency.  Users can also search on the offers page to find the best deals available.
In 2013 Pitchup.com became the first business of its type to launch a bookable mobile app and site, making the site easily accessible to users of mobile and tablet devices.  The mobile site, m.pitchup.com, now accounts for 21% of bookings.
Pitchup.com enables users to search for all types of parks and sites from the major brands right through to one-off campsites and unique outdoor accommodation options, which may not have previously had a web presence.
Awards include Best UK Travel Website of the Year at the British Travel Press Awards 2011, and most recently Best Travel / Leisure / Sports / Mobile Strategy / Campaign at the Marketing on Mobile Awards 2014.