Pitchup.com unveils biggest ever advertising campaign
May 22 2015 Posted by Samantha Marsh
Motorway service station campaign to target key regions
Two-week campaign commencing 1 June 2015
Outdoor accommodation specialist, Pitchup.com, has unveiled its biggest ever advertising campaign, promoting the company's wide ranging accommodation offering to holidaymakers in the UK.
The campaign, which runs from 1 - 14 June, will feature image-led adverts appearing at 60 motorway service stations across the Midlands and South West.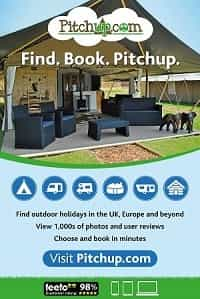 Over a period of two weeks the adverts will be visible to millions of visitors to service stations, showcasing a selection of Pitchup.com's accommodation offering.
Commenting on the campaign, Dan Yates from Pitchup.com said: "This is our first major offline advertising campaign, so we're excited to see what it delivers in terms of brand awareness and bookings.  Our statistics tell us that the Midlands and South West are key regions for us so we've targeted those areas.  Over the course of the campaign we will have adverts at 60 service stations on the M5, M40, M42, M4, M56, A350 and A38."

The company has previously put the majority of its advertising budget into online campaigns. However as the company continues to grow, Yates decided it was time to broaden the scope of its advertising beyond online marketing to reach new audiences.
"We'd received feedback that we needed to advertise more, which highlighted to us that our online activity wasn't reaching all our potential customers.  Furthermore, there can be a lack of understanding of our product, with potential customers unaware of our overseas destinations or our accommodation options beyond camping pitches," said Yates.
"By focusing on service stations throughout the Midlands and the South West, we will reach a vast new audience, and our research shows that drivers using this part of the motorway network are highly likely to enjoy regular outdoor holidays in the UK," he concluded.
Each advert illustrates the range and styles of accommodation offered by Pitchup.com highlighting the company's reach across the UK and Europe, using images to showcase the most amazing accommodation on offer.
- Ends -
For media information:
Contact Samantha Marsh or Jardine Howlett  at White Tiger PR
samantha.marsh@whitetigerpr.com 07711 265666
jardine.howlett@whitetigerpr.com 07866 508737
About Pitchup.com
Founded in 2009 by former lastminute.com man, Dan Yates, multi-award winning Pitchup.com is a free guide to all types of outdoor accommodation in the UK, Ireland, France, Spain, Italy, Germany, Portugal, Croatia, Luxembourg, Austria, Poland and Switzerland.  Pitchup.com, which currently lists over 5,800 sites, provides users with a simple platform in which they can search and book an outdoor holiday with total ease: the customer journey from landing on the homepage through to booking a holiday can be completed in as little as four pages.  The site also goes beyond traditional searches by allowing users to search for accommodation based on more than 80 criteria, such as adults only and campfires allowed, and view nearby events, Good Pub Guide pubs and VisitBritain attractions.  It's also possible to check out water bathing water quality in the surrounding area with data provided by the European Environment Agency.  Users can also search on the offers page to find the best deals available.
In 2013 Pitchup.com became the first business of its type to launch a bookable mobile app and site, making the site easily accessible to users of mobile and tablet devices.  The mobile site, m.pitchup.com, now accounts for 21% of bookings.
Pitchup.com enables users to search for all types of parks and sites from the major brands right through to one-off campsites and unique outdoor accommodation options, which may not have previously had a web presence.
Awards include Best UK Travel Website of the Year at the British Travel Press Awards 2011, and most recently Best Travel / Leisure / Sports / Mobile Strategy / Campaign at the Marketing on Mobile Awards 2014.