Pitchup.com booking stats reveal Android outperforming iPhone for first time
Feb 2 2015 Posted by Samantha Marsh
More revenue now comes from Android smartphones than iPhones
Outdoor accommodation specialist Pitchup.com has released sales figures for January 2015 showing that, for the first time, Android smartphones are outperforming Apple's iPhone in terms of revenue.
When comparing revenue generated from smartphone bookings in January 2015, Android smartphones have nudged ahead.
Of smartphone bookings made in January 2015, Android operating systems made up 48.1% of total revenue, with iOS generating 46.5%. The rest was made up of other operating systems, mostly Windows Phone.
This is a huge leap from a year ago, when iOS accounted for almost 60% of total revenue from smartphone bookings, with Android making up 40%. 
Although still small, use of the Windows Mobile operating system is growing rapidly.  Pitchup.com statistics show the Windows Mobile operating system accounted for 1.4% of smartphone revenue in January 2014. A year later, that figure has grown to 4.6%.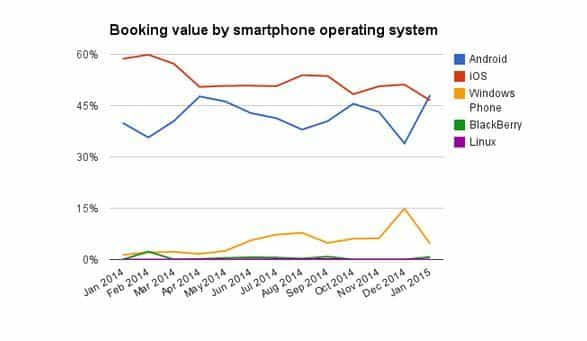 When it comes to bookings made on tablets, iPads still lead the way but other operating systems are fast catching up: iPad's share of tablet revenue has fallen from 81.2% to 72.3%, with Android growing from 18.3% to 25.6% year-on-year. The boom in 7" Android tablets appears to account for most of this shift.
Pitchup.com founder Dan Yates says: "We're keeping a keen eye on the changes in booking habits and it will be interesting to see whether Android smartphone revenue continues to outperform iPhone over the next few months and further into the future.
"What we are certain about is that customers are becoming more confident about booking on their smartphones and that smartphone usage and ownership is growing, with smartphone bookings hitting 21% of Pitchup.com's overall total in December.
"Recent statistics from eMarketer* show Android's market share of UK smartphone users rising 3.4 points in 2014, from 49.6% to 53.0%, iOS gaining 1.5 points to 30.5% and Windows Phone 1.7 points to 7.5%. Windows overtook BlackBerry, which lost 4.5 points to end the year at only 6.5%."
-ends-
Notes to editors:
Pitchup.com launched its award-winning** mobile site and bookable app in October 2013, becoming the first outdoor accommodation booking company to do so.
*http://www.emarketer.com/Article/BlackBerry-Loses-Windows-Phone-UK/1011133
**In May 2014 Pitchup.com won the Travel/Leisure/Sports Mobile Strategy/Campaign award at the Marketing on Mobile Awards (MOMAs) organised by The Drum magazine. Pitchup.com beat other nominees including BAA London Heathrow, Hotels.com and North Face to seize the top spot, also receiving a Commendation in the Mobile Optimised/Responsive Website category.
For media information contact Samantha Marsh or Fran Stephan at White Tiger PR
samantha.marsh@whitetigerpr.com 07711 265666
fran.stephan@whitetigerpr.com 07901 338854

About Pitchup.com
Founded in 2009 by former lastminute.com man, Dan Yates, multi-award winning Pitchup.com is a free guide to all types of outdoor accommodation in the UK, Ireland, France, Spain, Italy, Germany, Portugal, Croatia, Luxembourg, Austria, Poland and Switzerland.  Pitchup.com, which currently lists over 5,800 sites, provides users with a simple platform in which they can search and book an outdoor holiday with total ease: the customer journey from landing on the homepage through to booking a holiday can be completed in as little as four pages.  The site also goes beyond traditional searches by allowing users to search for accommodation based on more than 80 criteria, such as adults only and campfires allowed, and view nearby events, Good Pub Guide pubs and VisitBritain attractions.  It's also possible to check out water bathing water quality in the surrounding area with data provided by the European Environment Agency.  Users can also search on the offers page to find the best deals available.
In 2013 Pitchup.com became the first business of its type to launch a bookable mobile app and site, making the site easily accessible to users of mobile and tablet devices.  The mobile site, m.pitchup.com, now accounts for 21% of bookings.
Pitchup.com enables users to search for all types of parks and sites from the major brands right through to one-off campsites and unique outdoor accommodation options, which may not have previously had a web presence.
Awards include Best UK Travel Website of the Year at the British Travel Press Awards 2011, and most recently Best Travel / Leisure / Sports / Mobile Strategy / Campaign at the Marketing on Mobile Awards 2014.