Pitchup.com introduces multiple currencies on website
Nov 7 2014 Posted by Samantha Marsh
Visitors to the site can now view prices in four different currencies 
Payment in over 100 currencies available for site owners
Pitchup.com founder says improvements will boost overseas bookings
Foreign tourists only 5% of bednights at UK campsites - lowest in EU*
Increasingly the key to any truly successful business in the UK is overseas trade, and outdoor accommodation specialist Pitchup.com has introduced new measures to make it even easier for foreign travellers to book a holiday right here in the UK.
This month the company has introduced a new drop-down menu allowing users to view the price of their holiday in euros, US dollars and Australian dollars as well as pounds sterling.
Commenting on the new additions, Pitchup.com founder Dan Yates said: "Foreign tourists account for only 1 in 20 bednights at UK campsites - the lowest proportion of any EU country - compared to 39% of bednights at UK hotels.* We're keen to grow that proportion by simplifying the booking process for customers from abroad.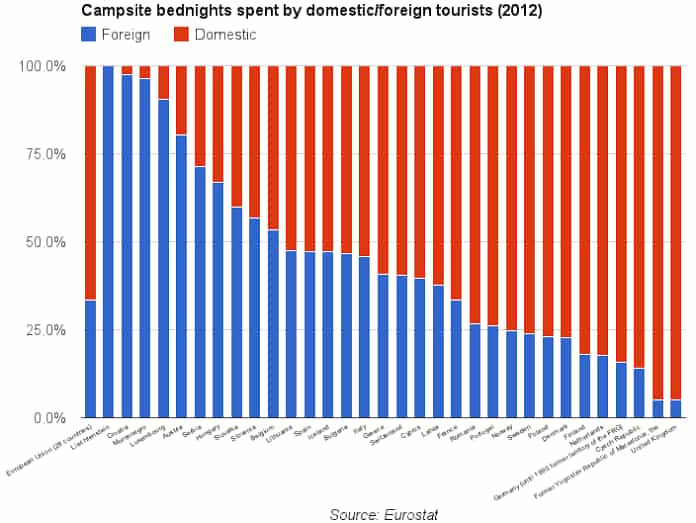 "Of the 10 countries with the most visitors to our site, sterling is used in only one: now users from nine of the top 10 countries can view prices in their home currencies.  This makes our site much easier to use not only for overseas customers but also for domestic holidaymakers comparing us against options in other currencies.  In July 2014 there were 3.4m overseas visits to the UK according to VisitBritain, and Pitchup.com recorded over 500 bookings from abroad.  While this is a great figure, we believe that offering travellers the chance to convert prices to their own currency will encourage even greater numbers to venture to our shores."
All online bookable sites on Pitchup.com will now quote prices in all four currencies, at the simple click of a button.
Alongside the launch of the new currency converter, accommodation providers overseas can now configure their Pitchup.com listing to accept payment in local currency, simplifying administration for owners and improving transparency for customers. More than 100 currencies are now accessible by signing up for the company's 'Payup' system, launched in June this year.
These new features are a huge step forward for the company which has grown significantly since its launch in 2009. Not only will they help to drive bookings into the UK, but also they will allow the company to further its growth into Europe's 360m-bednight camping market** and beyond.
This time last year, Pitchup.com was only just announcing that it had launched its destinations in France.  It now offers holidays in 12 European destinations, with plans to go worldwide in 2015.
With the new currency features and translation initiatives well underway - the site's extranet is already available in French, German, Italian and Spanish - Yates hopes to secure bookings between countries all around Europe and beyond: "All the changes that have taken place this year have secured Pitchup.com's position as a major player in the outdoor holiday accommodation sector: I'm not aware of any similar online agent in Europe in this sector offering such a comprehensive system for immediate booking and automated payment.  It's equally exciting for our site owners, many of which are tiny businesses in rural locations. They previously could never have hoped of attracting visitors from around the world but Pitchup.com is allowing them to do this."
Pitchup.com will be cementing its position as an international business by expanding to more countries over the coming months, and will be exhibiting at trade shows throughout Europe during the winter.
- ends -
*In 2012, foreign tourists accounted for 5% of bednights in the UK 'camping grounds, recreational vehicles and trailer parks' category - the lowest proportion in the European Union -  compared to 39% for UK 'hotels and similar accommodation' (including hotels and motels) (source: Eurostat)
**Source: Eurostat
For further information or to interview Dan Yates about Pitchup.com and its continued growth please contact:
Cass Helstrip or Samantha Marsh at White Tiger PR
Cass.helstrip@whitetigerpr.com 07968 255464
Samantha.marsh@whitetigerpr.com 07711 265666

About Pitchup.com
Founded in 2009 by former lastminute.com man, Dan Yates, multi-award winning Pitchup.com is a free guide to all types of outdoor accommodation in the UK, Ireland, France, Spain, Italy, Germany, Portugal, Croatia, Luxembourg, Austria, Poland and Switzerland.  Pitchup.com, which currently lists over 5,800 sites, provides users with a simple platform in which they can search and book an outdoor holiday with total ease: the customer journey from landing on the homepage through to booking a holiday can be completed in as little as four pages.  The site also goes beyond traditional searches by allowing users to search for accommodation based on more than 80 criteria, such as adults only and campfires allowed, and view nearby events, Good Pub Guide pubs and VisitBritain attractions.  It's also possible to check out water bathing water quality in the surrounding area with data provided by the European Environment Agency.  Users can also search on the offers page to find the best deals available.
In 2013 Pitchup.com became the first business of its type to launch a bookable mobile app and site, making the site easily accessible to users of mobile and tablet devices.  The mobile site, m.pitchup.com, now accounts for 20% of bookings.
Pitchup.com enables users to search for all types of parks and sites from the major brands right through to one-off campsites and unique outdoor accommodation options, which may not have previously had a web presence.
Awards include Best UK Travel Website of the Year at the British Travel Press Awards 2011, and most recently Best Travel / Leisure / Sports / Mobile Strategy / Campaign at the Marketing on Mobile Awards 2014.