King's Lynn Caravan & Camping Park named top-selling site in East Anglia by Pitchup.com
Dec 3 2015 Posted by Jardine Howlett
King's Lynn Caravan & Camping Park in Norfolk has been named by Pitchup.com as its top-selling site for East Anglia for 2015.
The figures, compiled from Pitchup.com's bookings for 1,605 camping and caravan sites throughout Europe, show King's Lynn Caravan & Camping Park led the way for visitors to East Anglia in 2015, bringing an impressive 412 bookings to the region, 5% ahead of its nearest regional competitor.
Early bookings for the new year suggest King's Lynn Caravan & Camping Park is set to maintain its momentum in 2016.
Dan Yates, founder of outdoor accommodation specialist Pitchup.com, commented: "East Anglia attracted 1.3 million searches on our website in 2015 and is a very strong destination for our client base of outdoor enthusiasts. Visitors are drawn to the region because of its flat landscape, making it ideal for outdoor pursuits such as hiking and cycling. It has also got something to offer everyone from stunning countryside and dramatic coastline with sandy beaches to charming villages and market towns such as King's Lynn. With its five-star tourist board rating and 9 out of 10 overall rating by Pitchup.com customers, the campsite is undoubtly a popular choice, particularly for families and couples."
Located on 10 acres of established emerald parkland on the outskirts of the popular market town, King's Lynn Caravan & Camping Park is an ideal base for a holiday or short getaway. The site offers good sized pitches, with optional electric hook up, suitable for tents, tourers and motorhomes. For those wishing to travel light, there are also a number of wooden mega camping pods, which can sleep up to four people. The pods come equipped with a double bed and sofa bed, a small fridge, microwave and kettle. Guests only have to bring bedding and crockery. Communal facilities such as free hot showers, toilets, vanity cubicles, a family and accessible bathroom, can be found in the eco-friendly communal block.
Commenting on their success, Daniel Yallop of King's Lynn Caravan & Camping Park, said: "It's great news to hear that we are the best-selling site for Easy Anglia in 2015. Pitchup.com's profile and vast number of clients looking for an outdoor holiday experience, enables us to promote our site to a much wider audience. They have been a pleasure to work with and we hope this accolade will help drive even more bookings to our site from those who've not been before, selecting us on the back of our popularity."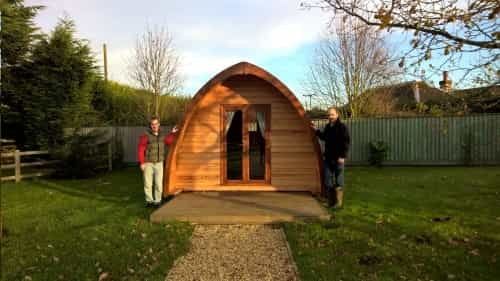 Notes to editors:
Caravanning and camping is the most popular type of accommodation for domestic holidays
In 2014, there were 13.3m domestic camping and caravan holiday trips in Britain, more than the number of UK residents who holidayed in Spain, Portugal and Turkey combined
Brits spent 13% more nights on domestic camping and caravan holidays than staying at hotels or motels, and 5x more than at guest houses or B&Bs
Strong growth as 'staycation' persists
Between January and August 2015, domestic camping and caravan trips had increased by 7% compared to the same period in 2014, with nights up 8% and spend 2%
58% of British residents' holiday trips took place domestically in 2014, compared to 53% in 2008. The number of foreign holidays taken by UK residents was 15% lower in 2014 than in 2008
Britain third largest camping and caravanning nation in Europe, after France and Germany
Source: National Statistics, Visit England, Eurostat
- ends -
For media information:
Contact Cass Helstrip or Jardine Howlett at White Tiger PR
jardine.howlett@whitetigerpr.com 07866 508737
cass.helstrip@whitetigerpr.com 07968 255464
About Pitchup.com
Founded in 2009 by former lastminute.com man, Dan Yates, multi-award winning Pitchup.com lists over 1,500 outdoor accommodation locations in 18 countries, providing users with a simple platform where they can search for and book a holiday with ease.
In 2013 Pitchup.com became the first business of its type to launch a bookable mobile app and site, making the site easily accessible to users of mobile and tablet devices. The mobile site, m.pitchup.com, now accounts for 25% of bookings.
Pitchup.com enables users to search for all types of parks and sites from more than 60 chains right through to one-off campsites and unique outdoor accommodation options, which may have previously lacked a web presence.
Awards include Best UK Travel Website of the Year at the British Travel Press Awards 2011, Best Travel / Leisure / Sports / Mobile Strategy / Campaign at the Marketing on Mobile Awards 2014, and most recently 'Best Place to Stay – Budget' at The Independent Travel Awards 2015 ("a website that's doing wonders connecting us with the countryside in Britain and beyond").