低至

£180

/

€212.58

/

AU$318.94

/

US$225.06

/

CA$288.69

/

CHF218.98

/

SEK2,230.93

/

DKK1,582.13

/

NOK2,183.74

/

ISK29,656

/

ARS26,639.51

/

CLP189,510

/

PEN848.98

/

NZ$351.72

/

ZAR3,565.68

/

PLN989.39

/

R$1,103.40

/

CZK5,251.04

/

RSD24,977

/

HUF81,759.56

/

RUB13,981.87

/

¥1,511.01
(2 晚, 2 位成人)
输入详细信息即可获取准确价格
基本信息
At The Cowshed is a small cluster of handmade traditional shepherd's huts in the Wiltshire village of Kilmington, within the Cranborne Chase Area of Outstanding Natural Beauty.
Each of the smart huts has been kitted out with comfy beds (with bedding supplied), and they share a well-equipped kitchen that has plenty of utensils and basic provisions plus a hob, an oven and a fridge (in which you'll find breakfast packs to get your morning off to a cracking start). Nearby are a couple of toilets and hot showers with lots of nifty touches including body wash and hooks to hang all your bits and bobs on.
And the facilities list goes on… that shared area also has a barbecue space, a firepit for chilly evenings and a hot tub for swish soaks (most welcome after a day of hiking or bike riding in the gorgeous surrounds). One thing you'll not be provided with is wifi – and there's little mobile signal either, so you can really switch off and settle into the important business of properly relaxing.
Speaking of hikes and bike rides, this is a splendid spot for both – the site is on the Wiltshire Cycleway and near to plenty of woodland, quiet paths and pretty villages that all merit a visit on foot or two wheels (Stourhead Estate's just a couple of miles away too). If you need ideas, maps or pub recommendations, have a chat with friendly hosts Richard and Charlotte (they'll also be able to sort cycle storage to keep your steed dry, or warm your boots on the Aga if you get caught in a downpour…)
翻译
(由 Google 翻译驱动)
从 2022年4月1日 开放至 2022年11月1日
请注意
汽车/摩托车不得停在露营场所/单元旁。所有车辆必须停放在指定区域。
At least one of the party members must be aged 21 or over.
18 岁以下人士必须由其父母或法定监护人陪同。
Please note that the hot tub is shared and is available between 01/04 - 01/11.
如需生成更匹配的结果:
在搜索结果中选择"

每个场地多个单元"

将订单细分成多个小团体,然后预订多个营地
在确认页面上单击"再下一份同样的订单"按钮,轻松地再次预订
在预订表单上的"特殊要求"框中要求将各成员分配到一起
您也可以尝试按出行类型和按每个露营场地允许多个帐篷/大篷车/房车的公园来筛选搜索结果。
-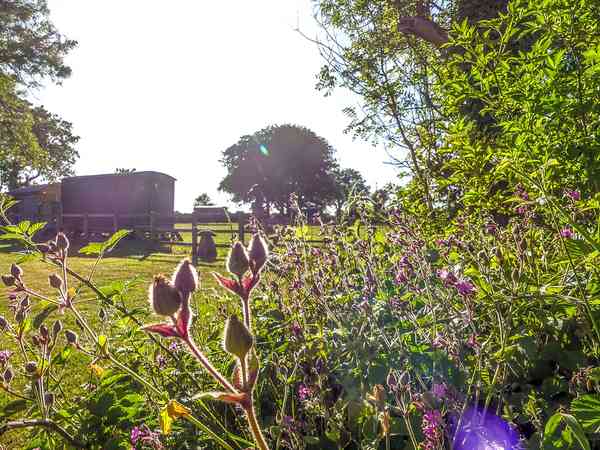 点评
以下是其他语种的点评。

Really enjoyed our stay. The breakfast materials in the fridge …2021年11月2日

Tom C.已确认

牧羊人小屋 (可容纳四人)

向朋友推荐

再次前往

| | |
| --- | --- |
| 喜欢: | Really enjoyed our stay. The breakfast materials in the fridge were amazing and the huts were warm and cosy. No mobile coverage let us disconnect and enjoy ourselves as a family. A good location for the day trips we wanted to make to Glastonbury, Longleat and Cheddar. Big open field with a big open October sky. |
| 不喜欢: | – |

翻译 (由 Google 翻译驱动)

总体

地理位置

物有所值

装备情况

设施/活动

顾客服务

对于儿童是否方便

干净程度

无线网络

(无评分)

Lovely stay2021年10月31日

Adam V.已确认

牧羊人小屋 (可容纳两人)

向朋友推荐

再次前往

喜欢:

We had a lovely stay, myself and my wife wanted a nice getaway out in the country. The hut was very cosy and had nice facilities to keep it warm. The location was quiet and peaceful which was what we were looking for.

We were provided with a nice breakfast pack and the kitchen space was ideal for this, ended up having a lovely breakfast outside with excellent views.

We left the child friendliness blank as we were travelling as a couple so we cannot comment on this, also as we are in the middle of the country there was no wifi and low signal but i feel this is to be expected.

不喜欢:

–

翻译 (由 Google 翻译驱动)

总体

地理位置

物有所值

装备情况

设施/活动

顾客服务

对于儿童是否方便

(无评分)

干净程度

无线网络

(无评分)

牧羊人小屋 (可容纳两人)

向朋友推荐

再次前往

| | |
| --- | --- |
| 喜欢: | We had a fantastic weekend at the Cowshed. Facilities were spotless and everything was provided for us. Endless wood for the firepit and the wood burning stove to heat the hot tub. Charlotte was so helpful with regards to local information and any enquiries we had. We had a truly amazing time, loved every minute. |
| 不喜欢: | – |

翻译 (由 Google 翻译驱动)

来自经理...

Thank you, was lovely to have you!

总体

地理位置

物有所值

装备情况

设施/活动

顾客服务

对于儿童是否方便

(无评分)

干净程度

无线网络

(无评分)

If you are reading this, don't hesitate, book now!2021年9月8日

Ryan P.已确认

牧羊人小屋 (可容纳两人)

向朋友推荐

再次前往

喜欢:

Stayed in a two person hut for a birthday.

Very clean, well stocked kitchen.
Nice facilities including garden area.
Friendly and approachable host.
Quiet and tranquil, amazing view of the night sky.
Quirky logburner and hot tub set up, great idea but plan ahead if you want to use! 3 hours to heat up properly. Free fire wood.

Due to lack of available outdoor lighting, take some torches, I wonder if putting up fairy lights around the hot tub area would be allowed without light pollution ruining the view of the stars?
Mattresses are firm, a bit too hard for me but this is more personal preference, my partner had no complaints.

Morning breakfast was a lovely addition and hosts are more than happy to cater to dietary requirements.

不喜欢:

Having to leave.

翻译 (由 Google 翻译驱动)

来自经理...

Yes maybe fairy lights would work I will look into my planning, SO pleased you enjoyed your stay. Come back soon!

总体

地理位置

物有所值

装备情况

设施/活动

顾客服务

对于儿童是否方便

干净程度

无线网络

牧羊人小屋 (可容纳四人)

向朋友推荐

再次前往

| | |
| --- | --- |
| 喜欢: | A perfect getaway with friends and children. Great location, beautiful setting, cosy huts, gorgeous sunsets and night time skies, lovely friendly hosts, great company and fun neighbours...excellent facilities such as clean toilets, a very well stocked kitchen, bbqs, free firewood! hot tub (the kids did not want to get out!) quirky communal eating area etc the list goes on. So many thoughtful touches to make your stay hassle free and relaxing from beds made up on arrival, a delicious breakfast plate for your first morning, to a supply of games for children and adults alike to keep entertained. We literally did not want to leave! Thank you Charlotte and Richard for a great weekends stay! |
| 不喜欢: | – |

翻译 (由 Google 翻译驱动)

来自经理...

Was lovely to have you, do come back!

总体

地理位置

物有所值

装备情况

设施/活动

顾客服务

对于儿童是否方便

干净程度

无线网络

(无评分)

Breakfast pack was little but beautiful ingredients.2021年9月6日

Abbie T.已确认

来自经理...

thank you for your feedback, unfortunately due to being an Area of outstanding of natural beauty we are very limit with lights! however the stars at night are beautiful. Grips on the steps definitely something we will look into. Come again!

总体

地理位置

物有所值

装备情况

设施/活动

顾客服务

对于儿童是否方便

干净程度

无线网络

(无评分)

来自经理...

Great, thank you!v Come back soon

总体

地理位置

物有所值

装备情况

设施/活动

顾客服务

对于儿童是否方便

干净程度

无线网络

(无评分)

牧羊人小屋 (可容纳四人)

向朋友推荐

再次前往

| | |
| --- | --- |
| 喜欢: | Space, setting, layout of huts, hot tub, communal area, thoughtful touches: breakfast pack, mini fridge in hut, clean bedding and towels, very well equipped communal kitchen (kettle, crockery, toaster, oven), trolley for transporting stuff from car, gas bbqs, chairs and table outside each hut, clean toilets and toilet showers and lovely welcome from Owner. |
| 不喜欢: | Double bed a bit lumpy (better than sleeping in tent)! Would be good to have some sort of shelving / storage in the hut maybe in shower too (it was too steamy and wet to hang bits on back of door). Very minor points and I think "dislike" is probably a bit too strong. Would not hesitate to recommend or rebook. |

翻译 (由 Google 翻译驱动)

来自经理...

Thank you for your feedback, will look into something in the showers.
Look forward to you coming again

总体

地理位置

物有所值

装备情况

设施/活动

顾客服务

对于儿童是否方便

干净程度

无线网络

OK for a short break2021年9月4日

Nichola A.已确认

牧羊人小屋 (可容纳四人)

向朋友推荐

再次前往

喜欢:

The showers were always hot and the water pressure good. Breakfast by the fire on the cooler days was nice (but only one family at a time can do this). Huts are well insulated and very soundproof which surprised us.

There are lights and 4 power sockets in the hut and a fridge and heater. (Although for us the heat from the fridge kept the hut quite warm). Although the bedside light provided in ours was missing the cable to get it to work so it was just for show!

You get a plate of cooked breakfast ingredients for breakfast on your first day which was nice.

The chickens by the entrance to the field are cute and the field full of sheep next door are lovely neighbours and the kids loved them.

Storage is at a premium in the huts, but there is space to slide narrow cases under the bed in the shepherd's hut (carry on size in width) for easier organisation.

It's a very safe field and enclosed so small people can run free, but beware of stinging nettles and the large stone mushrooms which didn't look very safe for littles to play near. There's a single swing to keep older kids occupied so worth bringing some things like bikes and balls if you have small people with you.

The small nature of the site does mean you get to know the other families well, and all were very pleasant and nice to get to know. The children all played together regardless of ages and shared turns on the swing well too. There was a nice feeling of cooperation on tasks like getting the fire going long enough for the hot tub as well, and coordinating loo roll supply!

不喜欢:

We stayed for a week, but I feel like it's more a place that you stay one or two nights as otherwise the flaws start to get to you.

You can't take your car to the hut to unload and the trolley provided is very heavy (and as you aren't greeted you may miss it). Beds are hard, and the cupboard in our shepherd's hut stank of damp. There is no ladder onto the top bunk in the 4 man huts, and where a perfect place for a cupboard and ladder unit is in the hut there's a massive milk churn which just got in the way and took up valuable space.

They provide everyone with towels but no way of hanging them to dry in the hut (eventually a clothes horse appeared by the fire in the communal area... but was hanging the towels of guest who had left many days previous and not bothered to put their towels back in the hut).

They give you the ingredients for a fried breakfast on the first day... but no oil, washing up liquid, cloths, etc so when 4 families all had their first day at the same time like we all did, we ended up with a marathon pan scrubbing session using just a dishcloth and nothing was clean until the next day when we went shopping for cleaning supplies! Just a note, they also don't provide shower gel in the showers (as I think the description says they do). Toilet roll we think was guest provided (although we were never sure, it just ran out a lot and we all took turns getting more when it did) but we did think the hand soaps may have come from the owners as there were always loads of them.

Hot tub is so dangerous and would honestly recommend no children at all in there. My 4 year old daughter got a massive burn from the uncaged outlet as the pipes are angled wrong so you get hot steam bubbles shooting out instead of a flow of warm water. My husband was in with her, supervising and trying to keep her away from the outlet at the time, but a steam bubble shot out of the outlet and scalded her badly. Also takes 3-5 hours to heat. Hot tub water is changed once a week, but just before it's changed can be quite sooty from the fire going for so many days with the chimney outlet next to it.

The main kitchen kitchen was so small and always a bit grotty and unclean. The previous night's sea of cups were always there in the morning, all dishes in the clean area were sticky and unclean so you had to rewash everything before use. The fridge would have the unwashed breakfast plates (which had contained unpacked bacon and sausages from the owner on your first day) for many days after they were put in the fridge, and recipients had often left many nights previous. Which felt like a mega food hygiene fail.

The communal area is also really small and pretty grubby because of fire ash and dining, and the cushions look like they could really use a wash!

Obviously can't be helped but phone signal is incredibly poor in the area so plan you activities and download any maps you need before you go as you can't get enough to book or download maps on most networks (three seemed a bit better but O2 is non existent... not enough to send a text message most of the time).

And due to the high location, Kilmington is much cooler than the villages around so bring a few extra layers! It gets really windy in the field at night especially.

While we were there, two different families left a night earlier than planned.

翻译 (由 Google 翻译驱动)

来自经理...

Blimey, so disappointed to read all of the negatives! You said nothing when you were here - we could have helped.
Obviously very sorry your daughter hurt her arm we are looking into adjusting the pipe, however it is rustic and we advertise as nothing more than shepherds huts in a field with a wood fire hot tub with poor signal.
The two families didn't leave early because they where un happy one had a family emergency and the other dropped their phone in the hot tub so needed to get home to sort it before work.
All communal areas are only as clean as people treat them /leave them, they are cleaned by us every 2/3 days as is the hot tub - depends on turn a round.
Cars are not allowed to the huts for safety reasons, planning and its not advertised as being able to park/unload by hut - so another irrelevant point.
There isn't meant to be a ladder for the top bunk, you use the bed below, and how awful I love the milk churns they have been beautifully painted by a lady in the village and are in keeping with a shepherds/gypsy hut and act as a bedside table.
The kitchen is always fulled stocked with cloths/ washing up liquid etc under the sink and although small it has everything you need. Everyone just need to take their turn and many many people have made it work this summer.
The corner cupboard is not damp, it's extremely old and there is an old furniture smell, its creative and characterful.
I contact everyone who comes to stay the day before they arrive or on the morning, with clear instructions and I purposely do not come over the communal areas unless I have too to maintain the guests privacy. However in the message I always say come to the house if there are any problems or I can help - and you didn't. I try very hard to meet and great everyone but sometimes that is not possible however like I said before clear instructions are given with my kitchen door open nearly 12 hours a day only when I go out do I shut it.
There are lots of printed walks and a couple of OS maps for use.
The breakfast packs are very very popular and are well covered when I put them in the fridge, there is a fridge in each hut should you not want to use the communal fridge.
I am not sure what experience you were after but its safe to say hutting is not for you, things like stinging nettles (of which there are so few) in a field can't be helped, the point of staying at the cowshed is being with nature - something you obviously totally missed!
Such a shame to leave such a horrible review - it seems you are the only one who has many of these problems and I really hope it doesn't put others off coming.

总体

地理位置

物有所值

装备情况

设施/活动

顾客服务

对于儿童是否方便

干净程度

无线网络

(无评分)

来自经理...

Glad you enjoyed your stay!
Unfortunately due to being an area of outstanding natural beauty we are restricted with our lighting. Maybe I should move the BBQs around to the shack where there is lighting.
Chopping boards sorted! thanks for the feedback

总体

地理位置

物有所值

装备情况

设施/活动

顾客服务

对于儿童是否方便

干净程度

无线网络

(无评分)
特色
Coronavirus
Capacity reduced to increase social distancing
Deep cleaning of accommodation units between guests
Disinfectant sprays and wipes provided
Shared spaces: daily deep cleaning
Shared spaces: more frequent cleaning
现场休闲设施
健身中心
儿童俱乐部
垂钓
外带
夜间娱乐活动
室内游泳池
室外游泳池
水上运动
游乐区
游戏室
热水浴池
电视间
网球
自行车租用
营地餐厅/咖啡厅
酒吧或俱乐部会所
现场便利设施
Composting toilet
Dog park
Portaloo
Pub toilets
从公共交通点接客人
免费无线网络
公共电话
冰袋冷冻
卫生间
可以洗浴
按场地/单元停车
提供淋浴间
无线网络
本地生产
残疾人设施
母婴盥洗室
烘房
网络接口
自助洗衣机
食品店
餐具洗涤区
团体接待
欢迎前来举办爱丁堡公爵奖活动
欢迎单性别团体
欢迎学生团体
欢迎家庭入住
欢迎集会
适合停放摩托车
规章制度
Barbecue provided
允许商用车
允许烧烤
允许生篝火
可以带狗
禁止带狗
主题
不驾车出行
偏僻
安静
徒步旅行者的天堂
森林
赏美景
实用工具
Electric car charging point(s)
No drinkable water point
No hot water
No running water
充电设施
化学处理
可再生能源
提供回收装置
提供煤气罐
附近便利设施
Dog walk nearby
附近农贸市场
附近商店
附近酒吧
附近休闲设施
附近垂钓场所
附近室内泳池
附近室外泳池
附近山地自行车运动
附近水上运动
附近餐厅
附近骑行点
附近高尔夫球场
地理位置
距离最近的交通系统
长途汽车站

Market Place

— 11.0 公里
Coach Station
11.0 公里

Market Place

— 11.0 公里
Coach Station
11.0 公里

Market Place

— 13.3 公里
Coach Station
13.3 公里

火车站

Bruton Rail Station

— 8.4 公里
Rail Station
8.4 公里

Frome Rail Station

— 10.6 公里
Rail Station
10.6 公里

Gillingham (Dorset) Rail Station

— 11.7 公里
Rail Station
11.7 公里

轮渡码头

Temple Meads Station Ferry Landing

— 39.5 公里
Ferry Ports
39.5 公里

Prince Street Bridge Ferry Landing

— 39.7 公里
Ferry Ports
39.7 公里

Temple Bridge (Bristol) Ferry Landing

— 39.7 公里
Ferry Ports
39.7 公里

机场

Bristol International Airport

— 38.7 公里
Airports
38.7 公里
请注意:本页面上的所有距离均为"直线距离" - 请利用上方的"查看路线"按钮根据您的出行方式查看实际距离。
当地景点
Attractions and activities nearby include:
- Stourhead (National Trust estate): five minutes' drive
- King Alfred's Tower: five minutes
- Frome (market town with lots of independent shops): 15 minutes
- Hauser & Wirth (arts centre with gallery and sculpture park): 15 minutes
- Longleat House and safari park: 20 minutes
- Haynes International Motor Museum: 20 minutes
- East Somerset Railway: 20 minutes
- Glastonbury: 40 minutes.
翻译
(由 Google 翻译驱动)
不可错过
Stourhead House and Garden (3.0 公里)
Longleat (7.1 公里)
Haynes International Motor Museum (18.8 公里)
英国国家名胜古迹信托组织
Stourhead

(3.2 公里)

West Pennard Court Barn

(22.1 公里)
请注意:本页面上的所有距离均为"直线距离" - 请根据您的出行方式查看实际距离。
政策
允许到店/离店时间
营地装备
到店:
15:00 –
21:00
启程方式:
10:00
At The Cowshed 取消政策
自到店日起 1 周 内不予退款。
到店前7天内不得修改订单。
如遇恶劣天气、延迟到店或提前离店,不予退款/打折。
如果您需要取消或修改预订,请及早给出通知,以便他人有机会进行预订。您可能希望购买度假取消险和出行财产/损失险。
请注意,您的订金已支付给 Pitchup.com 且不予退还。
付款
新冠肺炎疫情期间,订金可转让。 At The Cowshed 将于到店前 1 周 内从您的银行卡中扣除余款 ,如果到店日是在 1 周 内, 则将立即收取余款。
新冠肺炎疫情期间,订金可转让。
新冠肺炎疫情期间,顾客可将订金转为未来日期入住,请在原到店日期起 3 个月内预订未来入住。 了解更多.
您也可以选择在预订时支付全款。
接受的支付方式
现金
条款与条件
营地预订条款与条件