Government's broadband commitment is not 'broad' enough, says Pitchup.com
Dec 2 2015 Posted by Jardine Howlett
Fails to address widest ever 'digital divide' between urban and rural speeds
Not future proof: data use up 382% and tablet ownership 500% in last four years
Rural businesses marooned: over 75% of domestic holidays now booked online and Pitchup.com customers grade rural wifi 4.4 out of 10
Commenting on yesterday's publication of Ofcom's Connecting Nations 2015 report, Pitchup.com's founder believes Cameron's 2020 pledge of 10Mbps broadband for all is more evidence of the Government's poverty of ambition on rural broadband.
Online outdoor accommodation specialist Pitchup.com welcomes the Government's pledge to improve broadband throughout the UK, but says its plan to guarantee everyone access to 10Mbps broadband by 2020 fails to help rural areas suffering from the UK's biggest-ever 'digital divide'.
While the Country and Land Association (CLA) has described the Government's plan as a 'huge step forward', Pitchup.com founder Dan Yates disagrees, accusing David Cameron's government of failing rural areas through a lack of ambition.
He says the Government has based its plans for 2020 on 2015 statistics by Ofcom, which show 10Mbps as the 'tipping point' beyond which most consumers rate their broadband experience as 'good'.
Ofcom's view is that 'a minimum of 10Mbps is required by the typical household' – but by 2020, the situation will be entirely different, according to Pitchup.com.
Yates says: "While it is positive that the Government recognises everyone needs access to high-speed broadband, the proposal is 'too little, too late' for rural areas.
"Many say the internet ages in 'dog years': even if 10Mbps were sufficient in 2015, by 2020 it will be nowhere near enough, especially relative to urban areas enjoying 100Mbps+. This will put rural businesses, such as the holiday parks and campsites we work with, at an even greater disadvantage.
"The average UK household now owns four different types of internet-enabled device, and 26% own six or more. With ever-increasing device ownership and bandwidth use – between 2011 and 2015, fixed broadband data use per household grew 382% and tablet ownership 500% – it is fanciful that 10Mbps will be adequate in 2020, some 35 internet 'dog years' away.*"
"Already too many rural businesses struggle to promote themselves online and to accommodate wifi-hungry customers: with 75% of domestic holidays booked online in 2014, clearly 2020 will be too late for many.** Broadband speeds in Woolacombe - recently voted Britain's best beach - are only 1.8Mbps, for example.***
Yates adds: "The Government's pledge exemplifies the poverty of ambition and delay that have afflicted UK broadband policy for years, rather than the huge step forward the CLA claims.
"As the leading e-commerce nation in the world****, Government should be doing everything in its power to ensure all sections of society capitalise on this booming market. This move fails to redress the digital divide between rural and urban areas, which, according to Ofcom's latest figures, has never been wider." *****

What's more, Pitchup.com has data from over 20,000 customers scoring rural broadband poorly. This is a much wider pool than surveyed by Ofcom when measuring the growing digital divide between rural and urban areas.
During 2015, Pitchup.com customers have graded UK rural wifi 4.4 out 10, based on more than 20,000 reviews.
-Ends-
* Source: Ofcom, based on average monthly data use per residential connection
**Source: VisitEngland
*** Source: Download speed at Think Broadband
**** Source: BCG Perspectives
***** According to Ofcom's latest data (November 2014), the 'digital divide' has never been wider. Ofcom says average fixed broadband speeds were 40Mbit/s in urban and 13Mbit/s in rural areas. See graph below: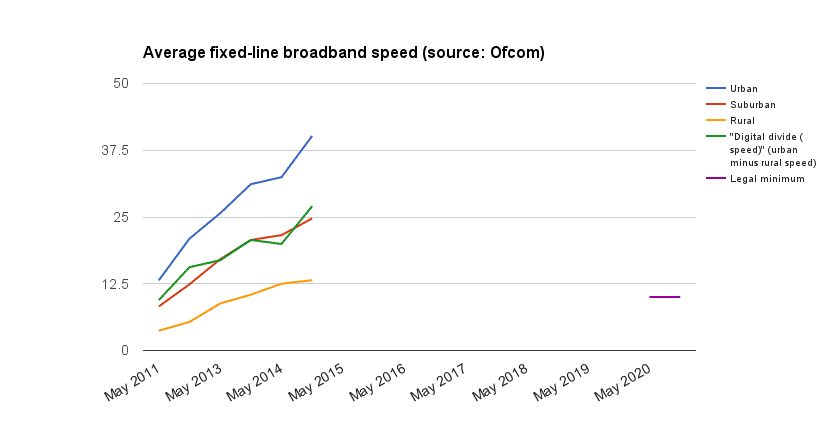 Ofcom Connecting Nations 2015 findings:
48% of rural premises cannot receive 10Mbps broadband
22% of rural premises can't get 5Mbps
9% of rural premises can't get 2Mbps
Broadband use is seriously constrained by download speeds lower than 10Mbps
45% of consumers in rural areas are likely to rate their broadband performance as 'less than good', compared to 28% in urban areas
Average monthly data usage per residential connection grew 41% from 2014 to 2015
For media information:
Contact Cass Helstrip or Jardine Howlett at White Tiger PR
jardine.howlett@whitetigerpr.com 07866 508737
cass.helstrip@whitetigerpr.com 07968 255464
About Pitchup.com
Founded in 2009 by former lastminute.com man, Dan Yates, multi-award winning Pitchup.com lists over 1,500 outdoor accommodation locations in 18 countries, providing users with a simple platform where they can search for and book a holiday with ease.
In 2013 Pitchup.com became the first business of its type to launch a bookable mobile app and site, making the site easily accessible to users of mobile and tablet devices. The mobile site, m.pitchup.com, now accounts for 25% of bookings.
Pitchup.com enables users to search for all types of parks and sites from more than 60 chains right through to one-off campsites and unique outdoor accommodation options, which may have previously lacked a web presence.
Awards include Best UK Travel Website of the Year at the British Travel Press Awards 2011, Best Travel / Leisure / Sports / Mobile Strategy / Campaign at the Marketing on Mobile Awards 2014, and most recently 'Best Place to Stay – Budget' at The Independent Travel Awards 2015 ("a website that's doing wonders connecting us with the countryside in Britain and beyond").