Camp in style with pods, yurts, wigwams and tipis
Too posh to pitch? We bring you glamping, a heady mixture of glamour and camping that's even found favour with the more sensible slebs among the glitterati in recent years.
(We've also got dramping - drinking and camping; gramping - camping with grandkids and wamping - wet weather camping - for those who like their on-the-road wordplay, and hope that champing - champagne and wedding camping - will be making its glittery debut soon.)
But back to glamping. It can include camping pods, gypsy caravans, bell tents, lodges, shepherd's huts, tipis, yurts and wigwams and even fully-fitted safari tents...secure, heated and far away from those childhood memories of dripping tents and trying to cook outside on a tiny stove in the rain. 
The trend for UK glamping first showed up at Glastonbury (where else?) with celebs and the moneyed wanting to enjoy the festival weekend but not rough it in the mud for a weekend in a damp tent. Glastonbury now offers all types of upmarket ways to keep dry over the weekend, from £10,000-a-week shikar tents to double decker 'bed buses'. Other festivals have jumped on the (gypsy) bandwagon and many now offer posh pitching among the music - or you could glamp at one of our sites nearby, such as at an E-den camping cabin at Glastonbury's Middlewick Farm in Somerset.
A quick rundown of what's on offer to the modern glamper:
Yurts 
Portable Mongolian dwellings made from a circular wooden frame covered with felt, with the frame including wall sections and door. Yurts normally have large living areas, usually include indoor heating and often have indoor cooking facilities too. 
Tipis
Native American conical tents, and like yurts usually come furnished and fully equipped - check individual listings for details. 
Wigwams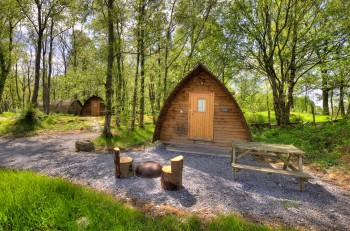 Also Native American, but domed in structure, and can be wooden or canvas. Like yurts and tipis, they can sleep from two to six or eight people.
Curved wooden structures with double glazing and wool insulation. Most sleep two adults or two adults and two children, with family pods also available on some sites. 
Often the height of camping luxury and a good option if you're camping in a group. Lodge parks can include camping pods but can also cover camping cabins, camping huts and shacks.

Shepherd's huts
Similar to camping pods, with many restored from original shepherdy dwellings and some insulated with wool from the site's own sheep, such as at Dartmoor Shepherds Huts in Devon. 
Gypsy caravans
Gypsy caravans have soared in popularity in the past couple of years, with old wagons fully restored and modernised for old-style glamping with a twist. Most sleep two adults.
Find your glamping parks on Pitchup.com by looking at our lodges page for all things wooden walls including camping cabins, vintage wagons, camping pods and shepherd's huts; and at our rent a tent listings for all that's canvas, including bell tents, tipis, wigwams, yurts and geodesic domes. Some of our top glamping sites incorporating both are:
Overlooking the Preseli Hills in South Wales, North Lodge was the first campsite to be certified by Sustainable Travel International. It has pre-erected tents and a log cabin using reclaimed and recycled furniture, and is open all year round. 
Looking for wigwam campsites? Bag a wigwam, wooden cabin or glamping dome in the Scottish Highlands, then bag trout or salmon - or both - in Loch Tay. The site is open all year round and dogs are allowed.
Settle in Settle, North Yorkshire, in the Three Peaks area of the Yorkshire Dales National Park next to the Forest of Bowland Area of Outstanding Natural Beauty. Dalesbridge has an en-suite bunkhouse sleeping up to six, with full self-catering facilities including the kitchen sink.
Sleep up to four, seven or nine people at this woodland Shropshire site, where you can hear owls hooting or spot badgers and buzzards from your firepit. Woodland is open all year round and student groups are welcome.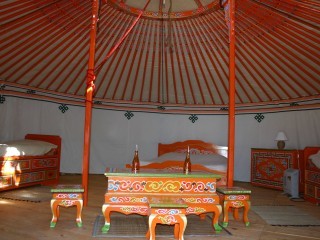 Yurts on the magnique Isle sur la Sorgue, with floating market and trout fishing on the River Sorgu, cycle hire and canoe/kayak sessions on site, and children's workshops and activities. The yurts sleep four and are furnished, with heating and electricity.
As with all camping, the more glamorous side is available even on tighter budgets - the four-berth hut at Woodland Park, for example, starts from £40 a night with the nine-berth hut available from £75, and a stay at Riverside Country Park in Northumberland starts from just £20 a night for a pod sleeping two - one of our many glamping sites available on a camping budget. To find more bargains, go to our budget/backpacker campsites then filter the accommodation categories on the left to look for tipi, yurt, dome, bell tent and wigwam sites, or for sites with lodges, cabins, pods and huts.
As glamping accommodation is normally heated in winter, you can grab a glamping break at any time - just search for our sites that are open all year. And as with all our camping and caravanning categories, you can narrow down your tipi, wigwam, pod or gypsy caravan search according to price, what's available on site and nearby, user rating and dozens of other features. 
Search all tipi, yurt, dome, bell tent and wigwam sites